Table of Contents
If you're an Audi owner, you may be wondering if you can have your car serviced anywhere. Or, maybe you're considering buying an Audi and want to know what the service options are.
As Audi owners ourselves we're certainly interested in this topic, and we're always keen to get the best deal on Audi servicing!
So, can an Audi be serviced anywhere?
An Audi can be serviced anywhere, but it's best to find a garage that specializes in Audis. Servicing is cheaper at an independent garage than an Audi dealership, but the dealership does offer additional benefits.
In this article, we'll compare servicing an Audi at an independent Audi specialist vs. at an Audi dealership. We'll look at what's included in a service, and tell you about our experience with Audi specialists.
How Often do Audis get Serviced?
Audi recommends its cars are serviced every 10,000 miles or every 12 months, whichever comes first. Services alternate between 'minor' and 'standard', with additional maintenance items required at varying intervals.
These intervals aren't much different from Audi's competitors, but it's definitely worth figuring out who you want to service your car from day one so that you can plan ahead.
If you want to know the exact timeline and schedules of your Audi servicing and maintenance of your Audi, consult the owner's manual. It will list all the scheduled services by mileage or time, as well as what needs to be carried out in each.
As per Audi, these are the official maintenance intervals:
| | |
| --- | --- |
| Service Interval | Type of Service |
| 10,000 | Minor |
| 20,000 | Standard |
| 30,000 | Minor |
| 40,000 | Standard |
| 50,000 | Minor |
| 60,000 | Standard |
| … | Continues in this pattern… |
Additional maintenance items are also required depending on mileage and model.
40,000 miles is one of the milestones when an Audi starts to require more additional maintenance items, such as spark plug and transmission fluid replacements.
As the car gets older, there will be further additional maintenance items required as part of the standard services.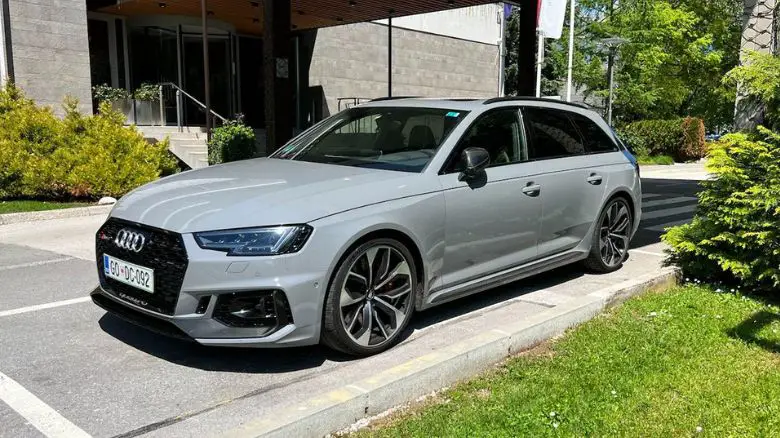 Is it Expensive to Service an Audi?
According to RepairPal, an Audi is $335 more expensive per year to maintain than the average car. This is due to the use of fully synthetic oils, premium OEM parts, and use of top-class equipment in the hands of Audi-trained technicians.
While the RepairPal figure may seem high, it's actually comparible with other luxury brands such as BMW and Mercedes.
Even a minor Audi service can cost $300, while major maintenance, such as the 40,000-mile interval can cost $600.
And it doesn't help that Audis are less reliable than other brands on average too, meaning you're more likely to have to repair your car more often!
There's no getting away from the fact that it's expensive to service an Audi, but there are definitely options when it comes to where you get your car serviced.
Should I get my Audi serviced at an Audi Dealership?
You don't have to get your Audi serviced at an Audi dealership, but dealerships do have some advantages over regular garages. These include:
Audi-trained technicians: All technicians working at an Audi dealership are trained by Audi. They know the ins and outs of every Audi model, so you can be sure your car is in good hands.
Equipment: only the latest factory-developed equipment and diagnostic tools will be used to diagnose any issues and carry out work required.
Audi parts: Dealerships only use genuine Audi parts. These are often more expensive than aftermarket parts, but they're also designed specifically for your Audi model.
Warranty: If you get your Audi serviced at an Audi dealership, any warranty work will be covered by the dealership. However, if you go to an independent garage, you may have to pay for any warranty work yourself, or your warranty could be voided.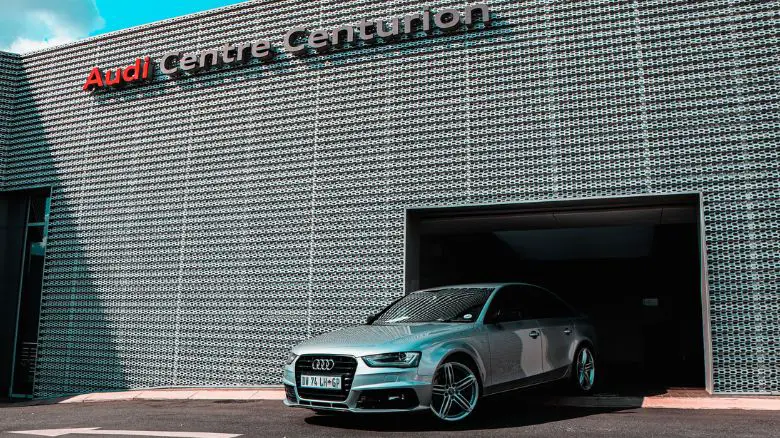 On top of these benefits, Audi dealerships also provide a range of additional services, such as valeting, courtesy cars and free coffee while you wait.
Of course, there can't be all of these positives without some negatives too. The main downside to getting your Audi serviced at a dealership is the price. In fact, that's probably why you're reading this article!
Audi dealerships are far more expensive than regular garages, both in terms of the cost of parts and the cost of labor.
For example, an oil change at an Audi dealership could cost you $170. The same service at a regular garage would only cost around $130.
So, while you may get peace of mind from knowing your car is in good hands at a dealership, it's definitely going to cost you more money.
Are there any risks associated with servicing an Audi at an independent specialist?
There is a big difference between using a regular garage and an independent Audi specialist. You should always opt for the specialist, as Audis can be challenging to work on without the correct training.
One concern is that your warranty could be voided if you get your car serviced at an independent specialist or regular garage, rather than a dealership.
However, this is only the case for cars that still have the manufacturer's warranty in-tact. Older Audis are generally out of warranty anyway, so can be serviced at any garage without concern.
Another concern might be that a regular garage won't have the same level of training as a technician at a dealership. However, this isn't always the case.
There are plenty of highly skilled and experienced independent Audi specialists out there, many of whom were trained by Audi themselves. In fact, some ex-Audi technicians set up their own independent Audi garages.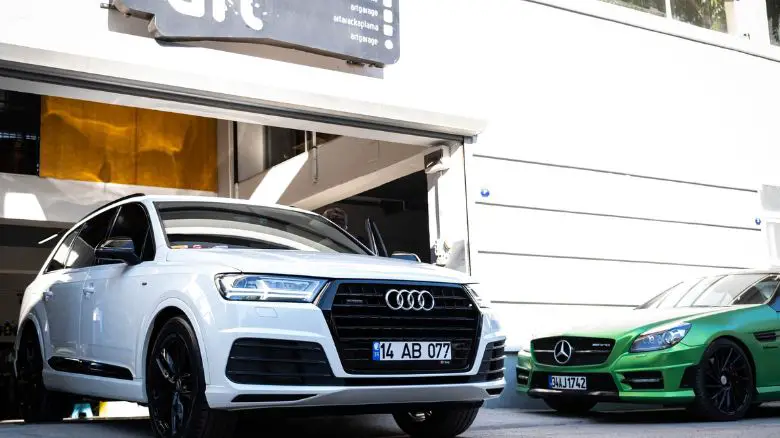 A third worry might be that you won't get the same level of service as you would at a dealership. There are all sorts of independent garages out there, some with a much better reputation than others.
If you do want to avoid sky-high dealership costs, it's important that you find a well-respected independent repair shop with mechanics who have experience working on Audis. They should also use genuine Audi parts unless you specify otherwise.
In reality, independent specialists are often able to offer a more personal service than dealerships, as they're often members of the local car community themselves.
So, while there are some risks associated with servicing your Audi at an independent specialist, there are also some big advantages.
And of course, the number one advantage is competitive pricing.
How else can you save money on Audi servicing?
One way to cut down on the cost of Audi servicing is to do some of the work yourself. For example, you could change your own oil or top up your own fluids between services.
You can also save money by shopping around for the best deals on parts and labor, and by ensuring that any preventive maintenance is done before it's too late.
For example, it's far cheaper to have a timing belt replaced before it snaps than it is to have an engine rebuilt after a failure.
Audi servicing – our experience
Having owned an Audi TT for a number of years, we've had plenty of experience with Audi servicing.
We've found that the best way to keep costs down is to find a local repair shop that specializes in Audis, or German vehicles in general, while doing as much of the work ourselves as possible.
Thankfully we have managed just that, and our local specialist is an ex-Audi technician who provides a very competitively priced service, while being extremely knowledgable about our car.
Our TT is a 2004 model, so we had no concerns about voiding the warranty by taking it to an independent specialist. We've also found that our local specialist is often able to get us in and out much faster than a dealership, too.
Over the course of the last two years, we estimate we've saved around $650 by having our car serviced at a local garage rather than an Audi dealership.
The verdict – can an Audi be serviced anywhere?
Audis can absolutely be serviced anywhere, but it's best to find a knowledgable specialist. Audis can be challenging to work on, so you should avoid garages that don't have experience with luxury German cars.
To summarise our findings:
Audis need regular servicing and are costly to maintain
It's worth finding a trustworthy local Audi specialist if you want to save money on your servicing
Independent Audi specialists can still offer all the expertise of a dealership, and use genuine Audi parts
Those with newer Audis that are still under warranty may want to consider using a dealership to maintain the validity of the warranty
You can also save money by doing some of the easy work yourself, such as changing the oil
In our view, finding a local repair shop that knows Audis inside-out is a no-brainer. Having experienced both, we can confirm that it's possible to get the same level of service – if not better in some regards – at a fraction of the price.