Cleaning and waterproofing a convertible roof is a must if it rains where you live. But even without moisture issues, any convertible top can harbor dirt and grime over time, and be damaged by the sun's UV rays.

You may have noticed a green film slowly creeping across your convertible top. That's not just dirt, but a green algae that can grow and become very damaging over time.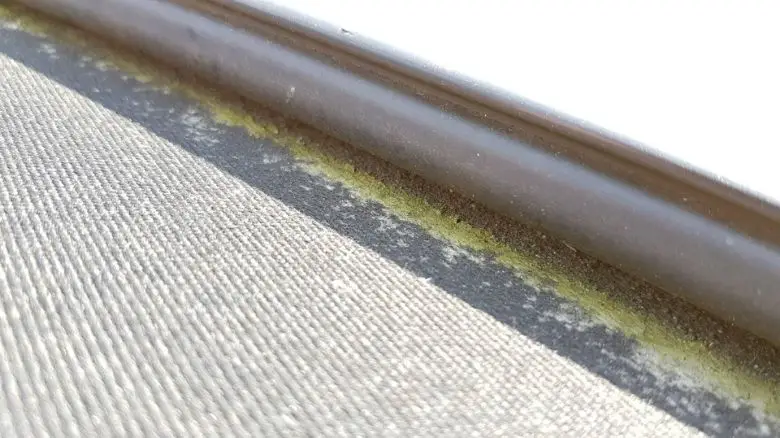 Cleaning and waterproofing your convertible top can be tricky if it's your first time, and regular cleaning products can damage the roof's material.

It takes skill and patience, so we've put together this step-by-step guide to help you get the best results.
What is the best way to clean a convertible top?
The best way to clean a convertible top involves using a two-part cleaning and waterproofing solution. Apply the cleaning solution first to remove dirt and grime, and then apply the waterproofing solution to maintain the roof's water resistance.

Thankfully there are many companies who offer specialized products for cleaning convertible tops, many of which receive great reviews from buyers.

The best convertible top cleaning products include:
303 Fabric Convertible Top Care Kit
303 Vinyl Convertible Top Care Kit
Meguiars Convertible Cleaner and Weatherproof Set
Autoglym Convertible Soft Top Clean and Protect Kit
RaggTopp Convertible Top Care Kit
Chemical Guys Ultimate Convertible Top Care Kit
Check that the product you're buying is suitable for your roof's material (e.g. vinyl or fabric) before buying. Some products are suitable for all types of convertible.
Cleaning and waterproofing a convertible top
To clean and waterproof your convertible roof you will need:
Vacuum cleaner
Masking tape
Hose pipe connected to a water supply
Two-part convertible cleaning and protectant product
Sponge
Soft bristle brush
Microfiber towel
We have chosen to use the Autoglym Convertible Soft Top Clean and Protect Kit to clean the roof of our Mazda Miata (MX-5).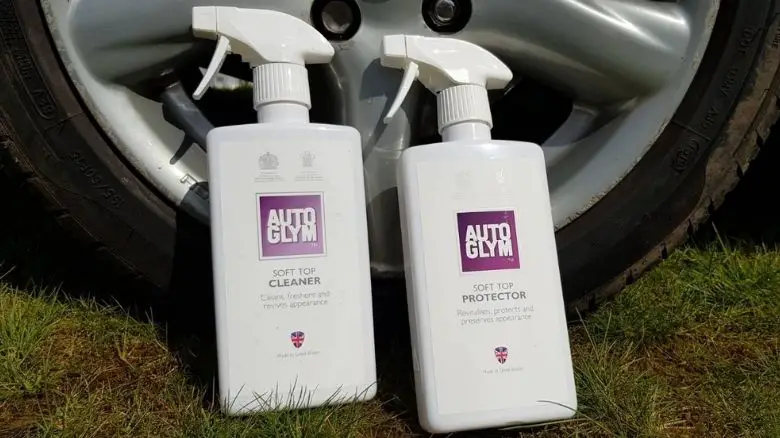 1. Vacuum the roof
Vacuum the roof to remove any loose dirt. Target any large pieces of debris that you spot.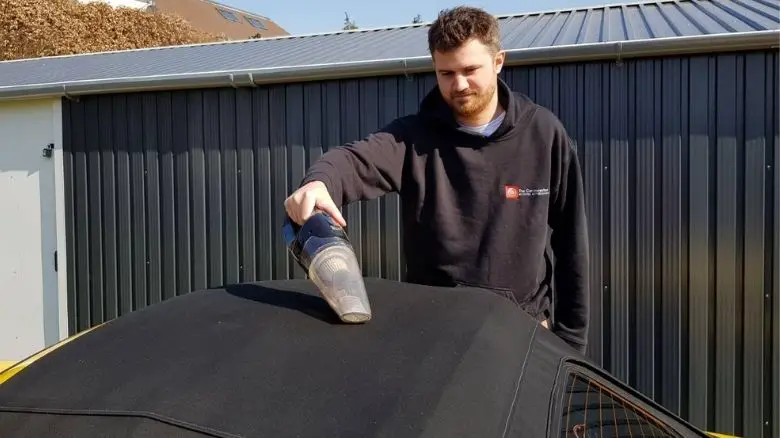 2. Rinse off the roof
Use a low pressure hose (not a jet washer) to rinse off the roof and remove any remaining dirt and debris.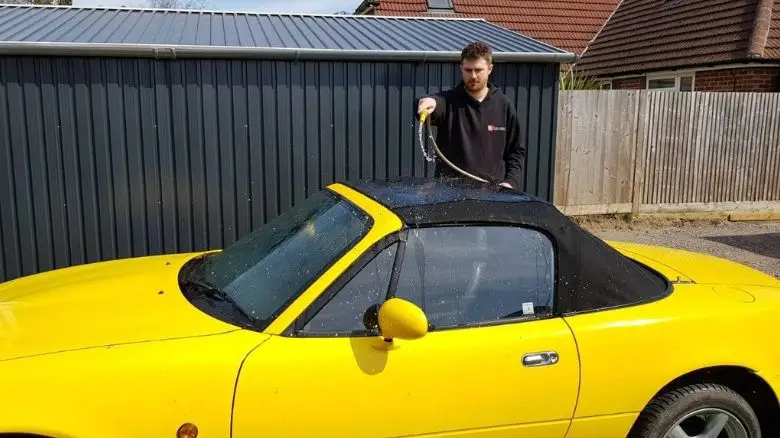 Use the microfiber towel to wipe down any glass and bodywork that gets wet during the rinsing to avoid water spots forming.
3. Mask off bodywork
Use masking tape to mask off any bodywork that's connected to the roof. This will offer some protection from overspill once the cleaning products are applied.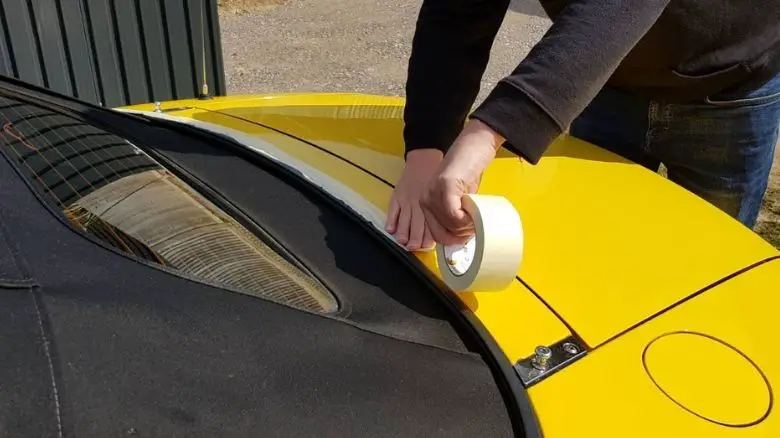 4. Let the top dry out
Most products recommend that you let the top dry out before applying the cleaning solution. This may take some time depending on weather conditions.
5. Spray with convertible top cleaner
Shake the bottle well and apply the convertible top cleaner by spraying it across the roof. Cover the entire roof and be sure that it's evenly spread across the material.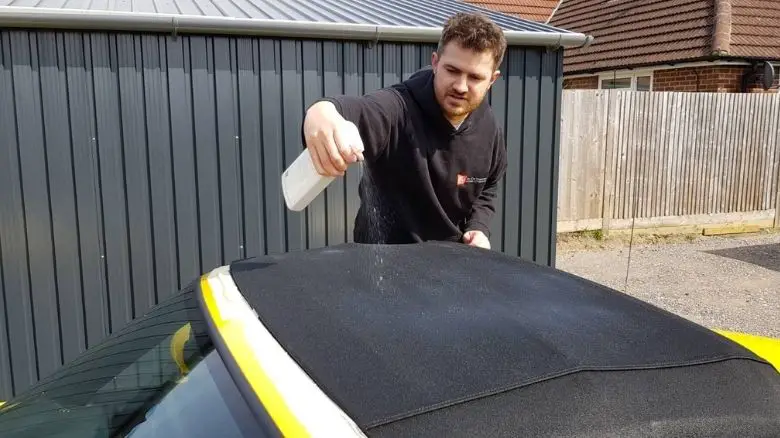 6. Clean off any overspray
It's likely that some of the cleaner will have gone onto the bodywork and windows. It's important to clean this off straight away to avoid causing damage.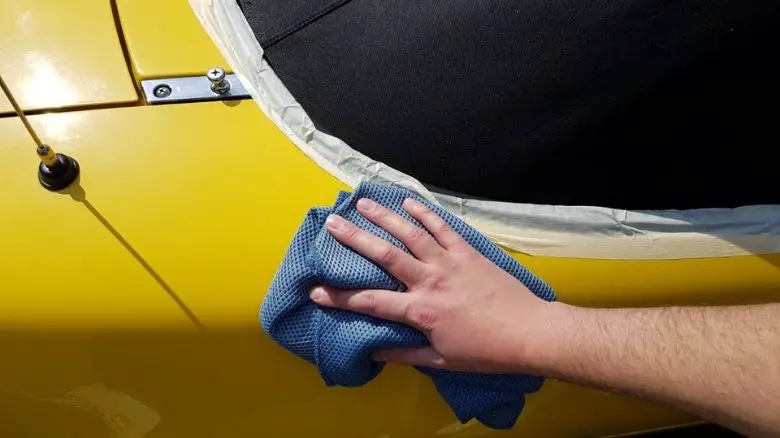 7. Agitate the hood
Use a soft bristle brush to agitate the cleaner across the entire roof until a foam forms. Focus on any particularly dirty areas, or any areas with green algae growing.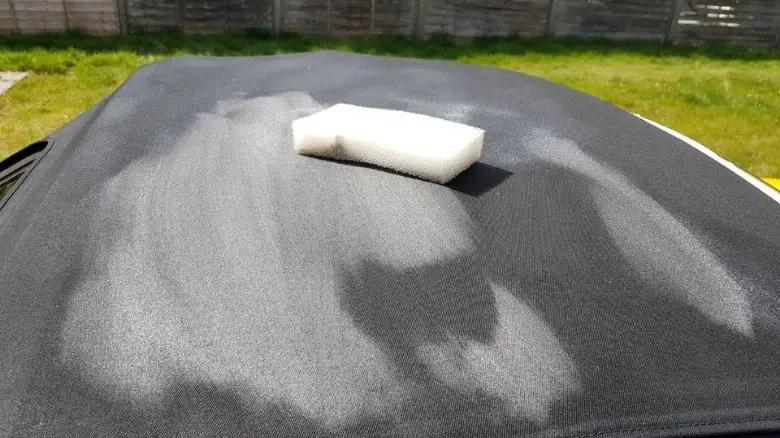 A brush or tough sponge may have been provided for you depending on which kit you bought. The Autoglym kit came with a sponge for this job.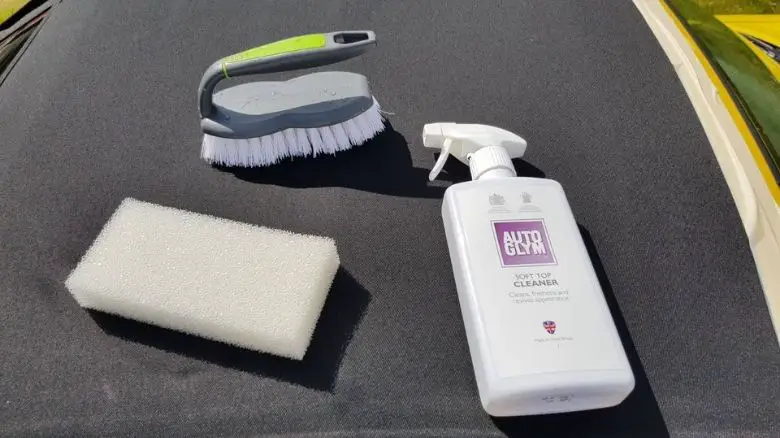 8. Let it penetrate the fabric
Give the foam some time to penetrate your roof and work its magic. How long you leave it will depend on weather conditions, but we left ours for 10 minutes. The temperature was 57° F (14° C) whilst we were cleaning.
9. Rinse with a hose
Use a low powered hose to rinse off the roof and remove the cleaning solution. Use a sponge to draw out any remaining foam and ensure the roof is totally free of the cleaner.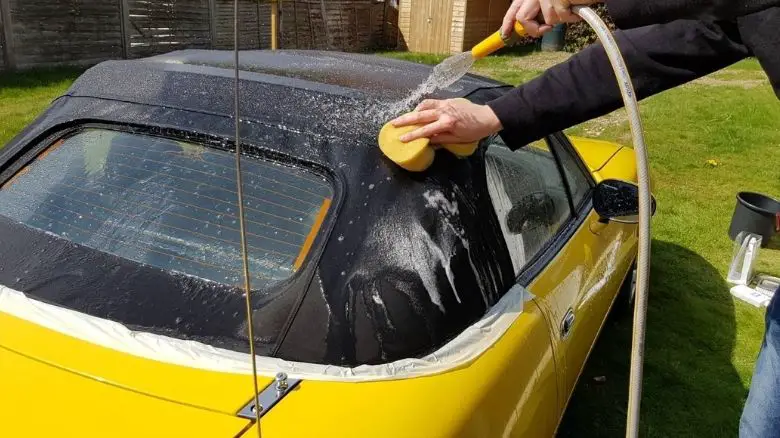 Again, wipe down the bodywork and windows with the microfiber towel.
10. Apply soft top protectant
Check your product's requirements as to whether you need to let the roof dry before applying the waterproof protectant.

Some require the roof to be dry, but in our case the Autoglym product requires it to be applied to a damp roof.

Apply the protector in a sweeping motion ensuring that the whole roof is covered evenly.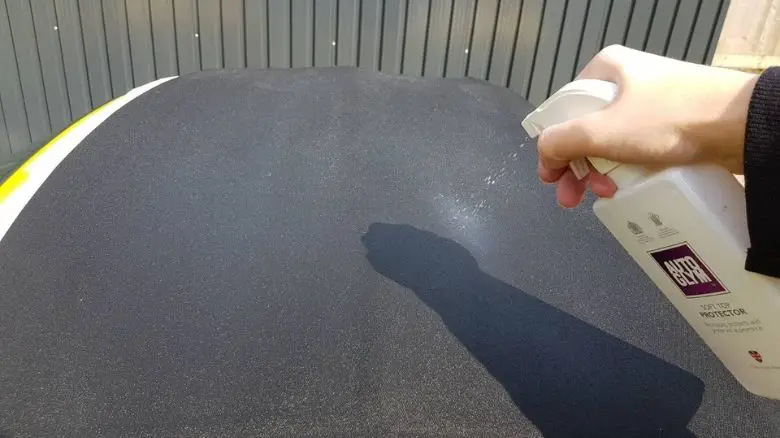 11. Remove any overspray again
Wipe down your windows and paintwork to ensure that any overspray is not left on the car.
12. Remove masking tape
You can now remove the tape from your bodywork and windows. Use the microfiber towel to dry out any moisture that has become trapped under the tape.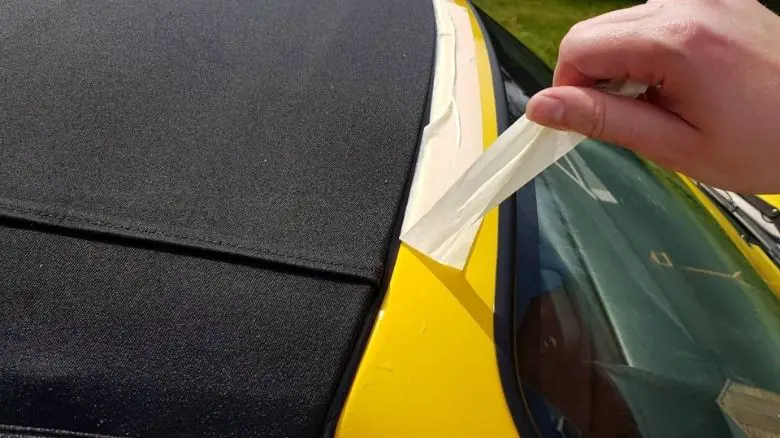 13. Finish up
Leave the product to dry before using the vehicle. Some people choose to add a second layer of protectant to be sure the whole roof is covered.

Store the remainder of your convertible cleaner and protector bottles for next time.

The next time it rains, water will now bead on your roof rather than soak in giving excellent protection against moisture ingress.

The majority of convertible cleaning and waterproofing products will follow this process, but always check the manufacturer's instructions before starting work in case they have any specific requirements.
Can I jet wash my convertible top?
You should avoid jet washing a soft top. The power of the water can be too strong for the fabric roof to withstand. If the seals are exposed to the high pressure jet there may be some leakage as water is forced through the rubber.
Researching this question online shows many stories of people who have pressure washed their convertible soft tops without issue. If it's a one-off and the power washer is held a fair distance away from the roof this may be fine.
However, over a prolonged period the roof's material can be irreparably damaged by the strength of the water jet.
Perhaps an even more important point is that the seals around the windows and across the roof have the potential to be forced in by the strength of the water. This leads to water entering the cabin and potentially damaging the car's interior and electrics.
Here at The Car Investor we've owned two convertibles in our time. We tried jet washing the soft top roof on our BMW 3 Series, and whilst it did the job in getting the dirt out, we did end up with water in the cabin thanks to the seals being breached.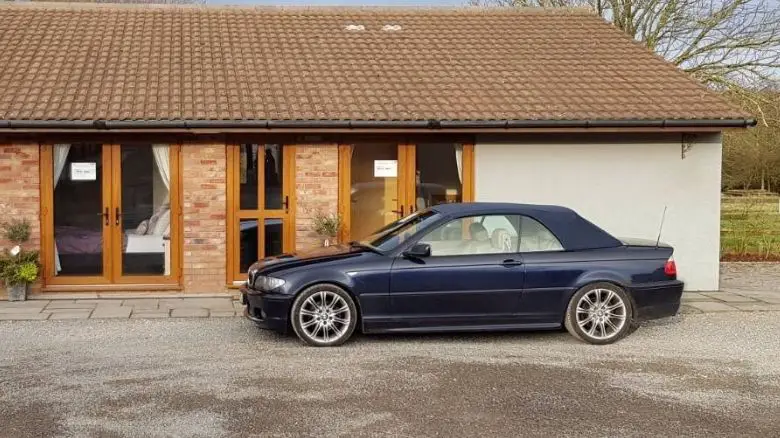 We don't think it's worth the risk. Washing the car's body with the jet washer and the convertible roof with a normal hose will do the job, and there's far less risk of damage.
How do you get stains out of a convertible top?
Specialist convertible top cleaners will get stains out of the roof, but you may need to focus in on particularly tough stains for the best results.

The products we've mentioned in this article are designed especially for removing stains from convertible tops. The formulas work by penetrating the material and breaking down dirt and grime.

Hard scrubbing shouldn't be needed, but the cleaning product may require extra time to soak in and work out tough stains.
How do I get green algae off my convertible soft top?
Green algae, mold and mildew are very difficult to clean off a convertible soft top, but it is possible by applying a specialist convertible soft top cleaner.

Along with bird droppings and tree sap, green algae, mildew and mold are some of the most challenging stains to remove from a soft top.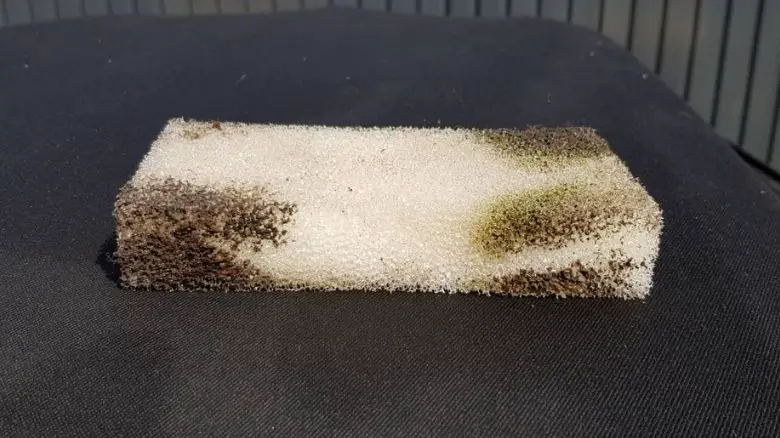 The products we've mentioned in this article are designed to break down these stains, and you can see how much we managed to remove from the state of our sponge after targeting the algae on our roof.

After doing some research, we've found a number of people recommending tougher solutions if these cleaning products don't get all of the algae out.

Baby bottle sterilizing tablets and diluted vinegar are two options that are repeatedly recommended. We haven't tried these ourselves, but would recommend caution if you're thinking of trying them.

In fact, there are many professional car detailers who recommend you avoid these solutions as they can potentially damage your soft top.

It's far wiser to stick with the products that have been specifically designed to prevent damaging your hood whilst cleaning, even if it means having to use them a few times before the algae is fully removed.