In the past, getting a flat tire while driving was an annoyance, but one that was easily remedied. Temporarily, at least, with the car's spare tire.
A quick change on the side of the road and you were back behind the wheel again. But spare tires aren't as common in many new cars these days for a multitude of reasons.
So, do BMWs have spare tires?
BMWs do not have spare tires, instead they have run-flat tires. The company cites weight-saving benefits and the low-frequency of punctures as reasons for ditching spare tires across its range of cars.
Unfortunately if you're in the market for a modern BMW then you're going to have to put up with the run-flat option, but when did BMW stop fitting spare tires to its cars, and what happens if you have a puncture without a spare tire?
When did BMW stop using spare tires?
BMW started phasing out spare tires in 2003 with the introduction of run-flat tires in its 5-Series and Z4 models. Over the next 5 to 10 years, spare tires were removed from all BMW models.
There wasn't a single cut-off year, rather a gradual reduction in the number of models that were fitted with spare tires over the years.
BMW was one of the first manufacturers to stop using spare tires across its range.
By the time 2006 came around, BMW was fitting almost all of its cars with run-flat tires rather than using spare tires, with the exception of high-performance models. Although even these were to be fitted with 'BMW Mobility Kits' rather than spares.
Do any BMWs have a spare tire?
BMWs built prior to 2006 are likely to have spare tires, even if they're 'space-saver' tires. Any BMW newer than a 2006 model is unlikely to have a spare, as the company gradually phased them out.
It is still possible to buy a BMW with a spare tire, but you'll have to look at older models on the used car market.
Like BMW, most manufacturers condemned weighty full-size spare tires to the history books long ago, but there was a period of time that space-saver tires were used instead. But even those are now long-forgotten in most cars.
We own a number of BMWs here at The Car Investor. Our 1996 840Ci has a full-size spare tire, our 2004 325Ci has a space-saver spare tire, and our 2007 M5 doesn't have a spare tire at all, but does have a 'BMW Mobility Kit'.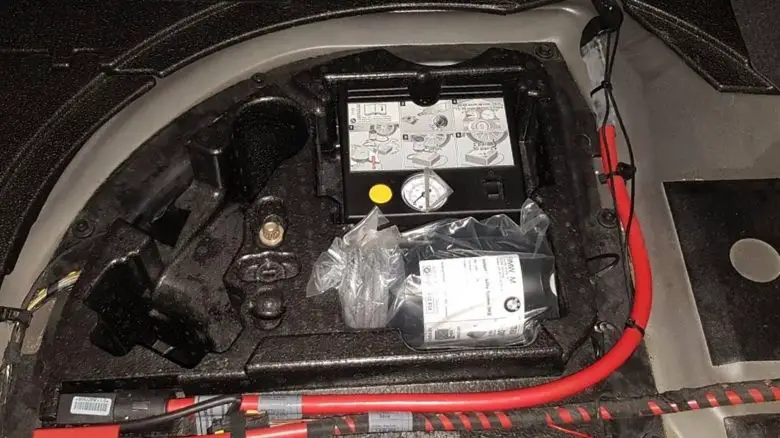 For those older BMWs that do have spare tires, they are located in the rear luggage compartment of the car, underneath the floor of the trunk.
Why does my BMW not have a spare tire?
BMW stopped using spare tires primarily to save weight and therefore increase the fuel-economy of its cars. The company also cited the convenience of run-flat tires, safety concerns, and added space as reasons to remove spare tires.
Realistically, the majority of car companies removed spare tires to save money and reduce emissions as a byproduct. But BMW's PR department did publicise several reasons to sell it to their customers.
The German manufacturer claimed that not only would removing spare tires increase the fuel-efficiency of its cars, but valuable resources would also be saved by reducing the number of tires that have to be produced each year.
BMW also claimed that changing a tire on the side of the road was dangerous, therefore run-flat tires, which can be driven on temporarily even when punctured, were a better solution.
What happens if your BMW has a puncture?
BMW has had several solutions over the years, and how you deal with this situation will depend on which one of the following solutions your car is fitted with:
Full size spare tire
Space-saver spare tire
Run-flat tires
BMW mobility kit
Full-size spares can simply be changed at the side of the road, allowing the driver to continue their journey until it's convenient to replace the spare. This happened to us when our 840Ci had a blow-out at 70mph. We were very grateful to have a full-size spare onboard!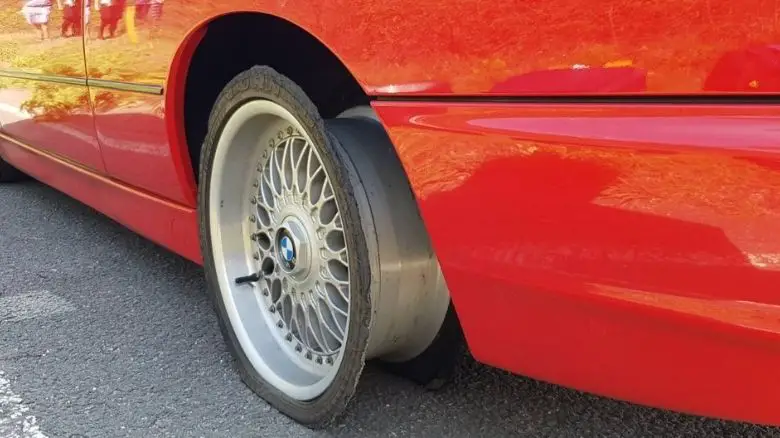 BMWs fitted with space-saver spare tires can also be changed at the side of the road in the event of a puncture, but should only be used temporarily and up to a maximum speed of 50 mph.
Run-flat tires have stronger side-walls and can continue being driven on for between 50 and 100 miles even after being punctured, although at a limited speed. The idea is that you will be able to reach the nearest service centre or tire shop to get it replaced without having to stop on the side of the road.
The BMW Mobility Kit often comes as standard on performance BMW cars, such as our M5, as these models tend to use regular tires rather than run-flats.
It contains an emergency tire repair pack and an air compressor to reinflate the punctured tire in an emergency. Thankfully we've never had to use ours!
If you've previously swapped your BMW's run-flat tires for regular tires and it doesn't have a spare or mobility kit, then you'll need to call for assistance in the event of a puncture whilst on the road.
If you've ever experienced a breakdown whilst on a busy road you'll know it can be a dangerous and somewhat stressful experience, so it's important to think about what you would do if your BMW was ever stranded on the side of the road with a flat tire.