Coupes are sleek, stylish, and appeal to many motorists who like to drive something a little different to the norm. But the first questions raised by those looking to buy a coupe are often around practicality.

Coupes achieve their distinctive looks by prioritizing style and performance over comfort, but manufacturers know that many people would be put off by a car that only has two seats.

So do coupes have back seats?

Coupes often have back seats, although they're usually very small with little legroom. These rear seats are designed for smaller adults, kids, or simply as extra luggage space. An adult spending any significant amount of time in the rear seats of a coupe would find it very uncomfortable.

Despite this, there are some coupes with longer wheelbases that prioritize rear space and can fit two adults with relative ease. But how many seats are in the rear of a coupe, and can coupes have more legroom?
How many seats are in a coupe?
A coupe has either 2 seats or 4 seats, with the rear seats positioned in a 2+2 setup.

Certain sports coupes only have 2 seats. Examples of these cars include the Audi R8, Nissan 370Z, and the Chevrolet Corvette. Some of these are mid-engined sports cars, meaning there is definitely no room in the back for people.

Coupes with 4 seats are often set up in a 2+2 configuration, meaning the rear seats are small and only suitable for occasional usage. Examples of these include the Porsche 911 Carrera, Audi TT, and the Aston Martin DB9.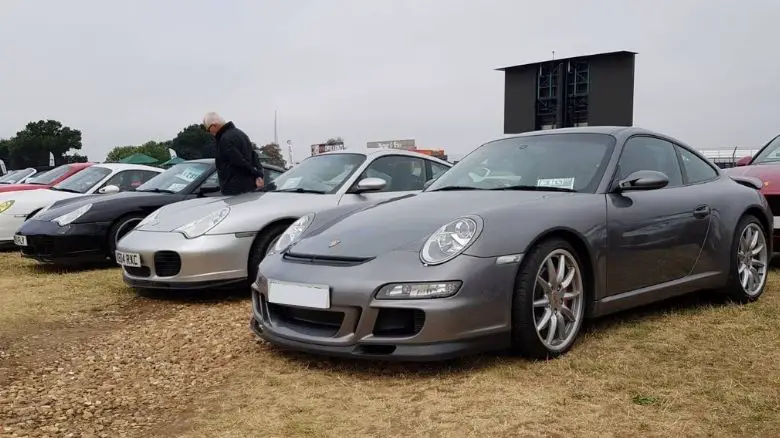 These cars are generally front-engined (or rear-engined in the case of the Porsche) so there's just about enough space to squeeze two more seats into the back of the passenger compartment.
Can a coupe have 5 seats?
A small number of coupes do have 5 seats, although space in the rear is still limited. These are generally larger, longer, modern coupes.

Occasionally a car manufacturer will develop a coupe with space for 5 people. Examples of these include the Mercedes CLA 45 AMG, Dodge Challenger, and the Audi RS5.

Rather than having two individual seats in the back as we'd often see with a 2+2, these cars tend to have 'bench' seats, meaning there's room in the middle for another person.
Some manufacturers have even started making coupes with 4 doors to make access to the back seats easier.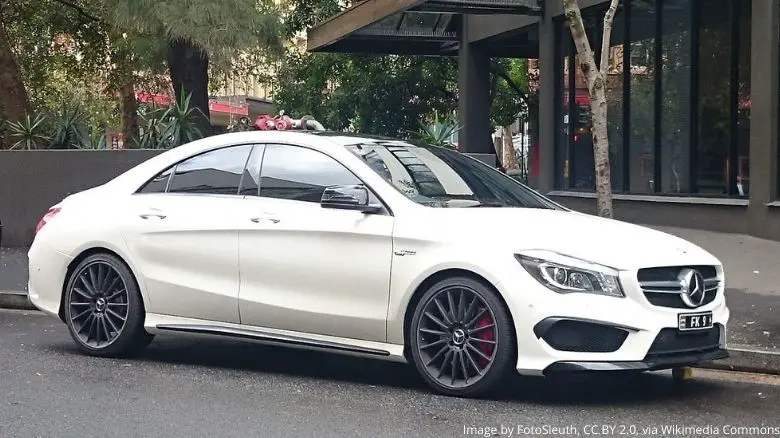 But just because there's space for an extra person doesn't mean it's comfortable back there. Due to the sloping roofline and compact nature of a coupe, there's bound to be little room for taller individuals. Spending any amount of time in the back as a fully grown adult will quickly become uncomfortable.
Why do coupes have back seats?
Coupes have back seats to make them more practical and help them appeal to a wider target market. Back seats increase the number of passengers a coupe can carry, and provide extra room for luggage.

Car manufacturers are well aware that 2-seater cars are highly impractical for most people, and generally only car enthusiasts will seriously consider buying them.

Adding 2 or 3 additional seats in the back makes a coupe a much more appealing proposition, even if those seats are small and cramped. 

The ability to carry extra passengers occasionally, or provide more room for luggage on long trips is a great way to make a sports car more practical.

Adding back seats also opens the market up to families with young children, as they're usually able to fit in the back without an issue due to their size.

Back in 2019 we went on a 3,000 mile road trip in our BMW 840 coupe, Porsche 944, and Mercedes C63 AMG. Although there were only two people in each car, we made use of the rear seats for baggage throughout.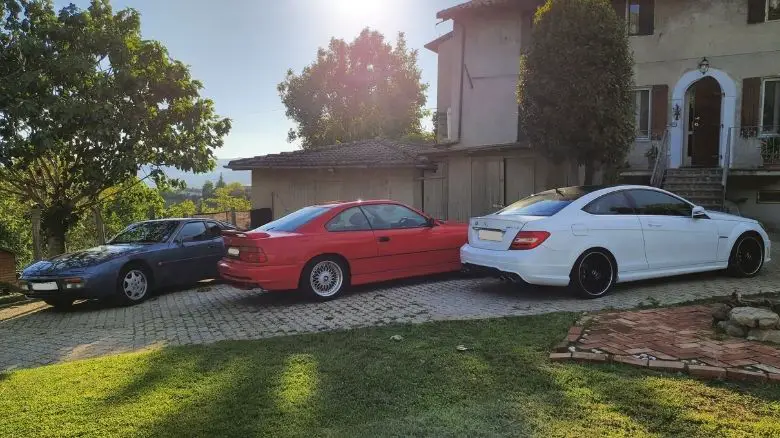 Without this additional room in the back it would have been impossible to complete the three-week trip as we wouldn't have been able to take enough clothing and supplies to keep us going.

Although sports car back seats may seem useless at first glance, they're an important feature and make the cars much more practical by increasing the amount of people and things that can be carried.
Can car seats fit in a coupe?
Car seats can fit in a coupe, but space is limited in the back. Using car seats in a coupe is not as practical as using them in a sedan, SUV, or other larger vehicle.

The occasional trip with the kids in the back isn't going to cause an issue. It might be a little irritating trying to get them in and out without rear doors, but at least you can still own a sports car whilst having a family.

If you were to drive them to school and back every day in your coupe, it might become a bit more challenging. You'd soon become fed up with the rigmarole, and you may be better off buying a larger car with rear doors if this is your situation.
Do coupes have more legroom?
Coupes do not tend to have more legroom than their sedan counterparts, although with the rear seats rarely in use (or non-existent), the front seats can remain pushed back as far as possible giving the illusion of more room in the front.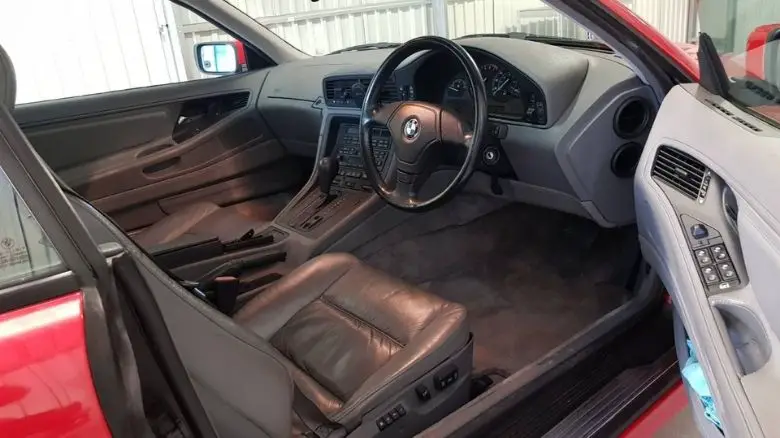 The answer to this question depends largely on the type of car, but on the whole a coupe has similar amounts of legroom in the front in comparison with a sedan, and of course much more limited legroom in the rear.

If you're taller then there are some other benefits to owning a coupe, including keeping your seat pushed back. Coupes also tend to have much larger doors than sedans, making it access far easier.

Read more about whether you should buy a coupe or sedan, and the differences between them.
Real world example: Mercedes C63 AMG vs BMW 840
Not all coupes are the same, and the amount of space in the back of these cars can vary greatly. Some back seats can be used regularly, whereas others are only really suitable for luggage.

Two of our cars, the Mercedes C63 and the BMW 840 are both coupes with rear seats, although have differing amounts of room in the back.

The Mercedes has two fairly sizable (for a coupe) seats in the back with reasonable headroom. Smaller adults fit into the back with a modest amount of room, although the driver and front seat passenger will still need to move their seats forward to accommodate them for any lengthy journey.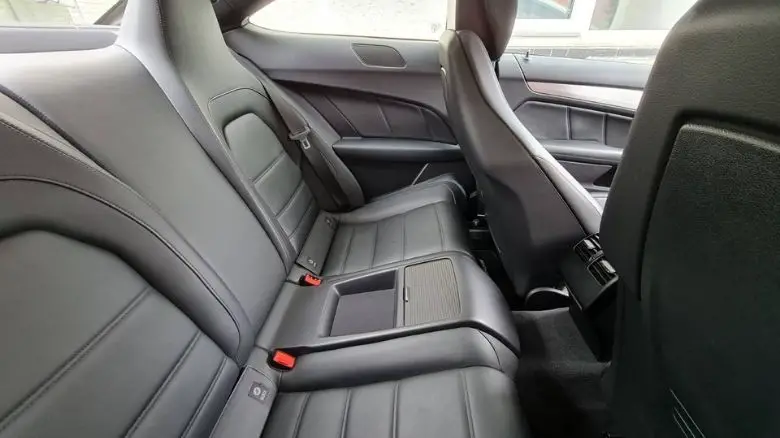 Whilst there's clearly not as much room as in the sedan equivalent, for drivers who rarely carry three adult passengers you can understand why the coupe would be more appealing.

On the other hand, the BMW 840's rear seats have absolutely no legroom at all. In fact, you'd probably need to dismember yourself to fit in the back! The front seats are pushed right up to the rear seats, and any taller driver or front seat passenger won't be able to move their seats forward by much.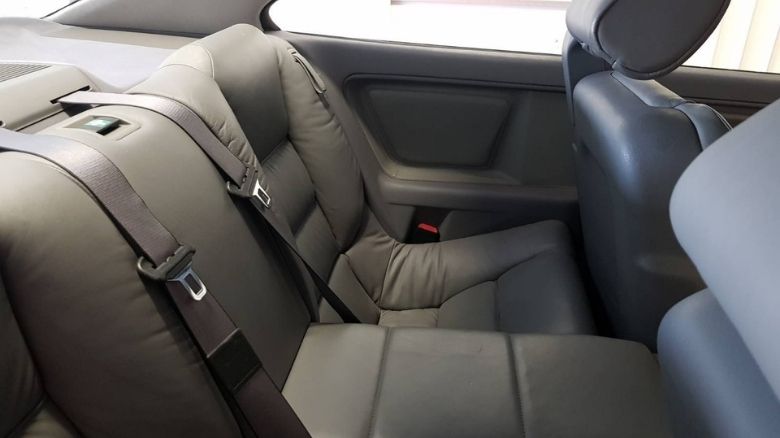 This is not a problem for us as we rarely carry more than one passenger, but as we've established, these rear seats are vital for additional luggage space on long journeys.

If you're looking to buy a coupe but are worried about whether there will be enough room in the back, the best thing you can do is test drive a few different models to find out which one suits you best.

If you'll need to regularly transport people in the rear seats you can even try sitting in the back yourself to see how uncomfortable it is.

Overall, the back seats in a coupe tend to be more useful for carrying things rather than carrying people, so bear this in mind if you're in the market for one.