The BMW 8 Series (E31) of the 1990s was a step away from the company's norm. It was a technical masterpiece, and is regularly considered one of the most beautiful BMWs ever produced.
On paper it seems like the perfect investment; rare, powerful, good-looking, and something a little different. But technologically advanced cars from this era often scare potential investors off.
So will the BMW 8 Series (E31) be a future classic car?
The E31 8 Series is a great investment and has the potential to become a future classic car. Its unique appearance and relative rarity on the roads today make it one of the most sought-after BMWs. It's admired by many from all generations, and will continue to rise in value.
BMW 8 Series Production
Produced between 1989 and 1999, and initially launching with a 12 cylinder 5 litre power plant, the 8 Series cost upwards of $70,000.
Reception to the 850i in the early 90s was tepid, with many potential buyers feeling they could get a lot more for their money than what this bulky Grand Tourer was offering.
BMW 8 Series Performance
Although equipped with a huge V12 giving it 295 horsepower, it also had to lug 2 tonnes of German metal off the line, giving it a 0-60 time of 6.8 seconds and a top speed limited to 155MPH.
BMW listened to their customers, and in 1992 they added the 850CSI and the 840CI to the lineup.
The CSI came armed with an upgraded 5.6 litre V12 and 375 horsepower, whilst the 840 was equipped with a 4 litre V8 producing 282 horsepower, with the later models being quicker to 60 than the early 850s.
No surprise then that both of these cars proved to be just what the market needed.
What is the BMW 8 Series Like to Drive?
This fantastic 840, first registered in 1996 and finished in Bright Red has a respectable 76,000 miles on the clock. It's been kept garaged, but regularly driven over the last 15 years.
Sliding into the cockpit, surrounded by a wealth of buttons, it was clear to see why this car was considered revolutionary in the nineties. A single cassette-deck to mark the era, and an auto-box below with economy, snow, and sport modes.
You can guess which one it stayed in for our drive. The throaty V8 came to life with a roar and we pulled away gingerly.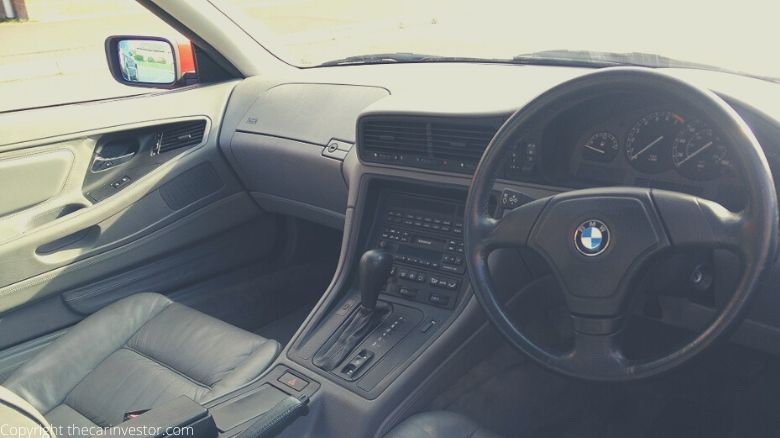 Although wide, it cruised through town with ease, the automatic transmission doing all the hard work between the sets of lights. Cruising at low speeds was a joy, and the striking looks gained a lot of attention from passers-by.
Once we got it out into the countryside however, it was a different beast. With the slightest touch of the accelerator we dropped down a gear and it was ready to go, anticipating our next move.
We appreciate this is a weighty car, but put your foot to the floor and you wouldn't know it, it absolutely takes off. The handling through the corners was sublime despite its size, whilst the engine noise and exhaust note were on point throughout.
It took the A-roads in its stride with the advanced aerodynamic features minimising cabin noise, and even at motorway speeds in sport mode it was always raring to go.
Cruising back towards the garage we took a look at the on-board computer which had many of the toys and gadgets you'd expect from today's executive saloons. Fuel range, temperature, MPG (best to avoid checking that one), a CD changer and more.
How Many BMW 8 Series Were Made?
Overall 30,621 8 Series were made worldwide. The most common model was the 850 with over 21,000 registered, whereas there were only around 8,000 840s built. The rarest 8 Series was the 850CSI; only 1,510 of these were ever manufactured.
Around 3,040 8 Series found their way to the UK. Numbers on the road have been steadily decreasing over the last five years, with just over 1,000 remaining today in the UK, so they're certainly becoming harder to spot these days.
BMW 8 Series Appearance
One of the most appealing things about this car is the way it looks; an absolutely timeless masterpiece. It's enormous, wide body, low slung nose and sweeping silhouette still commands such a presence on the roads today.
Is the E31 BMW 8 Series Reliable?
Generally the E31 8 Series is considered reliable given the type of car it is, providing it has been well looked after through the entirety of its life. Service history is key, and the more preventative maintenance carried out the better.
BMWs are not known for their cheap parts. But, to make things slightly easier the 8 Series does share many of its components with the E32 7 Series, of which there were over 300,000 produced worldwide.
The majority of replacement parts shouldn't cost you a great deal more than you'd pay for other BMWs of a similar age, but you may end up paying more in labor costs as they're complex cars.
One problem that is often mentioned is the nikasil issue found in earlier models. Fortunately its unlikely to be a concern if you're buying an 8 Series nowadays.
In reality, any engines affected have been and gone many years ago. A storm in a teacup? We think so.
What did the E31 BMW 8 Series Cost from New?
A premium car at a premium price. Prices started at $70,000 in the 90s, which is the equivalent of well over $135,000 in today's money.
Many considered it too expensive at the time, and that only adds to its exclusivity now. Good news for owners.
Does the BMW 8 Series have a Cult Following?
As you may expect, this car certainly has an impressive following across the world. Although perhaps not as big as the following that M cars of yesteryear have.
There is a dedicated owners' forum, 8er.org, and regular meet-ups and events organised by BMW Car Club GB.
Was the BMW 8 Series a Game Changer?
An astronomical amount was spent on development of the 8 Series, over 1.5 billion Deutsche Mark in fact. This brought to fruition a number of revolutionary features that ultimately influenced future generations of BMWs and other luxury sports cars.
The introduction of dynamic stability control, seatbelt fixtures attached to the driver and passenger headrests allowing for a sleek pillarless body shape, along with various other aerodynamic features, all contributed to what made this car a game changer.
Does the BMW 8 Series have Pop-Up Headlamps?
Yes, the 8 Series was one of the only BMWs to benefit from pop-up headlamps.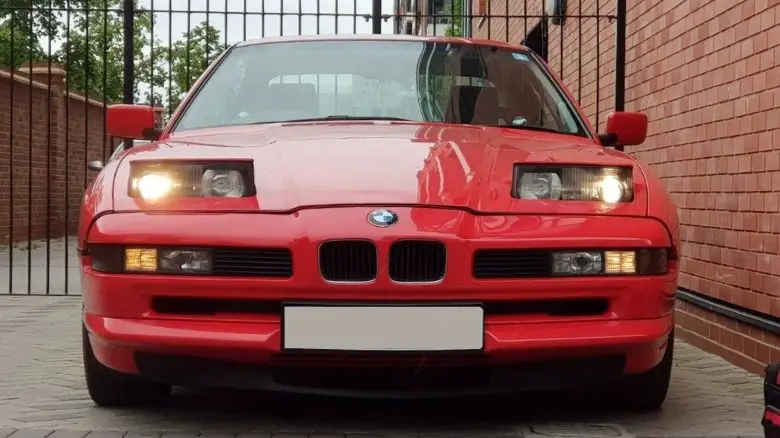 Perhaps a bit of a gimmick, but it's something we don't see any more, and who doesn't love them?!
Should I Buy a BMW 8 Series?
Collectors have been buying these cars for years and prices have started rising over the last four or five, but there's still plenty of room for growth.
It's still affordable to pick up a clean example with reasonable mileage in today's market, but you'd be paying almost double what you would have done 6 or 7 years ago.
Immaculate examples are starting to be sold for upwards of $30,000 and some 850 CSIs have been sold for over $100,000.
We absolutely loved this car and it's incredible fun to drive. The sleek body shape turns plenty of heads when driven alongside the generic modern cars of today, and prices are only going to head one way.
If you're in the market for a 90s GT with a huge presence on the road then we'd certainly recommend you take a look at the 8 Series. It really is unforgettable.