Just two years after the original NSX was released, Honda launched a lighter, stiffer version for the Japanese market which was more at home on the track than on the road. It was named the NSX Type R (or NSX-R), and was the first road car to wear the Type R badge.
In the following years the badge started appearing on a number of other models in the Honda range, including the Integra, Accord, and in 1997 the Civic EK9 (another Japan-only model). It wasn't until 2001 that Europeans would be able to buy a Civic Type R (the EP3), and what a surprise there was in store.
Performance
The EP3 Civic Type R was built in the UK, and featured a 2-litre VTEC engine producing 197bhp, with a 0-60 time of around 6.6 seconds. The chassis was rigid and it was light and agile in the bends. The free-revving engine and close-ratio six speed transmission meant an intense driving experience from the get-go.
Honda had hit the jackpot, and the Type R was voted 'Hot Hatch of the Year' by several publications, including Top Gear, What Car?, and Fifth Gear. But could they bring the Type R brand to the mainstream?
Specification
Despite the racing layout, including sports seats and a dash-mounted gearstick, the interior was surprisingly spacious which made it practical enough for everyday use. It was bigger than some of its rivals at the time, such as the Clio 172 and the MG ZR 160, and cheaper to buy and insure than many of them too.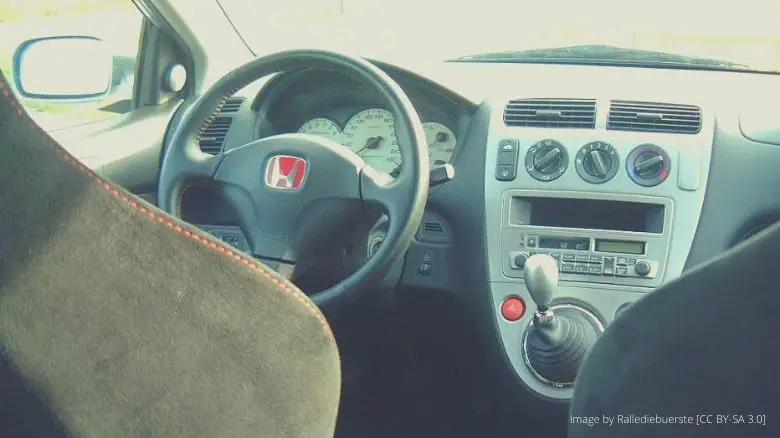 Honda Type R cars had previously been for hard-core petrol-heads, but the introduction of the EP3 bought the Type R to a whole new market. The VTEC engine meant you could pootle around town without raising an eyebrow, but the moment you got out into the countryside and hit 5,500 revs, all hell would break loose.
It quickly became clear that it was going to be incredibly popular with the younger generation, and around 18,000 were sold to the UK market, making it one of the most beloved hot-hatches of the early 2000s.
Legacy
Unfortunately many EP3 Civic Type Rs were modified, making the second-hand market in later years a bit of a minefield. We can't let that detract from what this car was though; it was perfectly targeted at those who wanted a racing experience from their everyday car.
Production lasted until 2005, and in 2006 it was replaced by the FN2 Civic Type R. The FN2 was bigger, heavier, and had only one more horsepower than the EP3. Jeremy Clarkson famously branded the FN2 as "absolutely hopeless" in his Top Gear review at the time, whilst demonstrating that it was slower on the track than its predecessor.
Nowadays Type R is an illustrious sub-brand in itself, and Honda continue to produce new models on a regular basis. Today's Civic Type R is a love-it or hate-it car, but all of this stemmed from the impact that the EP3 had on the market back in the early 2000s.
Will it be a future classic?
Exclusivity
There were around 35,000 of these built, with 18,000 being sold into the UK market, and 12,000 of those in the UK remain on the roads today. It's not the rarest car we've ever reviewed, but by now a large proportion of those 12,000 are not in good enough condition to warrant an investment, giving the cleaner, low-mileage models an air of exclusivity.
Looks
The so called 'Breadvan' Civic was a bit more civilised than the Type Rs we see from Honda today. No crazy spaceship-esque styling, just a nice set of alloys, sporty interior, and some tasteful bodywork improvements.
The standard EP3 Civic was certainly never a looker, so Honda did a pretty good job of turning the Type R into something that appeared a bit sportier.
Running costs
Honda has a great reputation for reliability, and the Civic Type R is no different. Many will have been driven hard, but that's what they were built to do.
You'll still need to do your due-diligence in reviewing the paperwork and service history records though. Look out for timing chain and steering rack issues, and check the oil change frequency as a key indicator of how well they've been looked after.
Game changer?
For the Type R brand, absolutely. The EP3 Civic Type R helped reinvigorate Honda's motorsport prowess amongst the general car-buying public, and built a reputation that still stands today. Honda Type R would not be where it is now without the EP3 Civic.
Time to buy?
It's a car that's been affordable for a number of years now, but the asking prices for top-end examples are starting to creep up. For a low-mileage, well cared for car you could be looking at over £6k.
Lesser examples are available for just a few thousand pounds, but we think it's worth parting with a bit of extra cash now to maximise potential gains later on.
Verdict
We love it, and we think it's got great potential. It's still affordable, and we think prices for the best examples will keep rising. This truly is a hot-hatch that you can use every day, and it may still net you a profit when you come to sell it… the best combination for any car-loving investor.
If you're thinking of buying, you'd be wise to avoid cars at the lower end of the market in favour of ones with a full service history and lower mileage. Overall, an entertaining, fun, and sporty modern classic.