Production
Launched to celebrate Honda's 50th anniversary, and named in respect of the S500, S600 and S800 sports cars of the sixties, this two seater roadster was an instant favourite amongst motoring journalists and driving enthusiasts around the world. Aesthetically it's hard to believe that the magnificent design was concocted in the mid-nineties, as it certainly wouldn't look out of place if it were to be launched as a new car today. But it wasn't all looks and no substance; this was a real purist's car, and it had the performance to demonstrate that.
It remained largely unchanged throughout its 10 year production run, but there was a facelift in 2004 which combined a number of cosmetic upgrades with some changes to the suspension to help counter the oversteer problems. After a decade on the market it was announced in 2009 that the S2000 would be discontinued, with Honda citing dwindling sales, which had been on the decline since 2006, as the main reason.
Performance
The S2000 came with a naturally aspirated, two litre, VTEC engine which produced 237bhp. Nothing tremendously special by today's standards then, you may conclude? Actually, this was the highest output of any naturally aspirated engine at the time, and what's more it could rev all the way to 9000 rpm.
It was fitted with a short-shift six-speed manual gearbox and could reach 60mph in 6.2 seconds, sporting rear wheel drive and a brilliantly balanced ride thanks to its 50:50 weight distribution.
OK, so we're starting to see why this rapid little motor became so popular in such a short space of time! From the moment you got behind the wheel it was raring to go, and was actually at its optimum when revving at over 7000 rpm.
The lightweight chassis and double wishbone suspension made handling at speed a pleasure, albeit with a few oversteer issues in the early models if you pushed too hard. All in all, it had one hell of a personality!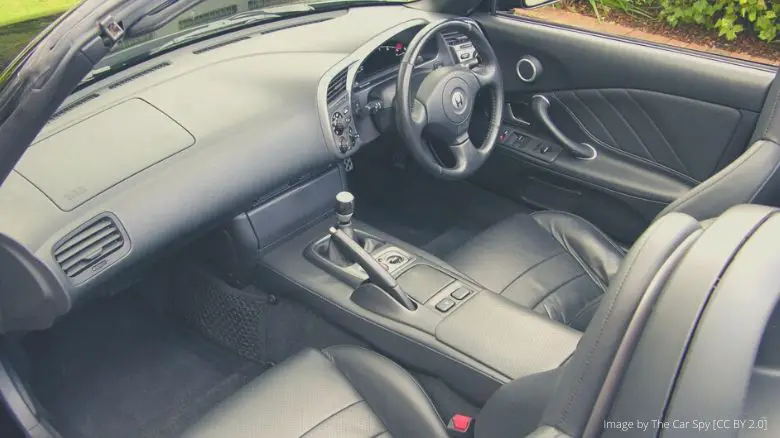 Special editions
To celebrate the end of production in 2009, a special edition was launched into the UK market; the aptly named Edition 100. And you guessed it, only 100 of these were ever built, making it by far the rarest and most desirable version to get your hands on.
Each one came in Grand Prix White with a red leather interior and distinct graphite alloys, and of course a numbered plaque to really make you really feel a part of what would soon become Honda's history.
Legacy
Worldwide sales finished up at around 112,000 units, and despite the decline during the latter years, it really was an enormously popular car that shone on the global stage throughout its time in production.
After the last of the S2000s had left the showroom forecourts there was a huge gap in the market begging to be filled, but we're still waiting to see if Honda will ever develop a replacement.
And it gets worse, because competitor models have been arguably unable to step up to the plate in the interim period. Simply put, nothing has been able match the pure driving experience we had with the Honda.
A unique car, then? That's just one reason that many people would consider this an ideal investment opportunity today, despite the vast numbers produced.
Will it be a future classic?
Exclusivity
There were 20,000 sold into the European market with over 8,000 of those reaching UK shores. Today there are around 6,500 of those remaining on UK roads, so they're still a fairly common site all things considered.
The silver lining is that you should have a good selection to choose from if you're looking to buy.
Looks
Here at The Car Investor we still think it looks utterly fantastic to this day, and we're not alone in that opinion. Eye-catching exterior lines and curves command presence on the road, and it really does look distinguished from all angles.
Running Costs
VTEC engines are known for their durability, but they do use a lot of oil so make sure you top up regularly or risk causing serious engine problems.
Check for rust around the wheel arches and leaky roofs when buying, and keep an eye on the suspension bushes and the timing chain tensioner. If this fails it can cause costly damage to the engine.
Fuel consumption is helped by its lightweight body, and sits at an average of 28mpg.
Price When New
Around £28k, so not exactly cheap, but you did get what you paid for. The Honda was incredibly well built (as you'd expect), and for that reason was perhaps the more sensible option when placed alongside some of its rivals at the time.
Cult Following
A popular and unique car, so unsurprising that there are vast swathes of S2000s lovers across the country and indeed the world.
There is a UK owners club organising regular events, and there are plenty of online forums to chat to other owners. You'll be in safe hands!
Time to Buy?
Prices are already on the up and have been for a few years, so if you've always wanted one it's a good idea to start looking as soon as you can. You can still pick them up for as little as £6k, but for a low mileage facelift model you're currently looking at around the £10-11k mark. That may seem a big difference now but it's likely to be worth the extra in the long run.
Verdict
A wonderfully irreplaceable proposition from Honda, which is reflected in its global popularity over the decade it was in production. Prices are rising and we can't see them going any other way, so you'll need to act soon if you want to grab a car that can be considered superb value.
For us this is absolutely one to invest in, and most of all enjoy!