Production
There were two generations of 900, the first of which was produced from 1978 until 1993, and the second generation was built between 1994 and 1998. The latter was based on General Motors' GM2900 platform, the same one utilised by the Vauxhall Vectra.
The first generation, or 'Classic' as it's often referred to, was based on the Saab 99 chassis and is of the most interest to investors today. It came with a range of engine options and the Turbo model was the pick of the bunch.
Performance
The two-litre originally produced 145bhp, reaching 60mph in just over nine seconds, but it wasn't until 1984 that the new and improved 16S Turbo went on sale in the UK. Now producing 175bhp and reaching 60mph over a second quicker than the previous model, the 16-valve turbo was an immediate headline grabber.
Performance, handling and aesthetics had all been improved, and the 900 Turbo was now well and truly able to compete with the biggest names in its class, winning a lot of fans in the process.
Flat and stable cornering, powerful brakes and plenty of mid-range power, all wrapped into a tough and resilient cocoon with unparalleled styling, unsurprisingly make this car the number one choice for many Saab fans across the world.
Legacy
Over the last 10 years, the number of 900 Turbos remaining on the roads has dropped off significantly. These cars had been underappreciated for some time, but recently we've started to see prices rise.
So why the interest? The answer is straight-forward; the original Saab 900 Turbo offers enthusiasts an affordable, attractive and charming car that can be used all year round, with an authentic driving experience to rival some of the best cars from the time.
And why are there so few remaining? Well, although they were built to last, we've got to remember they are still over 25 years old, and with age always comes issues. Rot is one of the biggest, particularly for cars in Europe, and many of them have simply rusted through, often with owners not even realising there's a problem until it's too late.
Gearboxes can also be a concern and there are a range of other intricate issues to look out for, but if they've been looked after throughout their lifetime then they're capable of well over 200,000 miles.
Although the manufacturer no longer exists, there are still affordable parts available via a network of Saab experts, so many of the issues that owners come across are fixable, and each year it's becoming more and more economically viable to do so.
Will it be a future classic?
Exclusivity
Over 900,000 were built over the course of its 20 year production run, and around a quarter of those were Turbos. But there are now so few of the 'Classic' 900 Turbo's left on the road that you're bound to turn heads; it has become one of the most exclusive Saabs remaining today.
Looks
The Turbo has one of the most recognisable silhouettes in the industry, along with a host of alluring and unique features. The three-spoke alloys and wrap-around windscreen are two of our favourites; it truly is a wonderful car to look at.
Running Costs
Assuming you buy an example that has been well looked after, these cars can be quite affordable to run. On the whole, parts are not overly expensive and from a mechanical viewpoint they are not particularly difficult to work on.
The same can't be said, however, if the car has been neglected by a previous owner. Be sure to do your due diligence when buying.
Owners report typical MPG is in the high 20s, so even today they could be used as your daily driver.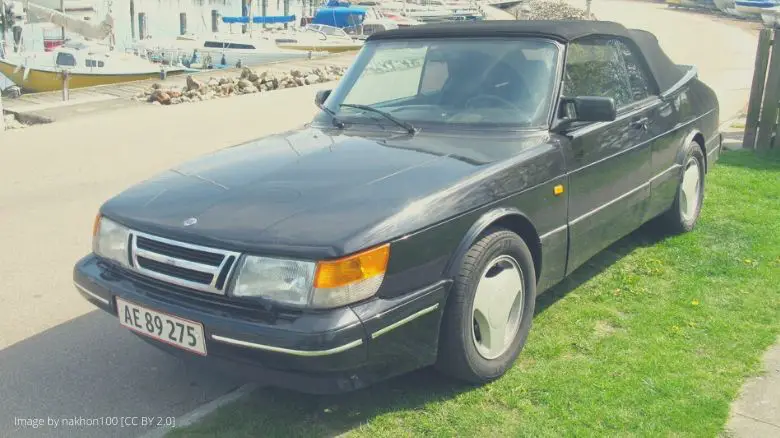 Price When New
In the mid-eighties the T16S was around £14k from new; an impressive price when comparing it to its rivals at the time. It was the car that made it possible to have the latest technology at an affordable price, giving owners the power and performance they deserved.
Game Changer?
It could be argued that this car kick-started the turbo revolution. It was one of the first to bolt a turbo-charger to an otherwise everyday, luxurious family car, and the results show for themselves.
Many followed suit, and there were various copycat versions inspired by this innovative model in subsequent years.
Cult Following
Of all the Saabs, the 900 is probably the most widely-respected amongst car enthusiasts, journalists and owners alike. There is the Saab Owners Club, and plenty more enthusiast's clubs and forums out there, so you'll be in good hands should you need any advice or assistance.
For many people, the day production of the original 900 ended was one of the saddest in Saab's history, which goes some way to showing the following these cars have.
Time to Buy?
Prices have been on the rise gradually for a few years now, and they're only going to continue going up. It's unlikely we'll see a sudden explosion in value as we do with some cars, which gives you a good opportunity to hunt down the perfect example… and you'll need to do plenty of hunting, as they seldom come up for sale!
Don't be fooled into buying one of the cheaper GM models; the Classic is the one to go for, and you can still pick one up for under £10k, which in our eyes is a bargain!
Anything Else?
Saab was traditionally an aircraft manufacturer, so in the eighties they embarked on an advertising campaign comparing the 900 Turbo to one of their fighter jets! Check it out:
Verdict
This everyday classic is an absolutely fantastic car to buy, drive and live with; it was built to last and will eat up the miles if you look after it, all the while offering a fantastic driving experience.
Convertibles are the most desirable, and prices are on the rise slowly. If you're only interested in the value increase then we'd suggest there are cars out there that will offer a better return.
However, if you're truly interested in the performance, looks and all-round experience of owning an appreciating classic car (and we hope you are!), then the Saab 900 Turbo is an excellent choice.
We love it here at The Car Investor, and we think it's a brilliant opportunity to own an incredibly important piece of automotive history.