Production
The front wheel drive, three door coupe came with a 2+2 seating arrangement and was built on the same platform as the Mk2 Golf, albeit with components taken from several other cars.
It had eye-catching lines, chunky wheel arches, and an active rear spoiler that raised at cruising speeds. Its unique wedge profile certainly added an element of flair to Volkswagen's line-up, so it's no wonder motoring journalists, commentators, and the car-buying public as a whole were charmed by its good looks.
Performance
It initially appeared with a choice of two 1.8 litre inline four engines, one of them being the supercharged G60 model offering 160bhp and 0-60 in a respectable 7.8 seconds.
By the time the Scirocco had gone out of production in 1992, the Corrado range had been given an update. Two new engines were introduced; the first was a naturally aspirated two litre offering 136bhp, and the second was a 2.9 litre with 187bhp and a blistering 0-60 time of 6.2 seconds.
The latter was the much revered VR6, and is by far the most popular choice of Corrado amongst investors, with good reason. Although the components used were nothing out of the ordinary, the sheer power combined with the excellent chassis meant that the handling was absolutely sublime.
In fact, it's regularly noted as one of the best handling front wheel drive cars of all time, and even holds its own against the much more advanced mid-sized coupes of today.
Special editions
As with any sports coupe, a limited edition option was always going to be a good idea. The Corrado Storm was produced for the UK market in 1995, with 500 examples produced. It came with a range of aesthetic upgrades including a colour coded grille, 15 inch BBS alloys and of course 'Storm' badging. They came in only two colours, Classic Green and Mystic Blue, and are exceptionally rare today. As a result they command a much higher premium than the standard VR6, just make sure it's authentic if you happen to find one!
Legacy
So if VW got it completely right, why was production ended in 1995 without a replacement until the Mk3 Scirocco in 2008? Ultimately the answer is simple; it didn't sell as well as it should have done.
Around 97,000 were produced worldwide, which is a lot compared to some of the cars we review at The Car Investor, but it was peanuts in comparison to its predecessor which shifted nearly 300,000 units.
It just didn't cut the mustard with Volkswagen's accountants, and unfortunately it was deemed that there wasn't room in the line-up for a low margin, low volume flag-bearer. But guess what? That makes it rare, and that's good news for us investors.
Something that makes it even rarer nowadays is the modding craze that swept the Corrado range shortly after it went out of production. Many of them were bought second hand and altered beyond recognition, and we all know that in the car investment game originality is king.
Many of these examples were removed from the talent pool as a result, and nowadays you'll only find a handful of original examples for sale at any one time.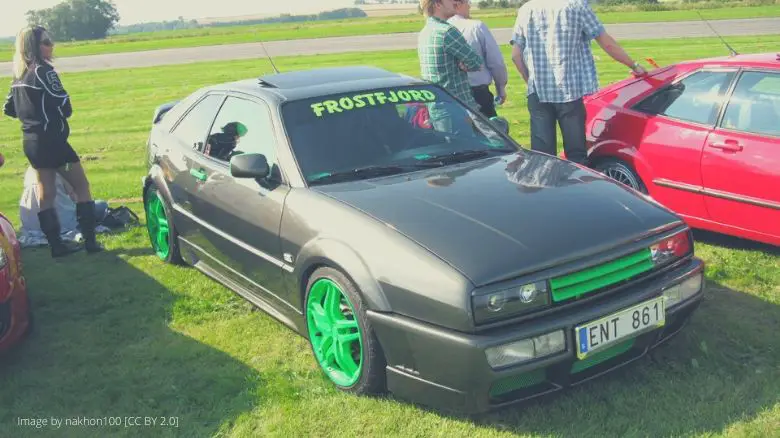 Will it be a future classic?
Exclusivity
Around 97,000 built but not many left on the roads today, just 1,500 in the UK. Many of those will be modified, so keep an eye out for original examples if you want to be attracting serious investors in the future.
Looks
It was something totally unique for VW, and nobody can argue against the fact that it still looks good on the roads today. The boxy wedge shape still manages to command a presence when put alongside today's rivals.
Running costs
It's not going to be the cheapest car to run and repair, and the VR6 and G60 models are likely to cost you more. Overall the Corrado does have a fairly solid engine, but plenty have been thrashed so a good service history is an absolute must.
Some parts are hard to come by due to the low numbers produced, and this will be the main bulk of the cost. Also make sure the bodywork is in good condition as panels can get expensive.
Price when new
Around £25k for a VR6 which was expensive for a Volkswagen, but did offer a cheaper option to the likes of the Porsche 944.
Game changer?
It certainly had the potential to be, but sales just didn't take off as they should have and VW went back to focusing on the mass market sellers.
The latest iteration of the Scirocco is the closest we've seen since the Corrado went out of production in 1995, but it remains one of the quickest production cars that VW have built to date.
Cult following
Fast VWs always have a good following, and the Corrado is no different. Take a look at the VW Corrado Club of Great Britain and The Corrado Forum and you'll see just how much people love them!
There's a wealth of information available, and plenty of regional meets and national shows to attend.
Time to buy?
Prices of the best examples have been on the up for a while, but we think there's still plenty of headroom. Today you can pick up a Corrado for under £5k, but for a low mileage example with good history you'll be looking at £8k plus.
For a car considered by many as one of the best drivers' cars ever, it's still an absolute bargain!
Verdict
A jewel in the crown of VW's recent history, and a car that is as much fun to drive today as it was back in the 80s and 90s.
If you can find a clean, original example with good history then you'll be laughing. The VR6 is the collector's choice, but the G60 was also a great car so don't rule that one out.