Performance
The 850 was like any other Volvo; dependable, predictable, and honest. But in 1993 a 2.3 litre 5-cylinder turbocharged engine was added to their rather flavourless line-up, and all of a sudden the 850 sprung into life. The top of the range T-5 got to 60mph in 7.3 seconds, and came in both saloon and estate variants.
OK, that may not appear to be mind-boggling acceleration today, but you've got to remember this was from a car more used to transporting furniture than hot lapping the Nurburgring.
Racing pedigree
It seems the T-5 reinvigorated Volvo's need for speed, because a short while later the limited edition T-5R was released.
The 5-cyclinder turbocharged engine was upgraded to produce 240bhp, and it didn't stop there. By this point Volvo had entered two 850 estates into the British Touring Car Championship, with many thinking it was a joke until they actually rolled up on the starting grid at Thruxton.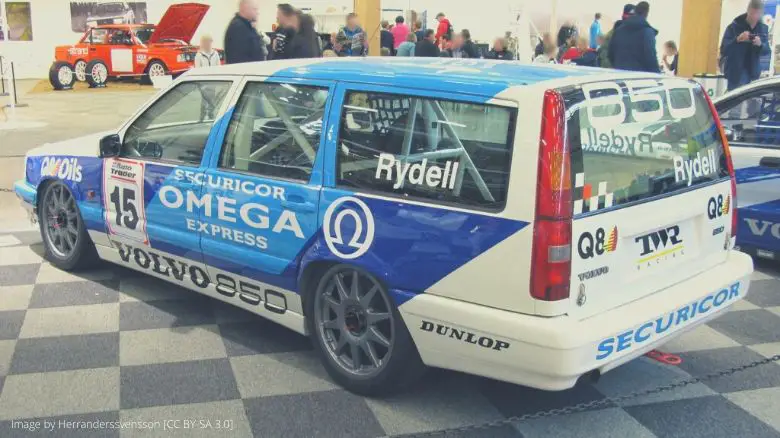 Nevertheless, Volvo took the taunts in their stride, even putting a stuffed dog in the boot during one of the parade laps to wind-up the other drivers.
The estate made a good go of it that season, but the following year it was replaced by the much more track-friendly 850 saloon.
The 850 R
The 850's track pedigree was now established, but only a few thousand T-5Rs were ever produced worldwide.
Despite this, Volvo considered it a success and a year later another new model was introduced; the 850 R. Now capable of producing 250bhp, the 850 R also had a swathe of upgrades, including lower suspension and a limited slip-differential as standard.
The 850 had now reached its pinnacle; these cars were arguably more fun to drive than any previous Volvo, despite the complaints of torque-steer, and had enough power to thrash any challenging youths in hot-hatches away from the lights. But they still managed to retain the practicality and safety that any good Volvo should have.
It's little wonder, then, that these cars became a solid choice with traffic police, and liveried 850s were a familiar sight on our motorway network for a number of years.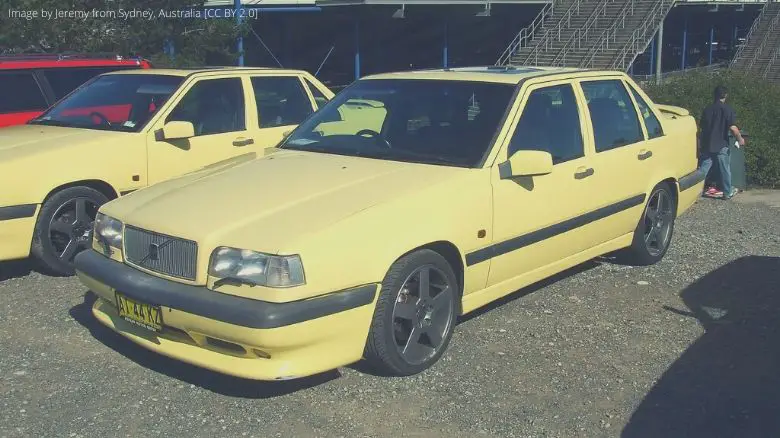 Legacy
Finally the family man could enjoy driving again. Climate and cruise control, heated seats, and Volvo's revolutionary SIPS (Side Impact Protection System) all came as standard to ensure maximum comfort and safety, and the interior was rugged and spacious enough to deal with even the rowdiest of children.
The boxy image and untarnished notoriety of the badge gave the illusion that the owner had finally accepted his fate as a mature, competent and rational man, but in reality the child inside couldn't wait to open up the taps and let loose on the country lanes.
Will it be a future classic?
Exclusivity
With only a few hundred of the models we've mentioned still registered in the UK, these variants are now a very uncommon sight on the roads today. As such, you'll be hard pushed to find one for sale, and prices are creeping up as a result.
There are still many more of the lower spec 850s knocking around, however.
Looks
This car oozes pure 90s appeal. Boxy and vast, but the subtle body refinements over the standard 850 give it an eye-catching edge.
All round, Volvo did a pretty good job at combining ordinary looks with extraordinary performance, so the 850 is perfect for somebody who wants high-speed motoring without shouting about it from the rooftops.
Price When New
These models were priced between £30k and £40k from new, so definitely not cheap. The R was far more expensive than many of its rivals at the time, but Volvo got away with it and the performance 850s were a huge commercial success, leading to a long line of high-speed Volvos in the proceeding years.
Running Costs
The consensus from owners is that these cars are reliable on the whole, perhaps even more so than the 850's successors of the late nineties and early 2000s.
There are common issues to look out for when buying, including the ABS, air conditioning, and more general electrical grumbles, so be sure to check the Volvo forums to get a detailed list before going to look at one.
You can expect the MPG to be in the mid-20s, but it could creep into the 30s if you're going to be doing a lot of motorway driving.
Traction is an issue so you may find yourself splashing out on new front tyres quite regularly, depending on how enthusiastic you are with the accelerator pedal of course.
Game Changer?
Volvo wanted to get into the performance car market, and they managed it with the 850. It took a little refining and a debut in the BTCC with the immortalised 850 estate to get the general public on side, but the T-5, T-5R, and 850 R all paved the way for the performance Volvos we've seen ever since.
Definitely a game changer for Volvo, and a nineties icon was produced in the process.
Time to Buy?
Prices are on the way up and these cars are getting rarer by the day. The R would be our choice, but the T-5R is the rarest of the bunch so you can expect to pay a premium if you're after one of those.
Generally prices for decent examples are around the £7k mark at the moment, but a few particularly impeccable models have been selling for £10k plus.
Verdict
A much celebrated nineties idol, the 850 fills a gap in the market for a practical, fun, usable modern classic. Only time will tell how desirable these become to investors in the future, but in our opinion we don't think you'll lose any money if you're thinking of buying now.
These cars were built to last and they have. Every now and again a very nice example will come up for sale, so if you're considering getting one we don't think you'll regret it.