Table of Contents
When you're looking for a safe car to buy, Audis tend to be towards the top of many people's lists. The German company has a reputation for producing dependable vehicles with features that keep you and your family safe on the road.
But is the company's reputation for safety deserved? Are Audis safe?
Audi makes some of the safest cars in the world. The company has a history of innovating in automotive safety, and is constantly adding new crash prevention technology to its range of cars.
In this article we will explore Audi's safety features and find out whether the company lives up to its reputation for producing safe cars.
Audi's history of safety
Since the 1930s, Audi has been crash-testing their cars to ensure that they are as safe as possible in the event of an accident.
Simulating crashes, analysing the results, and making changes to the design of their cars accordingly has been a key part of Audi's development process for many years, with the resulting technological advances forming part of the next generation of Audi vehicles.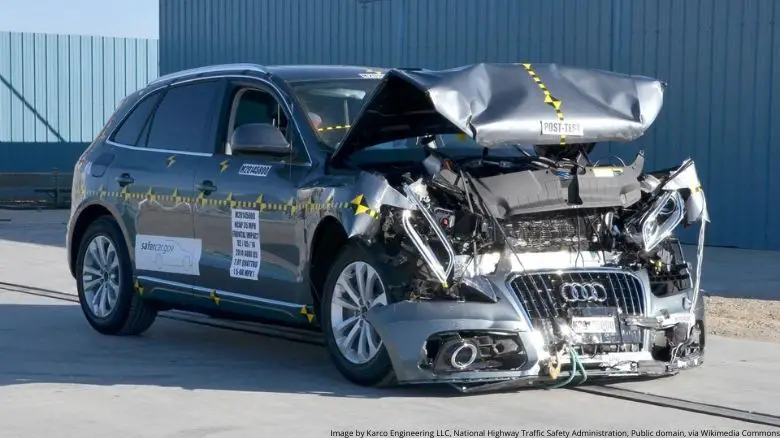 In the 1950s, Audi was one of the first companies to introduce crumple zones, which absorb the impact of a collision so that you and your passengers are less likely to be injured.
In recent decades, crumple zones have become one of the most important safety features in any car, and governments have long mandated their inclusion in all new cars.
Audi's historical focus on safety doesn't end with crumple zones, though. The company was also one of the first to introduce crash-test dummies to their tests.
These dummies help to replicate real-world impacts in a controlled environment, and allow Audi to assess the safety of their cars in different types of collisions.
In 1970, Audi opened the first crash testing facility at its plant in Germany, making it easier than ever for the company to test the safety of its vehicles and focus on continual improvement.
What makes Audi cars safe?
From Audi teams dedicated to investigating real-life crashes, to the company performing over 20,000 crash simulations each month, it's little wonder that Audi's relentless focus on safety makes its cars incredibly safe.
In the late '90s, Audi's senior management team decided to establish its own real-life crash investigation unit.
The team involved works to investigate, analyse, and learn from real-world accidents, in order to improve the safety of Audi cars of the future.
The Audi Accident Research Unit (AARU) builds 3D recreations of real accidents, and interviews the people involved in the accident to understand any psychological factors that may have had an impact.
This unit is made up of engineers, crash investigators, and data analysts, and is one of the most skilled crash investigation teams in the world.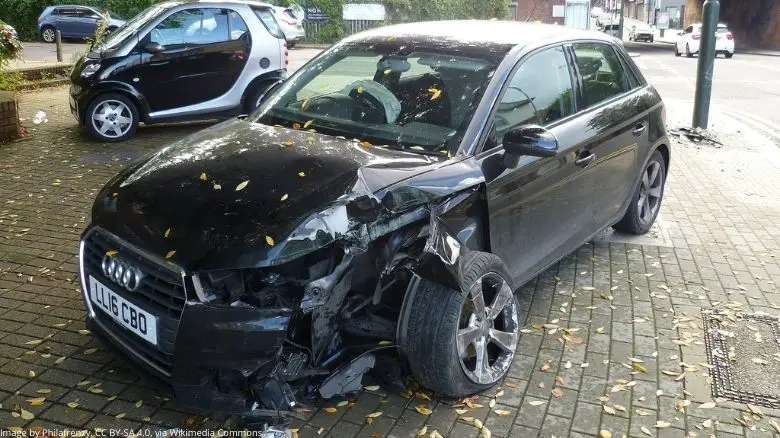 All of this work means that Audis have the latest and greatest safety features, from crumple zones and airbags in the past, to lane departure warning systems and autonomous emergency braking at present.
What safety features do Audis have?
Audis are some of the most sought-after cars, and they have some of the latest safety technology available in any car. These features include:
Turn assist – monitors traffic when turning and prevents drivers from turning into traffic
Collision avoidance assist – identifies hazards and the safest escape route
Night vision assist – thermal camera that can detect dangers in the dark
Audi pre sense® – monitoring and detecting any potential dangers
Vehicle exit assist – warns the driver if there are vehicles approaching when the doors are open
Adaptive cruise assist – accelerates and brakes to maintain the distance to the car in front while travelling at speed
As you can see, Audis are packed with features that help the driver to avoid accidents, or to reduce the severity of an accident if it does occur.
Are Audis good in a crash?
Evidence from real-world crashes shows that Audi cars perform incredibly well in the event of an accident, and Audi models regularly receive positive ratings in industry crashworthiness tests.
Several Audi models have been recognized in the Insurance Institute for Highway Safety (IIHS) safety awards, proving that the company's state-of-the-art safety features work well in the event of a collision.
And it's not only the American IIHS that gives Audi positive marks. Renowned European crash-test agency Euro NCAP also regularly hands out 5-star ratings for almost every car that Audi brings to the market.
Is Audi the safest car in the world?
While Audis are extremely safe cars, they're not the safest cars in the world. Audi regularly ranks in the top 10 safest cars, but companies such as Lexus, Volvo, and Tesla occupy the top spots.
There's no doubt that Audi is a safe carmaker, but just because they don't rank first in the world doesn't mean you should avoid Audis – they're still some of the safest cars on the road.
Is an Audi or BMW safer?
Overall, Audi and BMW can be considered to produce equally safe cars. Both are consistently ranked in the top 15 safest manufacturers in the world.
Over the last few decades, BMW and Audi have been on-par when it comes to safety, with both brands regularly releasing cars that achieve 5-star safety ratings.
The fact that Audi and BMW as two of the safest carmakers in the world is a testament to the innovation and dedication that both companies put into making their cars as safe as possible.
Because the safety rankings of the two companies are so similar and can change year on year, it's worth taking a look at the ratings of the individual models you're looking to buy if safety is a concern.
There is a plethora of data out there, and you can look up car safety ratings on the IIHS website or NHTSA website in the USA, and the Euro NCAP website in Europe.
Are Audi SUVs safe?
Audi SUVs are some of the safest large cars on the market, and each SUV in the Audi 'Q' range regularly achieves 5-star ratings in crash tests.
Although it can seem safer to own a large vehicle, sometimes the high center of gravity in an SUV can lead to them being more prone to rollovers in the event of a crash.
Audi has taken this into account with their SUV range, and has fitted each model with advanced features to mitigate the risk, including the latest features we mentioned earlier in the article.
Standard safety features such as electronic stability control (ESC) and anti-lock brakes also help to keep Audi SUVs on the road in slippery conditions.
Final thoughts
Audis are considered some of the safest cars in the world, with models achieving 5-star ratings in industry crashworthiness tests.
One of the reasons Audis are expensive to buy is because they invest so much in crash safety.
The company has a team of engineers and data analysts who build 3D recreations of accidents to understand any factors that may have had an impact.
This allows Audi to stay at the cutting-edge of safety technology, and install the latest features in all of their cars.
In addition to American crash testing agencies, European crash-test agency Euro NCAP also regularly hands out 5-star ratings for the majority of cars that Audi brings to the market.
While Audi is not the world's safest car manufacturer, you can rest assured that any Audi you drive will have some of the best safety features that money can buy.