The Audi RS4 is the most powerful version of the flagship A4 range, and the B7 version was first unveiled back in 2005 as the answer to BMW's mighty E46 M3, and the E92 that was to follow.

But we're not going to start comparing it to the M3 as so many before us have, because the B7 was a phenomenal car in its own right.

In fact, so much so that serious car investors are now starting to question whether this rapid RS is worth their money.
So is the Audi RS4 B7 a future classic?
The Audi RS4 B7 will be a future classic thanks to its fantastic naturally aspirated V8 engine, six-speed manual transmission, superb handling, and short production-run.
So the RS4 is likely to become a classic, but how rare is it, and is it reliable enough to be considered as a daily driver?
Audi RS4 B7 specs
What engine did the B7 RS4 have?
The B7 RS4 had a 4.2l naturally aspirated V8, which produced 420 horsepower.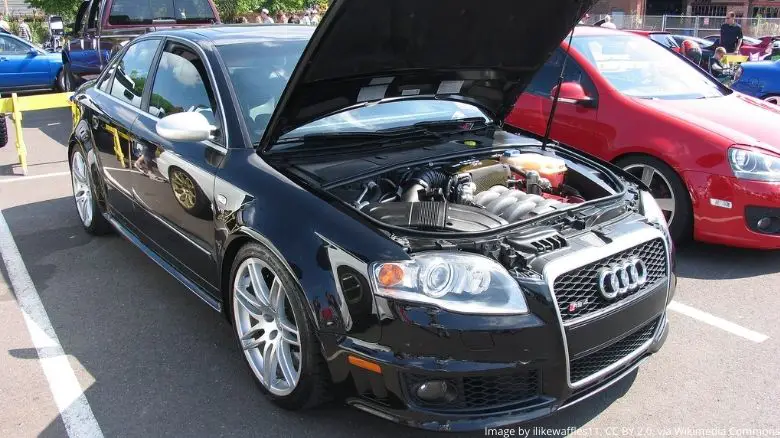 Unusually for an Audi RS car of its era, the German manufacturer decided against turbocharging the engine and instead relied on the raw power of a naturally aspirated V8.

As a result the B7 sounds absolutely glorious at full tilt. It rumbles and roars its way up to the 8000+ rpm redline, and gargles and crackles like a seething troll on the way back down. Delightful.
What gearbox did the B7 RS4 have?
The B7 RS4 was only available with a six-speed manual gearbox, which bucked the trend for fast-shifting semi-automatic systems that were being fitted to most executive saloons by 2006.

Whilst Audi's manual-only decision raised a few eyebrows initially, it ended up being one of the defining features of the RS4. Even back then, a stick-shift attached to a naturally aspirated V8 was a rarity. Thank you, Audi!
Audi RS4 B7 0-60
The B7 RS4 has a 0-60 time of 4.6 seconds.

Thanks to its Quattro all-wheel drive system, traction from a standing start isn't an issue with the RS4 and it will easily reach 60mph in under five seconds.
Audi RS4 B7 top speed
The RS4's top speed is electronically limited to 155 mph.

Despite this, there are reports of people getting well into the 160s even with the limiter switched on. Without the limiter, owners report a top speed of around 190 mph.
Audi RS4 B7 MPG
The B7 RS4 averages 14 mpg. Some owners have reported regularly exceeding 20 mpg on long journeys.

The B7 is a thirsty car thanks to its naturally aspirated V8, but we can't blame it for that. If you're looking for something economical, the RS4 probably isn't the one for you.
What is the B7 RS4 like to drive?
The RS4 is a joy to drive thanks to its powerful engine, lightweight body, and Quattro all-wheel drive system.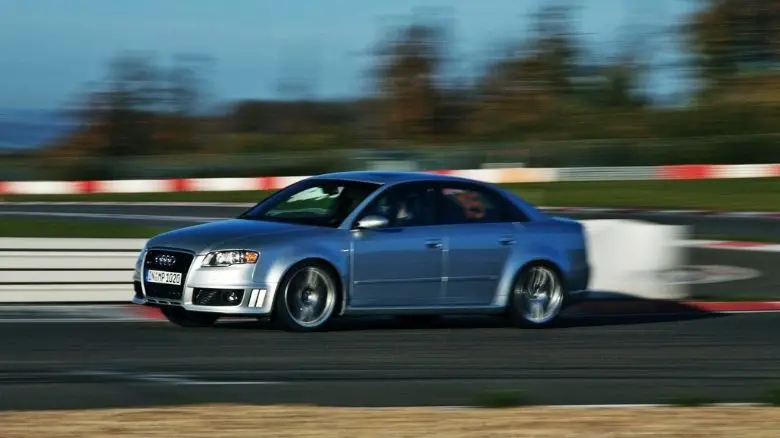 Owners report the RS4 has impressive acceleration, is adept through the corners, and overall is a stimulating drive.

Whilst it can't be considered a supercar, the RS4 has supercar levels of performance packaged in a sensible family car's body. It's the perfect combination for the car enthusiast with a family to transport around town.
Is the B7 RS4 reliable?
Overall the Audi B7 RS4 is a reliable car and owners report minimal issues. Other than regular servicing and the replacement of wearable parts, there are very few additional costs to worry about.

Despite overall Audi reliability scores being low, issues with the B7 RS4 are rare on the whole. Some of the more common problems to look out for on the RS4 include:
Suspension problems
Carbon build-up
Oil cooler pipe corrosion
Excessive brake wear
The suspension issues are well-known and Audi acknowledged the problem shortly after the car was released.

The problems are caused by fluid leaking from the dynamic ride control (DRC) system. Fortunately by now many owners have replaced the affected components, often with after-market suspension setups.

Excessive carbon build-up is another gripe that's regularly mentioned by owners. If left unchecked, it can dramatically reduce the amount of power available so it's a good idea to get it cleaned out every 20,000 to 30,000 miles.

At $500 / £400 + it's not cheap, so if you're buying a used B7 RS4 make sure there's a record of this work being carried out, or you could be in with a hefty bill straight away.

Another common failure point is the pipework that connects to the oil cooler. Thanks to the way it was designed, corrosion is likely to set in and eventually lead to oil leaks. The best remedy is to replace the oil cooler, so check if the car you're looking at has had this work carried out before buying.

Many owners end up replacing brake pads and discs more often than they'd like to, but this entirely depends on their driving style.  As with any relatively sizable performance car, the brakes are regularly put under tremendous pressure. 

We can forgive it for that, given the amount of performance you get and the relatively trouble-free motoring you will experience when owning one of these cars.
Older Audis aren't often considered reliable, but thankfully the B7 RS4 is one of the company's better attempts.
Is the Audi RS4 B7 rare?
Audi built around 10,000 RS4 B7s, with approximately 2,000 sold in the USA and 3,500 sold in the UK.

Saloon, Avant, and cabriolet options were all available, although the USA missed out on the Avant version.  The cabriolet was the rarest of the bunch with production numbers for each country in the hundreds rather than the thousands.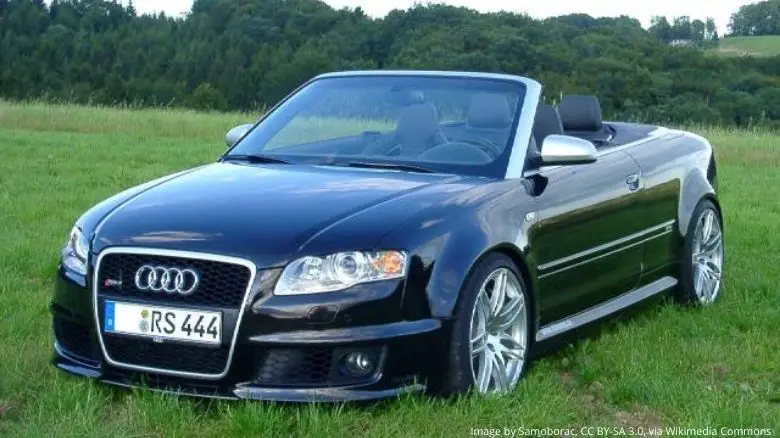 This would normally lead to the rarer car being more desirable, but in this case the saloon is much preferred thanks to its superior handling and performance.

It's an especially rare car in the USA as Audi had never sold an RS4 there before, and the following B8 and B9 generation were never to reach North American shores either.

A 10,000 car production run may seem like a lot, but when compared to some of its competitors of the time it was far less common. This only adds to its exclusivity factor in today's market.
Audi RS4 B7 price
Today the average cost of an Audi RS4 B7 is $29,000 in the USA, and £19,000 in the UK.

Prices remained steady for a number of years, but since 2020 values of the best examples have started increasing. We can only anticipate that they'll keep rising.

For low-mileage cars you can expect to pay several thousand dollars / pounds more than the average price, but in the long-run it may be worth spending the extra cash if you're looking to make a decent return on your investment.
Is the Audi RS4 B7 a good investment?
Values of the Audi RS4 B7 are likely to continue rising, and not only is it a good investment, it's also a great car to use everyday.

The Audi RS4 is sure to become a future classic. It's a great all-rounder with bags of potential in the classic market thanks to its 'end of an era' manual V8 and everyday practicality.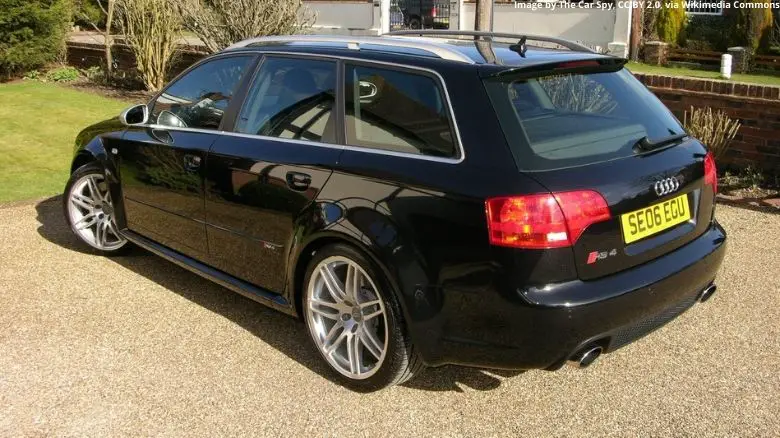 The naturally aspirated engine offers a completely different experience to the turbocharged performance vehicles of today, and it's one that we're not likely to see again in the future.

Normally reliability would pose an issue with older Audis, but in this case we were pleasantly surprised to find very few major issues with the RS4, unlike the B5 that came before it.

Its impressive performance figures and sublime handling make it a great choice for the enthusiast who prefers to be understated, and these cars just keep going when they're looked after.

If you're looking to buy a B7 RS4 as an investment then there are far worse places you could put your money. 

Prices of the best models are on the up, and soon enough it will be difficult to find one in decent condition due to the low production volume.

Overall it's one of the best, if not the best, all-round Audi RS cars that has ever been produced. It's a hero car of its era, and if you've always wanted to own one, time may be running out to pick one up at a reasonable price.