Convertibles have always been a popular choice for people who want an open air experience when driving, but one of the perceived drawbacks in owning a convertible is that they can leak in wet weather.

The technology and manufacturing processes used by automotive companies to make their convertible roofs as water-resistant as possible has come a long way in the last couple of decades, so are people's concerns valid? Do convertibles leak?
A convertible with a roof in good condition will not leak under normal circumstances, particularly if it's a modern vehicle. But it can never be completely watertight, and if the rubber seals between the car and the roof have deteriorated there may be some leakage into the cabin.

So most convertible roofs aren't prone to leaking in normal conditions, but can you take a convertible through a car wash, and can you keep it outside?
Are Soft Top Convertibles Waterproof?
Soft top convertibles are waterproof by design, but do require continuous care to protect their waterproof layer. If not maintained correctly, they will gradually lose their ability to resist water.

Soft tops can be made from a variety of textiles, all of which are designed to prevent water from entering the vehicle.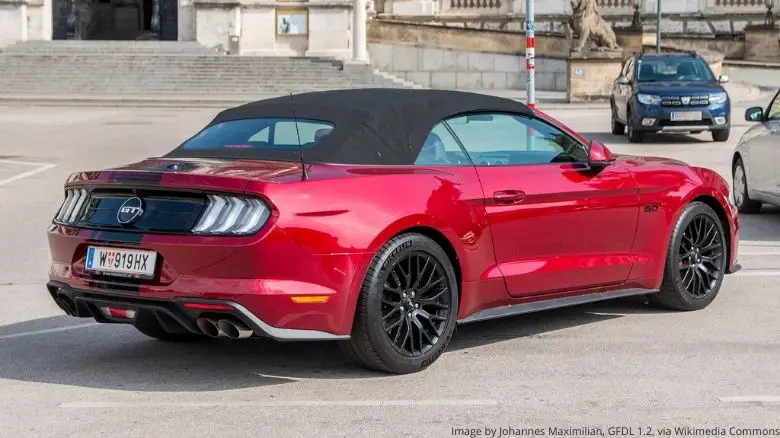 Whilst all modern convertible tops are waterproof, they do still require extra care and attention to retain their durability and prevent water ingress.

Over time the elements will degrade the water resistance, particularly if the car is left outside for the majority of its life.
Can Soft Top Convertibles Go Through a Carwash?
Many modern soft top convertibles can be taken through a carwash, but it's safest to check the manufacturer's recommendations before doing so. An older soft top convertible should not be taken through a carwash.

These days automated carwashes are designed to be convertible-friendly and many car manufacturers have deemed it possible for their convertibles to use these carwashes.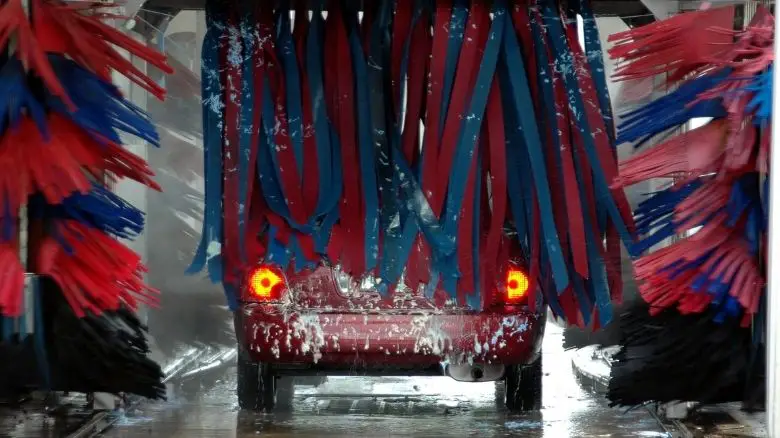 Be sure that your soft top roof is in good condition with no tears, holes, or any loose bits. You should also be sure that all the seals are in good condition.

Modern car washes shouldn't be aiming any high pressure water above the window-line of your vehicle. Good news for convertible owners as the roof and the all-important seals should be protected.

Our advice is to always hand wash your convertible so you can pay close attention to the roof and clean it safely, but if you haven't got the time and you're considering an automated carwash it may be possible, depending on the type of car you own.
Our step by step guide on how to wash your car properly takes you through everything you need to do when handwashing your car.
Can You Drive a Convertible in The Rain?
You can drive a convertible in the rain. If the roof is up it will remain impermeable, but if the roof is down water may enter the cabin. If you drive over a certain speed with the roof down, you'll have some protection from getting wet.

Convertibles are perfectly fine in the rain; the roof is unlikely to leak if it's in good condition.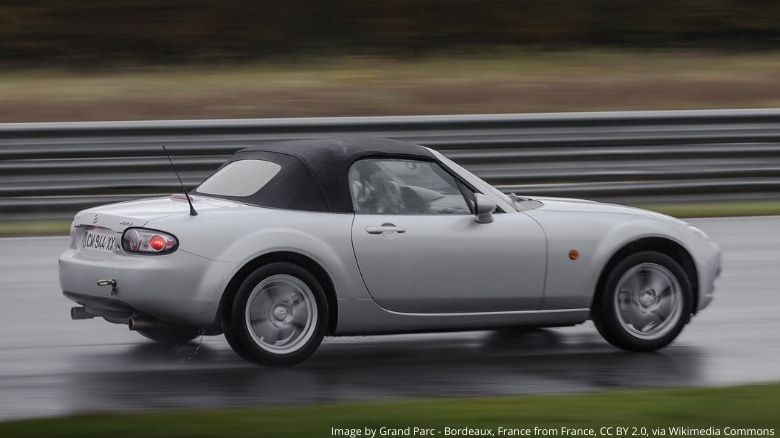 Driving in the rain with the roof closed is completely normal and people regularly find themselves in this situation, especially those that live in wetter climates. 

But what happens if it starts raining whilst you're driving with the roof down? The obvious answer to this question is that you'll get absolutely drenched, but in reality it's not that simple.

Sure, if you're in traffic and at low speeds it's very likely you'll be getting wet very quickly unless you can find a suitable place to stop and put the roof up, but if you're travelling at speed you may have some protection.

When you're at speed the wind coming off the windshield will deflect the rain over your head and towards the back of the car, almost forming a bubble around you.

The speed you need to be driving depends on the type of car you have, but it's usually at around 60mph. Just don't get caught in traffic!
Why is my Convertible Top Leaking?
Either the waterproof barrier has deteriorated, the rubber seals have perished, or there's physical damage to your roof, for example a hole in the fabric.

If the soft top roof hasn't been looked after well, the waterproof barrier will deteriorate over time and eventually start leaking.

Rubber seals connecting the roof to the windows and body panels are the other weak point. These rubber seals will also perish over time from exposure to the sun's UV rays, extreme weather, and fluctuations in temperature.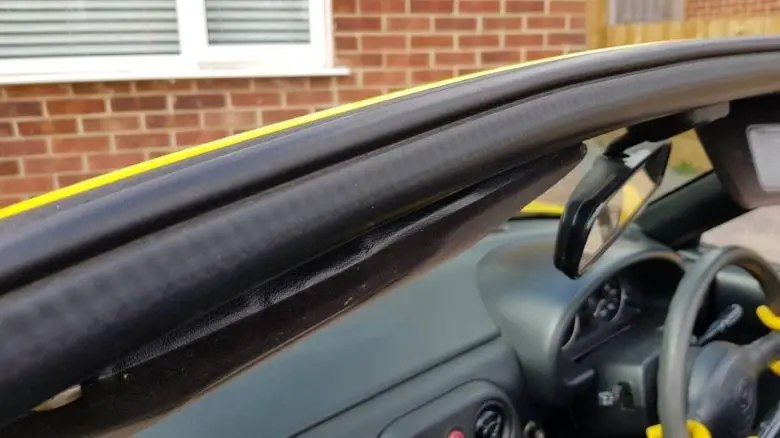 Even some hard top convertibles can start leaking if the rubber seals have deteriorated.

One final check you can make is to look for any holes or tears in the fabric. Although very durable, the material used in soft top convertible roofs is prone to being torn.

These tears can very quickly start letting water in and cause serious damage to the interior of your car.
Our guide on how to stop a convertible top from leaking covers everything you need to do to prevent your roof from leaking.
Can You Keep A Soft Top Convertible Outside?
Soft top convertibles can be kept outside but it's better to keep them garaged, especially during the winter months when they're more susceptible to being damaged by the cold, wet conditions.

If you do keep your soft top outside throughout the winter then it won't be long before you start seeing the effects.

Green algae and mold can start growing on the fabric giving the car a worn-out look, particularly around the edges of the roof and around the rear window.

Rubber seals are also more prone to damage with regular temperature changes and cold weather.

But this isn't to say you can't have a soft top convertible if you don't have a garage. In fact, plenty of people keep their convertibles outdoors.

If you do keep it outdoors, it will just need more regular cleaning and waterproofing than if you were to keep it indoors.

Here at The Car Investor we kept our BMW 3 Series convertible outdoors for a number of years before we had space in the garage for it, even through the colder months.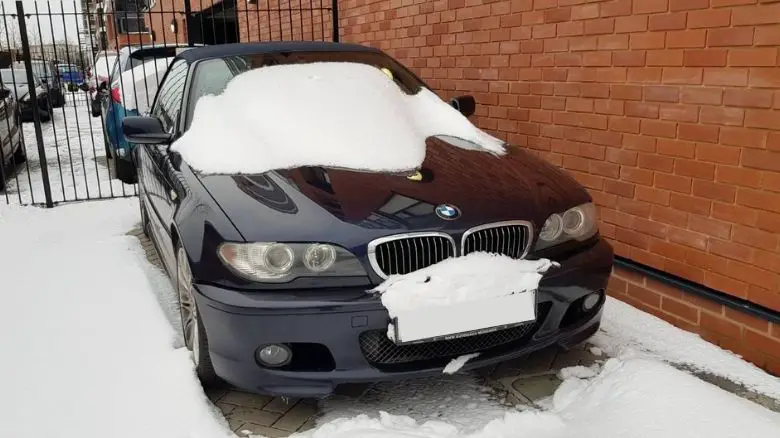 We made sure the roof was kept clean at all times to prevent the buildup of green algae, and regularly lubricated the seals to prolong their life.
The only issue we found with leaving it out over winter was the excessive moisture that found its way into the car.
It didn't pose much of an issue for us as we regularly used the car, but there are plenty of stories out there involving moisture build-ups causing serious issues with car electrics. This can affect cars which are left to stand for long periods of time in cold weather.

The roof lasted very well despite being kept outdoors, and we never had any leaks in the seven years we owned the vehicle.