If you have a convertible car with a fabric or vinyl roof, then you know the importance of keeping it watertight. You don't want to invest in something that will be ruined by water damage. 

Thankfully, there are several simple things you can do to ensure your soft top convertible isn't leaking anytime soon, and that even if it does start leaking, it won't get any worse.

So how do you stop a convertible top from leaking?

To stop a convertible top from leaking you should regularly apply a waterproofing product to the fabric, lubricate the rubber seals, and ensure the drain holes are not blocked. Replace the roof if there are any tears or holes in the fabric.

So it's possible to keep your convertible roof in good condition, but how do you lubricate the weatherstripping, and can you make a convertible top like new?
How do I Protect my Fabric Convertible Top?
Regularly clean the convertible top and apply specialist convertible roof cleaning formulas. Also apply waterproofing products to ensure it remains watertight. Never use household cleaning products.

Common household cleaning products and chemicals can be very damaging to soft top roofs.

Fortunately there are plenty of products on the market catered to cleaning the convertible roof, keeping it looking good, and replenishing the waterproof layer.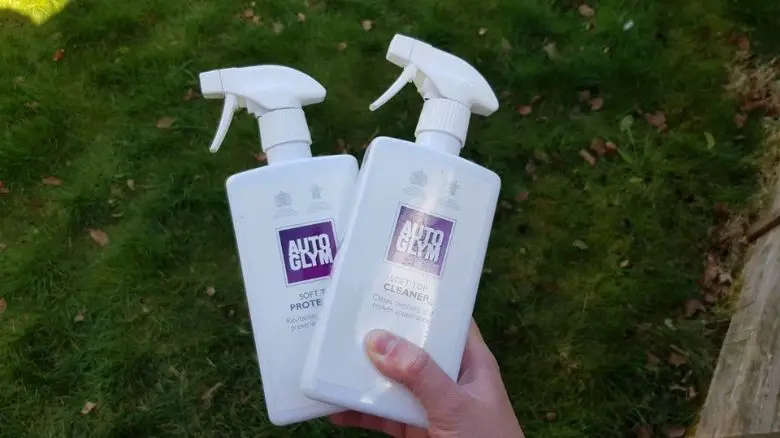 Well-known brands such as Liqui Moly, Chemical Guys, Autoglym and RaggTopp all provide great products in this space.

These products often come in spray form, and contain specially formulated formulas designed to repel water and other types of liquid.

Always check what type of material your convertible roof is made from first (e.g. fabric or vinyl) so you can buy a product suitable for that material.

Also check your manufacturer's recommendations on how often to apply such products, and what type of products to apply.

Some manufacturers, such as BMW and Porsche, even have their own convertible top cleaning and waterproofing products for convertible roofs.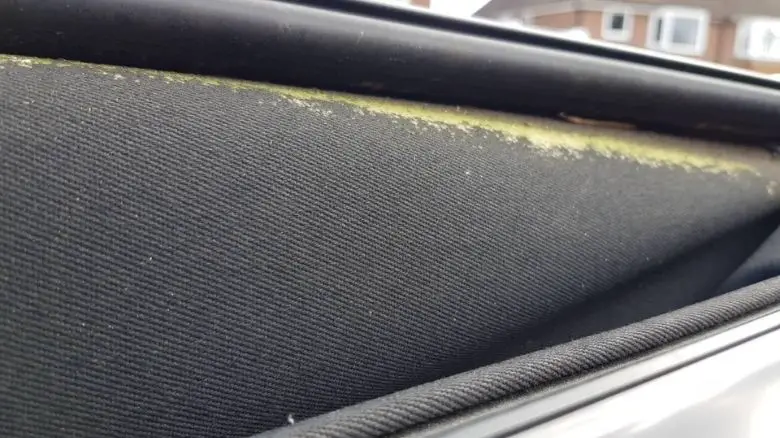 To clean a convertible soft top roof you should follow these steps. These also apply if your convertible top is covered in green algae, mildew or mold:
Rinse it down with water to remove any loose dirt
Let the top dry
Spray with convertible top cleaner
Scrub the top carefully with a soft bristle brush
Rinse thoroughly with water again until there is no remaining foam
Now that the top has been cleaned, it's time to let it dry out completely. You may need to leave it several hours before you can move onto the waterproofing stage.
Read our full guide: How to clean a convertible top (with real pictures)
How do you Waterproof a Convertible Top?
Once the convertible top has been cleaned and left to dry, you can apply a specialist waterproof convertible top protectant to restore the roof's waterproof layer.

Ensure the convertible top is 100% dry
Either cover the windows and paintwork around the roof, or get a towel and some water ready to wipe off any overspill
Spray the convertible top protectant over the roof in a sweeping motion, covering the whole roof
Let it dry
Apply a second coat of the protectant to ensure the whole roof has been covered and strengthen the waterproofing capabilities
Leave to dry again and then pour water over the roof to test
When you pour water over the roof to test, you should see the water beading and running off the roof rather than soaking in.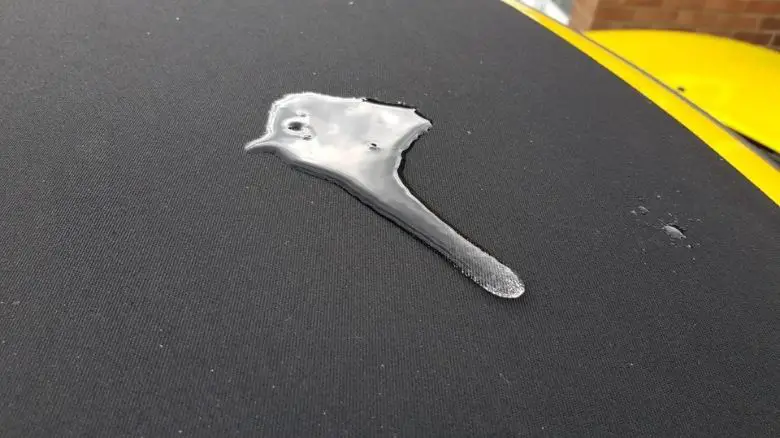 If this happens, the job is done until the next time. Your roof will now repel water and dirt, and prevent staining on the material.
Read our full guide: How to clean a convertible top (including how to waterproof the top)
Should you Store a Convertible with the Top Up or Down?
It's a bad idea to store your convertible with the top down. It should always be up, even if the car is garaged. This is very important to protect the interior of your car against the elements, and to protect the roof against moisture damage.

Keeping a soft top roof folded down for long periods of time creates a dark, damp environment for mold to take hold, especially if you live in a colder climate.

Once the roof starts deteriorating, it won't be long before leaks start to appear.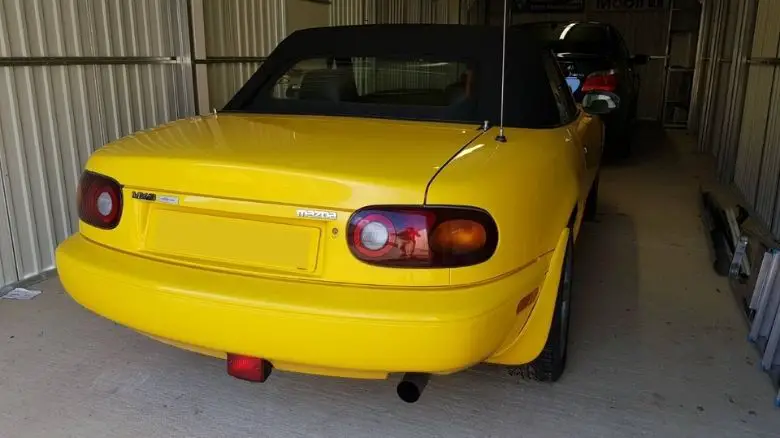 It's not only the weather that your car needs protecting from; the local wildlife will also take a fancy to the warm shelter of your car if you give them an opportunity.

Always keep your convertible top up when the car is being stored. This is what they were designed for, and it will ensure your roof stays protected from any potential damage.

How do you Lubricate a Convertible Top?
Regularly lubricate the rubber seals that sit between the convertible top, the body panels and the windows to maintain their water resistance. Also lubricate the roof's moving parts and hinges as they can become stiff over time.

The rubber seals form a waterproof barrier that prevent moisture from entering the car when the roof is up.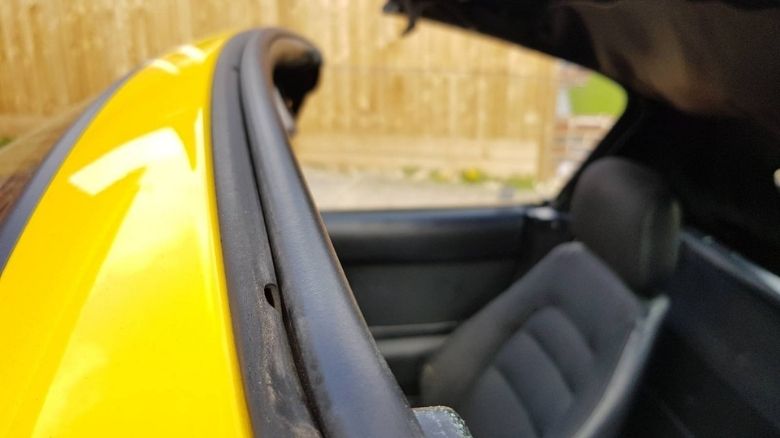 These seals can deteriorate over time with exposure to the elements, particularly in colder climates. Once this happens, it's far more likely that your convertible roof will start leaking.

It's important to lubricate these seals at least twice per year to keep them in top condition. They can be expensive to replace if they become damaged.

There are plenty of rubber care products on the market to choose from, from well-renowned companies such as 303 and Nextzett (Gummi-Pflege). 

Many car manufacturers also make their own products, so check your manufacturer's recommendations before buying.

To lubricate your convertible top's rubber seals:
Wipe down all the seals with a damp cloth to remove any dirt
Apply the lubricant to all the black rubber seals that connect the roof to the rest of the car (you may need to use a cloth for application, depending on which product you use)
Once they have a light shine, you're done
Applying this lubricant twice per year should help to protect your car against leaks from the seals.

By lubricating the roof's moving metal parts you're also ensuring the roof fits back into place properly every time you put it back up, again reducing the chance of any leaks.

You can usually use any lubricating oil or lithium grease for this, but always check the manufacturer's recommendations as they may require a specific product.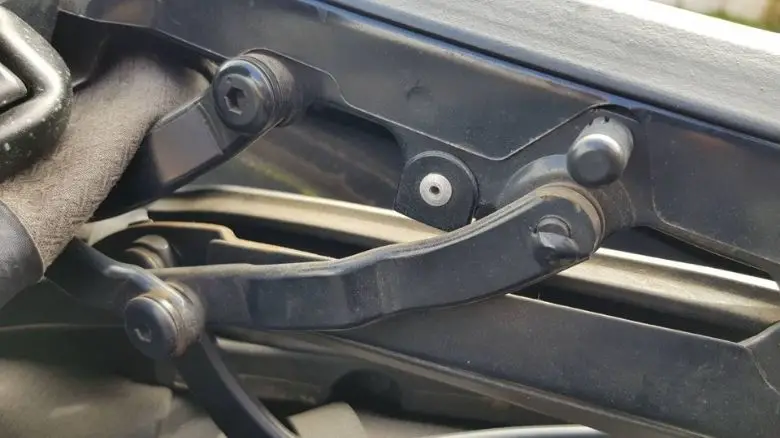 Simply spray the oil onto the hinges to lubricate them. Open and close the roof gradually to be sure you get all of the moving parts.
How to Clear Convertible Drain Holes
Open the convertible roof part way and look for drain holes. Remove any debris covering the drain holes, and then push some compressed air through to try and flush the drainage system. If this doesn't work, carefully feed a piece of wire through the drain hole to dislodge any dirt.

Drain holes are designed to allow water to escape around the vehicle without getting inside, but if they get blocked it can end up leaking into the car.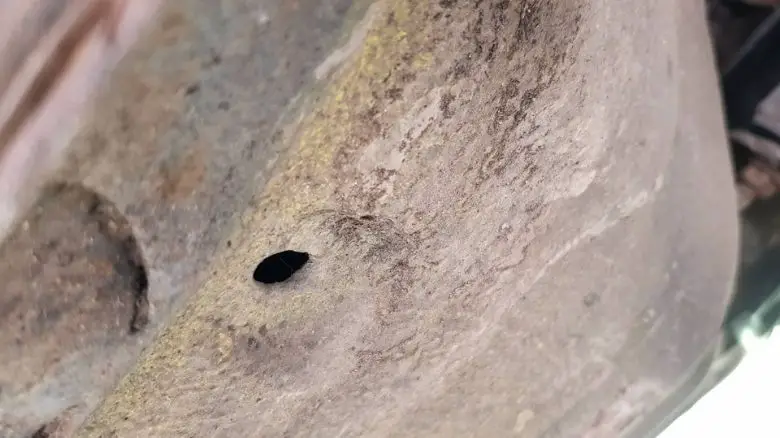 Whether you're able to find your car's drain holes will depend on the type of car you drive. Some are accessible by simply opening the roof, others will need trim to be removed first.

If trim needs to be removed, this can quickly become a big job.

It's likely other owners of your car will have had similar problems, so search online to see if there is any information on where the drain holes on your car are located.

Compressed air is the best way to remove any debris as it means not physically putting anything through the drain holes which has the potential to cause damage.

Once you've tried using compressed air, pour some water through the drain hole to see if it runs through and empties at the bottom of the vehicle as it should.

If not, you may have to use a piece of wire, bent coat hanger, weed-wacker string, or similar item to try and dislodge the blockage. 

Important: be extremely careful if doing this, it's very easy to damage your vehicle. If you're not confident, ask a professional to help.
You could consider taping the end of the wire to prevent anything sharp from penetrating your drainage system and causing more damage.
Can you Repair a Convertible Top?
It's extremely difficult to repair a convertible top and retain its waterproof qualities. DIY roof repair kits are not very effective, so the top will need to be removed and professionally stitched. This is very challenging, and it's much more cost-effective in the long-run to have the roof replaced.

Tears and rips are a common cause of convertible roof leaks, and unfortunately it's not as simple as patching up the roof with glue.

Whilst there are plenty of DIY roof repair guides out there, most of them don't offer the level of waterproofing that's required from a convertible roof to withstand the levels of moisture that cars are exposed to on a regular basis.

Waterproofing needs to be the number one priority of any convertible top, or the car will suffer extensively from water leaking into the cabin.

To effectively repair a convertible top, it needs to be removed from its frame and machine stitched professionally.

Removing the top from its frame is challenging in itself and can lead to further damage, and getting the top back onto the frame once it's been repaired is even more difficult.

The material is stretched to fit the frame, so when putting it back on there is the risk of re-opening the tear that's just been fixed.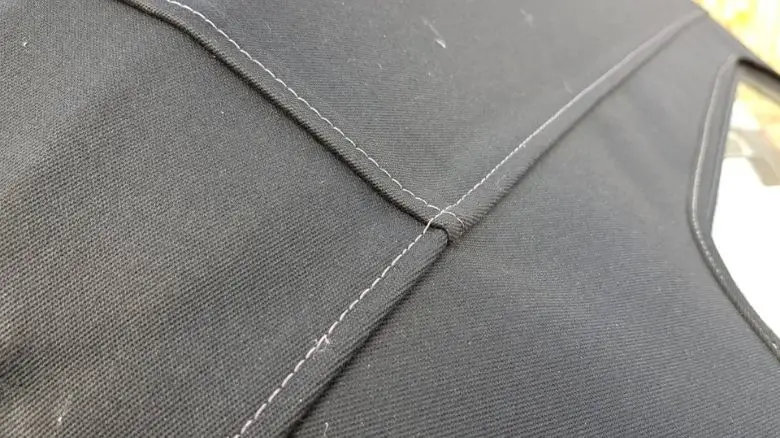 If the roof is old then there's the additional risk of further tears being opened up during this process.

Unless you're an upholsterer with plenty of experience with convertible tops, you shouldn't try this yourself.

By the time you've paid for a professional to do the work for you (and risked further damage to the roof), it would have been much more cost-effective to have the roof replaced.

This way you know you're getting the job done properly, and many companies will offer a warranty with the new roof so you can rest assured it will last many years.

A repaired roof is likely to need repairing again very quickly once it's exposed to the elements and the effects of everyday driving.
To Summarise
The best way to stop a convertible from leaking is by preventing leaks from occuring in the first place. 

Frequently clean and waterproof the fabric or vinyl with products specifically designed for the material your roof is made from.

Regularly lubricate the weatherproof rubber seals to prevent water ingress, and keep your drainage holes clear from dirt and debris.

Always store your car with the roof up, and if your convertible top has a tear or hole it's best to get it replaced rather than trying to fix it.