Porsche has a long history of developing highly desirable cars. But when the first generation (986) Boxster was released in 1996, it raised a few eyebrows amongst the Porsche faithful.
The truth is that much of the Porsche line-up in the early 1990s was a little outdated, and the company was struggling financially as a result.
The Boxster had been in the making for several years and would become an essential part of the plan to relieve the German manufacturer of its money worries. The company needed a car that would sell in volume, and the Boxster was the solution.
Despite some 911 fans' protestations, the 986 was a hit, and it started flying off the forecourts. But will the Porsche Boxster 986 become a classic?
Despite its perceived unpopularity, the Porsche Boxster will become a classic car thanks to its excellent handling, usability, and its unique place in Porsche's history. Porsche itself has already declared the Boxster to be a "classic of tomorrow".
So the Porsche Boxster (986) is already a classic in some people's eyes, but why has there always been a stigma attached to buying one, and what's it like to own?
Is the Boxster a real Porsche?
The Boxster is definitely a real Porsche. In fact, it's one of the most popular cars Porsche has ever produced, and can be credited with saving the company from takeover in the 1990s.
To strengthen its credentials, the 986 Boxster utilized Porsche's M96 engine, which also went on to be fitted in the 996 911 two years later.
Many criticized the Boxster for being "the poor man's Porsche", largely thanks to it being relatively affordable when new. It shared a number of its parts with the 996, including the majority of the front end, but had a smaller engine to allow Porsche to serve a new market.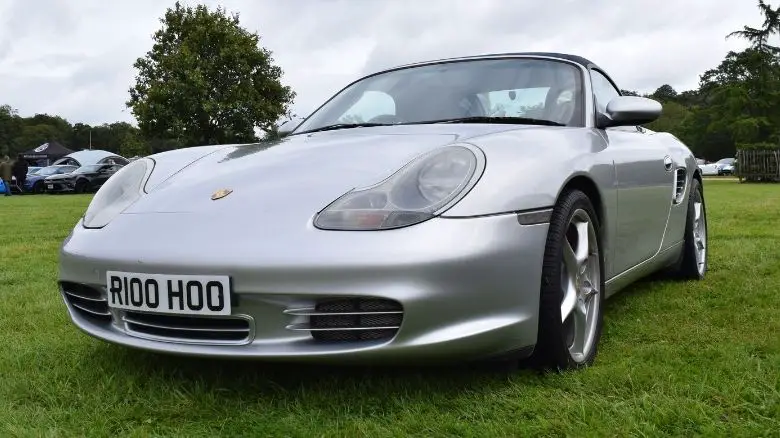 This criticism usually came from one of two places:
Old school Porsche snobs who believed the only true Porsche to be a 911
People who couldn't afford a Boxster themselves
The Boxster has also been labelled "a girl's car" by some. Irrespective of the old-fashioned stereotype, in reality the Boxster proved to be equally popular with both sexes over the years.
Ultimately there was nothing inherently wrong with the Boxster. It was a great choice for a basic sports car that could be driven hard, with the pedigree of the Porsche badge, and without the expense of buying a 911.
Porsche Boxster 986 specs
The Porsche Boxster 986 came in various guises over its 8 year production run. It was initially powered by a 2.5l flat-six engine, which was upgraded to a 2.7l in 1999. At the same time, Porsche released the Boxster S, which had a 3.2l engine and a significant increase in power.
Being a mid-engined roadster with a water-cooled engine, it was a step away from the ordinary. But the layout and weight distribution presented Boxster owners with a finely balanced car, and one that was a lot of fun to drive.
It came with a 5-speed gearbox, either in manual or automatic (Tiptronic), and later a 6-speed manual.
A facelifted version was introduced in the 2003 model year, which benefited from a number of practical and aesthetic upgrades. Most notably, the plastic rear window was replaced with a heated glass window.
The table below shows how the specs differ depending on which engine you pick. We've considered the manual models here, automatics are slightly slower.
| | | | |
| --- | --- | --- | --- |
| Engine | Power | 0-60mph | Top Speed |
| 2.5l | 201hp | 6.7 seconds | 149mph |
| 2.7l (1999-2002) | 217hp | 6.5 seconds | 155mph |
| 2.7l (2003-2004) | 222hp | 6.4 seconds | 157mph |
| 3.2l (1999-2002) | 247hp | 5.7 seconds | 162mph |
| 3.2l (2003-2004) | 254hp | 5.7 seconds | 164mph |
So is the Porsche Boxster fast? It depends what you're comparing it to. Obviously Porsche would never allow it to outpace a 911, but it does give it a good run for its money, especially on tight and twisty roads.
The Boxster S was the upgrade that the chassis deserved, and is considered the best value for money in the Boxster range when it comes to performance.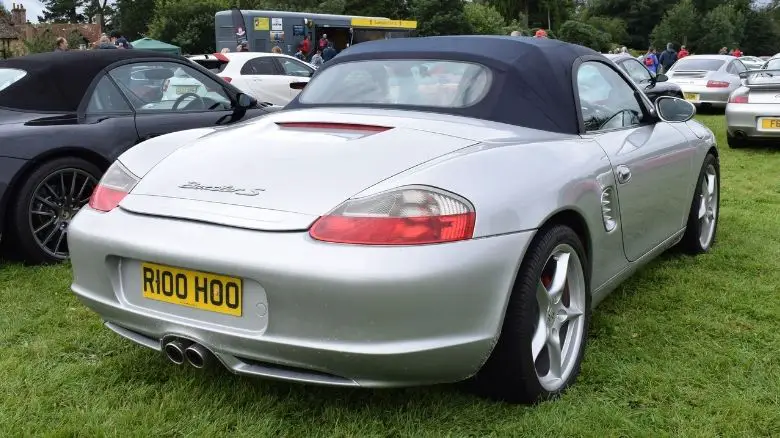 Porsche Boxster 986 reliability
Overall the Boxster 986 is a reliable car given its age, but there are some common problems to look out for, including:
IMS bearing failure
Cracked bore liners
Rear main oil seal failure
VarioCam chain guide wear
All of the issues mentioned above have been known to affect the 986 model, so the most important thing you can do is educate yourself on what to look out for if you're in the market for a used Boxster.
There is plenty of information available on the forums and owners' pages, but don't be drawn into believing that the car is inherently flawed. It isn't. Every car of this age has its issues, and the Boxster is no different.
Overall, the 986 Porsche Boxster is known as one of the most reliable sports cars from its era.
The infamous IMS bearing issue is one that is well-known amongst the Porsche community, and can lead to engine failure. Not ideal. There's endless information about the issue online, but it boils down to this:
It's not as common as the internet would have you believe
The problem mainly affects post-2000 cars
Preventative measures can (and should) be taken
As well as engine issues, it's wise to keep an eye on wear and tear items such as brakes, suspension components and the clutch.
Porsche parts are never going to be as cheap as the majority of other manufacturers' parts, so look out for evidence that wearable components have been maintained and replaced where necessary over the years.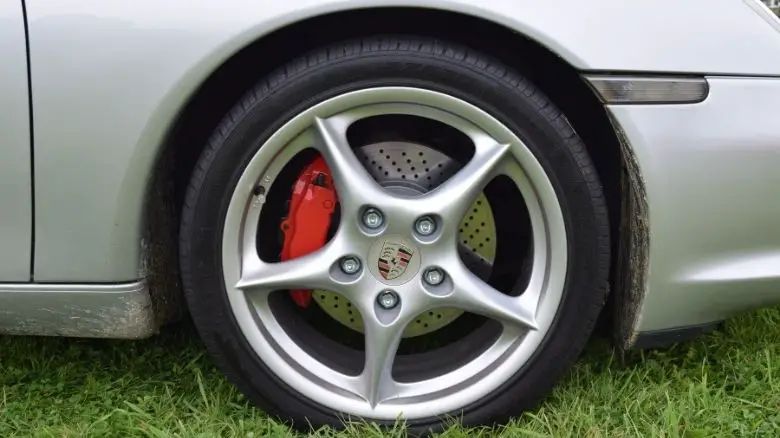 Service history is essential, and evidence of regular inspections is a great way to spot if the car has been well cared-for in its past life.
If you can afford a pre-purchase inspection then it's wise to do so, as you will be informed of any potentially costly fixes further down the line. It will also give you peace of mind that there isn't a serious issue lying in wait.
Is it expensive to maintain a Porsche Boxster?
Porsche Boxster maintenance costs are some of the most affordable of any Porsche, but it will still cost more than your average car to run.
How much you spend on maintenance will depend on three things:
How often you drive the car
How hard you drive the car
How much of the work you're willing to do yourself
The general consensus seems to be to budget between $1000 and $2000 (£700 – £1400) per year for maintenance based on average usage, but keep a little extra in reserve in case something expensive goes wrong or you need to carry out some preventive maintenance.
Labor rates at Porsche dealerships will be expensive, so it pays to find a good independent specialist that knows the 986.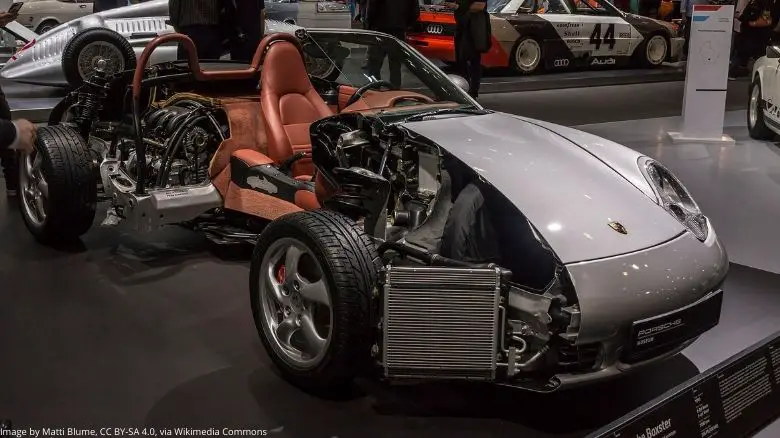 It's these relatively low maintenance costs combined with the low purchase price that make the 986 Boxster such an appealing proposition for would-be car investors and enthusiasts alike.
Can a Porsche Boxster be a daily driver?
The Porsche Boxster makes for a good daily driver; it's easy to drive, comfortable, and fun. The downsides are that it only has two seats, not much luggage space, and can be noisy at high speed.
But these are the same obstacles you'd come across with any roadster. If you're happy to accept them, then there's no reason you shouldn't use your Boxster as everyday transport.
If you're looking to buy a Boxster purely as an investment, then it's probably unwise to drive it every day as the added mileage and wear will ultimately devalue the car.
A happy medium that most people find is to use it as a second vehicle and reserve it for evening and weekend use, but it's totally up to you how much emphasis you want to put on retaining and increasing the value.
Is the 986 a good car?
The 986 is top of its class in almost every aspect. It's a great car to drive, and one that is still relatively inexpensive to buy and own.
OK the interior wasn't great, and it came with the despised 'fried egg' headlights, and some say it looks the same from the back as it does from the front… but who cares?
Forget what you've heard in the past, forget the naysayers, and forget the horror stories. The 986 Boxster remains possibly the best value for money of any mid-engined roadster from this era.
Today it provides a way for Porsche fans to dip their toes into the classic market at an affordable price point, with less chance of getting burnt than the more expensive 911.
It can be used regularly, and the Boxster S will leave most cars in its dust on tight country roads. Even the standard Boxster has enough poke to put up a decent fight with the best of them.
Porsche Boxster 986 price
986 Boxsters have long been affordable at under $10k, but prices are starting to climb. For a high-spec model in top condition, asking prices are now between $25k and $35k.
But don't let that put you off if you don't have that much to spend, there are still plenty of Boxsters in reasonable condition for below $10k (£7.5k). If you're not too bothered about getting the best of the best, then there's a bargain to be had at this level.
And you can expect your investment to be safe too. Boxsters have long held their value, and are now appreciating, slowly but surely. We can't see that trend changing any time soon.
Is a Porsche Boxster a good investment?
The majority of car enthusiasts now agree that the Porsche Boxster presents a good investment opportunity thanks to its excellent handling, solid reliability, and significance in history.
For a car to become a classic it must have a number of unique or refining features. At first glance, the Boxster is merely an entry-level Porsche. But it was so much more than that.
What many 911 fans fail to realise is that without cars such as the Boxster, the 944, and even the Cayenne and Macan in more recent years, it would simply be unsustainable for Porsche to continue building the 911.
Car manufacturers need to sell in volume to be able to compete, which means they have to react to market desires, and design and produce the cars that people want to buy.
Porsche had to build an entry-level car to keep the brand going, and the Boxster proved so successful that not only did it save the company, but production continues to this day.
But popularity isn't enough on its own to make a classic. With the Boxster, the Porsche ownership experience was brought to the masses. 
Previously reserved for the wealthy, now your average Joe who'd had a good couple of years at work, or been smart with his investments earlier in life, could get behind the wheel of a brand new Porsche. And that was an appealing proposition.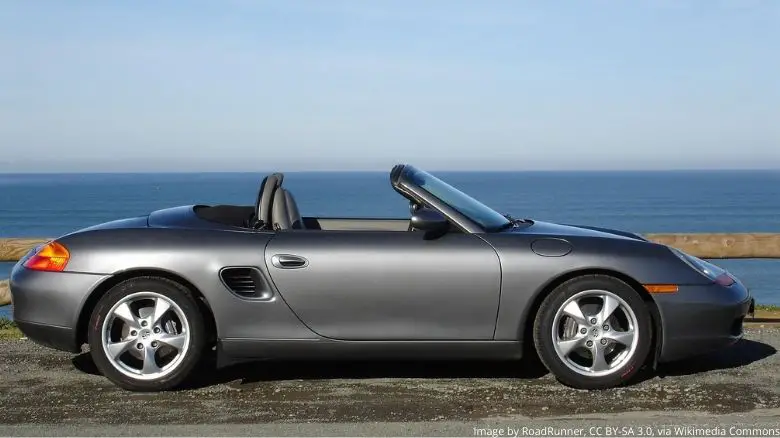 Despite the lower power output, the mid-engined layout meant the Boxster provided a lively driving experience. One that was eulogized in car magazines and praised by the car-buying public for years, even after the 986 model reached the end of its production run.
And these days, those voices are getting stronger. Car investors look out for such traits, and that gives the 986 Boxster every chance of becoming a future classic.
It's an unlikely outcome, but despite the large number of cars produced and all the disrespect the Boxster has endured over the years, it looks like it's finally becoming a collectible car.
Should you buy a Porsche Boxster 986?
If you've always hankered after a Porsche but have never pulled the trigger, the Boxster may be a way into the market. But it might not be affordable for much longer.
It's a great first Porsche and it's likely to continue rising in value over the coming years. It's not too demanding on maintenance, and is fun to own and drive.
Sure, some Porsche fans will downplay the importance of the 986, but don't be fooled. This was a car that made the 911 possible to this day. Without the 986, we may not have the Porsches we know and love today.
The popularity of Porsche's 986 Boxster has stood the test of time and is now increasing as more people realize how much car you can get for your money.
We're not expecting the 986 to hit the crazy heights we've seen certain 911s hit, but it's a nice little usable investment nonetheless. The 3.2 Boxster S in excellent condition is the one to go for if you're looking for the most investable model.