Production
In 1996 the sleek and stylish XK8 was initially launched with a 4 litre V8 engine producing 290 brake-horsepower. Two years later, Jaguar brought out the supercharged version, the XKR, which came with a whopping 370bhp.
Production of the first generation XK8 and XKR spanned 10 years, between 1996 and 2006, with Jaguar refreshing the line-up in 2003 by fitting both cars with new 4.2 litre engines and upping the power to 300 and 400bhp respectively. The XK8 cost around £48,000 from new back in 1996, a fair amount cheaper than some of its rivals, which also offered a fantastic cheaper alternative to an Aston Martin.
Reaction
The XK was the first car to be fully designed and launched by Jaguar since the Ford take-over of the eighties, and in the lead-up to its release there was much speculation about whether it would be an acceptable successor to the E-Type or just a Ford in disguise.
Upon launch, these same critics were fortuitously impressed with the E-Type-esque styling and improved reliability that Ford's investment brought.
As with any Jaguar, driver comfort was a top priority and enthusiasts weren't let down with the XK. The interior delivered real wood surfaces, leather upholstery and plenty of techy toys to play with, and the extraordinarily easy ride allowed it to eat up the miles making it a fantastic Grand Tourer.
Special editions
Along with the supercharged version, the XK came with a number of limited edition models to boot, much to the delight of Jaguar enthusiasts.
In 2001 they released the XKR Silverstone to celebrate the company's return to F1 and British racing fans' passion for the circuit. Only 100 were ever made, half of which were convertibles, and all were finished in striking silver and given performance and styling upgrades.
Less than a year later Jaguar released the XKR 100, again with a number of performance and styling related refinements.
Within a very short space of time, all 500 examples had been sold, and over the following years Jaguar produced several more limited edition versions of the XK.
Will it be a future classic?
Exclusivity
There were just over 90,000 built and many remain on the road today, although numbers have started declining in recent years as the poorest examples have become uneconomical to keep. The supercharged XKR is a little rarer, of course.
Looks
Considered by most a thing of beauty, and a reminder of times gone by with the E-Type style grille, wheel arches and curves. Some even criticised it for looking too much like an Aston Martin DB7 when it was released… we're not entirely sure how that could be considered a bad thing!
Maintenance Costs
Jaguar main dealers tend to be costly, so buy your parts online, make sure you carry out preventative maintenance, and find yourself a reputable Jaguar specialist. There are a few horror stories out there but it doesn't have to be a money-pit, so ensure you buy a well maintained car to start with. There are no major issues, but the usual foresight should still apply when buying.
Price When New
A luxury British sports car for under £50k was very appealing back in the nineties and the early part of the 21st Century. It's even more appealing today considering you can pick one up for less than £6,000!
Game Changer?
For Jaguar, yes. There was a lot riding on this for the company as a whole. They had to get it right and they did. The much-criticised XJS had come before it and Ford had bought Jaguar a few years earlier, so they couldn't afford any surprises. Fortunately the Jaguar faithful and the public loved it, and the XK evolved into a second generation (X150) in 2006.
Anything Else?
It featured in a 1999 Austin Powers film in Union Jack livery, and in the James Bond film Die Another Day in 2002, with a few modifications of course! Let's hope that one day the value of these goes the same way as many of the old Bond cars!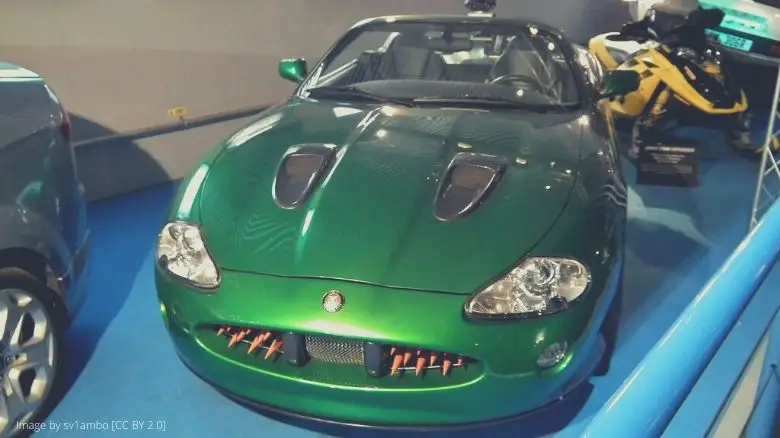 Time to Buy?
It's remarkable that you can pick up a Jaguar held in such high regard by many for under £6,000. You may have to spend a little more than that to find a good enough example, but it's still an impressive proposition. If the XK is for you, then the time is right.
Verdict
Prices may take a little longer to rise than some of the other cars we've reviewed, but if you fancy turning heads with a luxurious V8 Jag and can avoid being drawn in by a cheap example, then we say go for it.
It's likely there will be money to be made in these, but take extra care to pick the right example!