The original Mini was a car that received plenty of love from motoring enthusiasts throughout its 41 years in production, and very quickly became labelled a 'classic' when production finally ceased in 2000.
When BMW took the reins, it would have been hard to believe that their revitalized 'modern' Mini could ever reach the heights that the classic Mini achieved, both in terms of sales and in enthusiasts' affections.
But these days there are some classic car aficionados who are tipping the early BMW Minis to be collectors' cars of the future. So, will the BMW Mini become a classic?
The BMW Mini will undoubtedly become a classic thanks to the iconic status of its predecessor, its influential and recognizable design, brilliant handling, and its overall popularity around the world.
But thanks to the sheer number of BMW Minis that have been produced since its launch in 2001, surely only a handful of them will ever be considered true classics.
So how, exactly, has BMW maintained and improved upon the Mini's popularity since buying the brand in 1994, and which BMW Minis are likely to become classics?
Why did the BMW Mini become so popular?
The BMW Mini offered a unique combination of style, handling, and performance while retaining the charm and allure of its predecessor. It was a car with a unique personality and a design that was instantly memorable.
Launched at the turn of the millennium, the all-new BMW Mini appealed to buyers globally who were notably attracted by the Mini's smaller size and funky looks.
And the BMW Mini was an immediate hit, with production numbers quickly ramping up to levels previously unheard of for the brand.
Thanks to the marque's rich and dramatic backstory and its immense success in the UK, the Mini had already reached iconic status when BMW purchased it in 1994.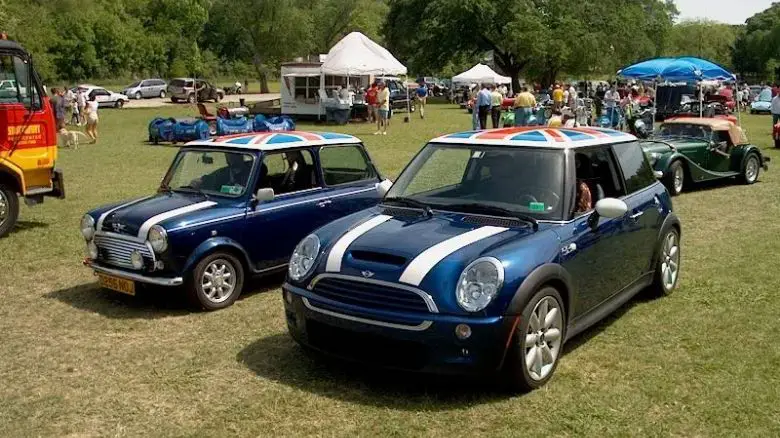 But many were worried that their beloved car would be ruined by its new German owners. Thankfully, BMW were more than capable of understanding what made the Mini so popular in the first place.
The main reasons for its popularity include:
Its quirky design and distinctive brand
Its sporty handling
It was highly customizable from the factory
The renowned BMW build-quality
Its compact but practical layout
Its efficiency
The admiration and following transferred from the original Mini
How much fun the 'hot' versions are!
It quickly cemented its place in automotive history, and it's for that reason that many enthusiasts are calling for some of the early BMW Minis to be named as future classics.
The first generation BMW Mini (R50, R52, R53)
Although there are a number of BMW Minis that have the potential to become future classics, it's the first generation cars that are piquing collectors' interest the most.
Upon launch in 2001, prospective customers had a choice of two variants; the entry-level R50 Mini One, and the slightly more specced-up R50 Mini Cooper.
A short while later, the much jucier R53 Mini Cooper S was also unveiled with its supercharged 1.6l engine, and in 2004 the R52 convertible was launched.
| | | | |
| --- | --- | --- | --- |
| Model | Engine | Power | 0-60 mph |
| One | 1.6 I4 | 90 hp | 10.9 seconds |
| Cooper | 1.6 I4 | 116 hp | 9.2 seconds |
| Cooper S | 1.6 I4 Supercharged | 163 hp | 7.4 seconds |
First generation BMW Mini specs – most common engines
Each petrol model was powered by a Tritec engine with the vast majority receiving the 1.6l unit, although there was also a 1.4l engine fitted to the One in some territories. The Cooper S was equipped with a supercharger to extract the additional horsepower.
BMW retained the 'Cooper' name for its sporty models, which originally belonged to the performance version of the classic Mini, and its these models that attract the most attention from enthusiasts today.
The first generation BMW Minis were replaced by the second generation 'R56' models in 2006, although the convertible stayed in production until 2008 when it made way for the R57.
Are BMW Minis Reliable?
Overall, BMW Minis have an average reliability rating, but do suffer from common problems that can involve expensive repairs. The reliability of BMW Minis has varied throughout the generations with the R56 model having the highest number of reported issues.
Despite the BMW Mini's endurance and popularity in the automotive sphere, some of these cars do have a reputation for experiencing problems as time passes.
And when issues do occur, they can be expensive to fix thanks to BMW's well-documented high repair costs.
One of the most significant focuses when buying a BMW Mini, particularly an older example, should be on preventative vehicle care through routine maintenance and symptom recognition.
If you're thinking of buying one as an investment or simply as a trusty run-around, it's worth taking the time to find out what problems owners have experienced with their particular model. There's loads of information on the owner's forums to help you out.
Common Problems with first generation BMW Minis
Power steering pump failure. The BMW Mini's electric power steering pump is prone to sudden failure, and can be very costly to fix.
Variable Valve Timing (VVT) problems. It's crucial to keep Minis topped up with a fresh supply of clean oil, but even good examples that have been well cared-for can experience VVT issues over time.
Transmission failure. Early BMW Minis with automatic transmissions have been known to experience complete transmission failure; something that can end up costing a small fortune to fix and can be uneconomical to repair.
Clutch failure. Unfortunately, owners of manual Minis don't escape scott free either, with early clutch failure a common occurrence and a problem that can be expensive to put right.
Water pump and thermostat housing leaks. Another part that's prone to premature failure is the water pump. Early Minis should have had replacements fitted by now, so check the paperwork before buying.
Timing chain wear. An integral part of the engine, the timing chain in early Minis has been known to become noisy and fail prematurely. Thankfully, it's an easy problem to listen out for and diagnose.
Despite these common issues, the first generation Mini can still be a relatively trouble-free car to own if it has been looked after throughout its life.
It's also widely acknowledged to be more reliable than its successor, the R56, that was fitted with a problematic Peugeot-developed engine.
Which BMW Mini should I buy as an investment?
When buying a car as an investment, there are several signs to look out for to help you establish which cars may appreciate in value. Originality, performance, and rarity are all important factors, and there are several BMW Mini models that could be considered investment material.
The Mk1 BMW Mini (R50 / R52 / R53)
The earliest models are touted as some of the most collectible examples, with the 2001 model year R50 Coopers a particular rarity.
In fact, they're already becoming increasingly hard to come by as more and more collectors snap them up.
It wasn't until 2002 that the R53 Cooper S was launched, but this one adds performance and style to the party, and is another worthy investment choice. And not to mention, an absolute riot to drive!
These Minis paved the way for the global success story that the now German-owned brand would go on to experience over the following decades, and the Minis of today may not be around if it wasn't for the popularity of these first generation models.
But Mini didn't stop at the Cooper S when it came to sporty hatches…
Mini Cooper S vs JCW
The JCW Cooper S differs from the regular Cooper S in that it has an ECU remap and a series of engine and exhaust upgrades that increase its power output.
These days you can order a John Cooper Works (JCW) Mini from new, but back in the early 2000s things were a little different. You'd have to buy a Cooper S and specify that you wanted the JCW pack upgrade from your local dealership.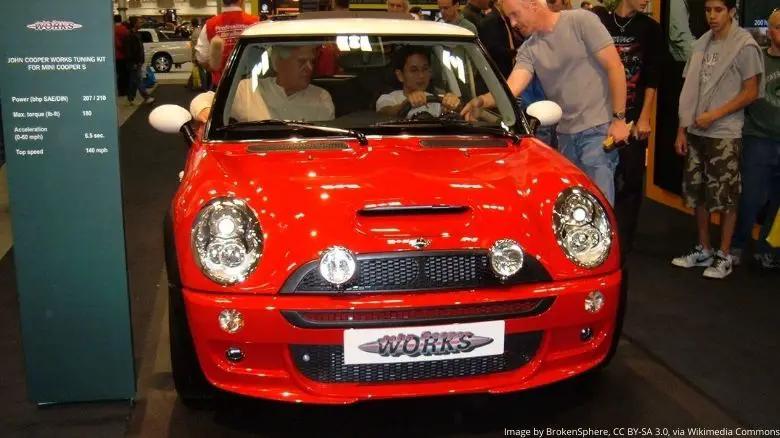 And it wasn't just the unique bodywork and alloy wheels that the JCW pack brought to your Mini. Power was increased to 200 horsepower from 163 in the earliest R53s, and 210 horsepower in the later examples.
Pretty tasty from a lightweight car that handles like it's on rails, and something that makes the JCW pack an extremely desirable upgrade for any Mini Cooper S owner.
These days the JCW R53s are becoming harder to get hold of, with prices steadily increasing. A dealership-installed JCW Mini Cooper S has become a bit of a collector's item in its own right, but unfortunately there are plenty of 'fake' JCWs on the market too.
It's all too easy to order JCW tuning parts and bolt them on to any R53 Cooper S, so it's important to establish whether the JCW kit was installed by the dealership when the car was new.
Each authentic JCW was supplied with an official certificate, so this is a great way to check if the one you're looking at is the real deal.
Which Is Better, the Mini R53 or R56?
While the Mini R53 and R56 are both beloved designs, the R53 receives far more favorable reviews and praise among Mini enthusiasts everywhere. The R56 does have a better interior and superior performance on paper, but the R53 is more fun to drive and has a better reputation for reliability.
The R53 is lightweight, small, and has lower ground clearance when compared to the bigger and heavier R56. It's also well-known for its kart-like handling, and is far easier to drive on the limit than the R56.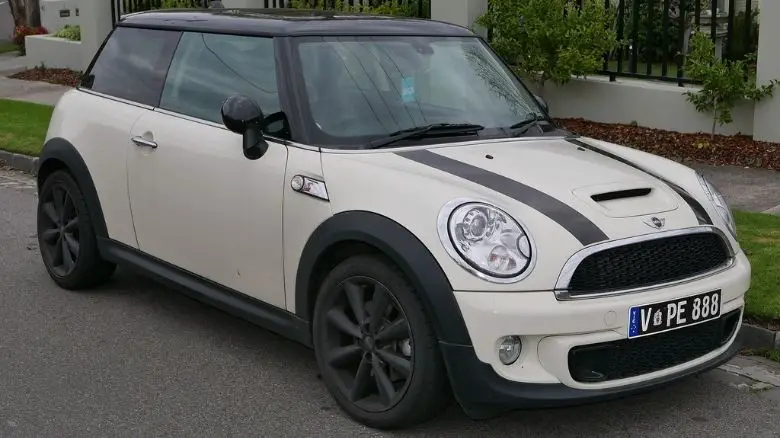 The R53 is more akin to the classic Minis of old than the R56, or indeed any newer model. While it lacks some of the R56's creature comforts, it makes up for this in sheer driving pleasure.
And when it comes to future valuations, it's likely the R53 will be the desirable choice in most situations thanks to these characteristics.
So, other than the plusher interior and slightly more modern equipment in the R56, the R53 wins out in almost every category.
Will the Mini R50 and R53 become future classics?
The BMW Mini R50 and R53 will become future classics thanks to their importance to the history of the Mini brand, their fun and sporty driving experience, and the legacy they have built.
The Mini Cooper is a car that could very easily have been consigned to the history books in the '90s having lived prosperously for a number of decades, but BMW's decision to revitalize the brand was a stroke of genius.
The importance of the early BMW Minis cannot be understated. Introducing a premium, customizable, and fashionable hatchback to the market was a risk for BMW, but one that has paid dividends ever since, with many other manufacturers following in its footsteps.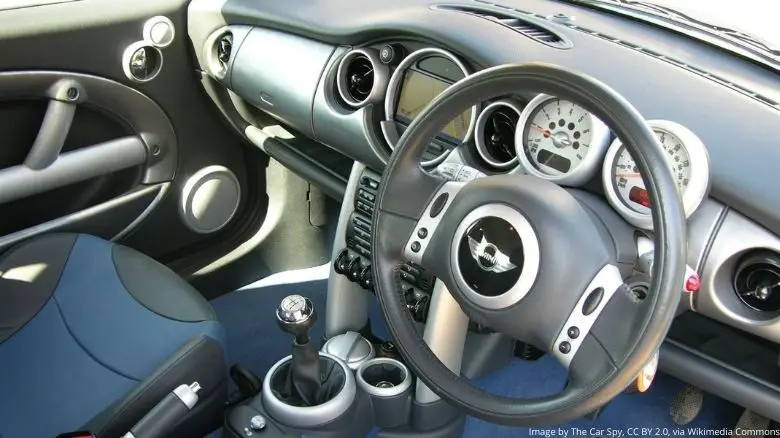 With the R50 and R53 Minis, the Bavarian-based manufacturer made the Mini brand relevant again and ensured its future for years to come. And these are exactly the sorts of qualities that tend to go down well in the annals of motoring history.
The R50 and R53 have a passionate, devoted following across the world, with various clubs dedicated to enjoying, driving, and preserving them for future generations.
The early 2001 models are already extremely sought-after, along with the Cooper S and Cooper S JCW variants built between 2002 and 2006.
Although the first generation BMW Mini is likely to be the most desirable in years to come, don't let this put you off if you're looking for an R56 model or later.
These are still great cars with plenty of character, many of which can be picked up at a steal of a price today. The R56 John Cooper Works models in particular will always be extremely desirable.
While there were plenty of first generation Minis produced, the 'rarity' factor has now entered the equation thanks to many examples dropping out of the market over the last two decades. Values are now starting to increase with every passing year as a result.
Having gathered a cult-following of its own, and with the BMW Mini's rich history and modern design with classic styling cues, it will undoubtedly be considered a classic by motoring enthusiasts around the world well into the future, especially with BMW continuing the Mini brand into the electric car era.