The Mercedes SLK has been around since 1996 when the original R170 was introduced. To many, it was a surprise that Mercedes were to enter the roadster market, but a welcome surprise nonetheless.
It became an overnight success and before long there was a waiting list spanning more than two years, with eager enthusiasts desperate to get behind the wheel.
Over 25 years on, the SLK (or SLC as it was renamed) has now been discontinued, but there have been whispers of prices creeping back up, particularly of well-specced and cared-for R170s.
So will the Mercedes SLK become a classic?
The best examples of the Mercedes SLK have a great chance of becoming classics thanks to their retro styling, impressive performance and the relative rarity of decent examples. Many have been neglected over the years, limiting today's market to very few cars that are in good condition.
Whilst there have been three generations of SLK, the R170 is the original and is the model we'll be looking at today. So what is it like to live with, and should you buy one as an investment?
Mercedes SLK R170 options and specs
The SLK was a compact hardtop convertible at the forefront of design, and was created to prosper in the flourishing roadster market of the 1990s.
The R170 came with a range of engine options to suit a number of different buyers. They were all front-engined and rear-wheel drive, but the entry-level SLK 200 produced just 134 horsepower and had a 0-60 time that wasn't too far off 10 seconds.
Thankfully there were much beefier engines to choose from, including a supercharged version of the aforementioned SLK 200, and an SLK 230 Kompressor. These two models saw the largest productions numbers by far.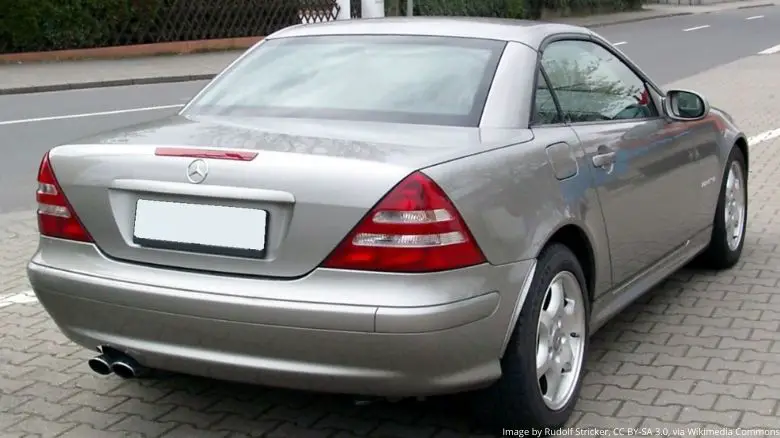 In the year 2000 the SLK party really started, with the introduction of the SLK 320, and a year later the SLK 32 AMG. The latter boasted 349 horsepower and a 0-60 time of just 5.2 seconds. Much more like it, Mercedes.
The SLK was offered in both manual and automatic guises. The automatic proved the more popular choice, making the manual much rarer in today's market.
Overall the R170 also boasted similar levels of agility and poise as its two-seater contemporaries, combined with a luxurious and well built interior, and Mercedes' new hardtop folding roof.
Why was the SLK such a game-changer?
In a market dominated by soft-top two-seater sports cars, the SLK stood out from the crowd with its clever retractable hardtop roof, named the 'Vario Roof'.
In fact, it was so successful it would pave the way for other manufacturers to immitate and innovate with their own hardtop convertibles in years to come.
The roof was quick and easy to use and would retract in under 30 seconds. It gave the SLK a sleek coupe-like appearance when the roof was up, and a sporty roadster feel when the roof was down.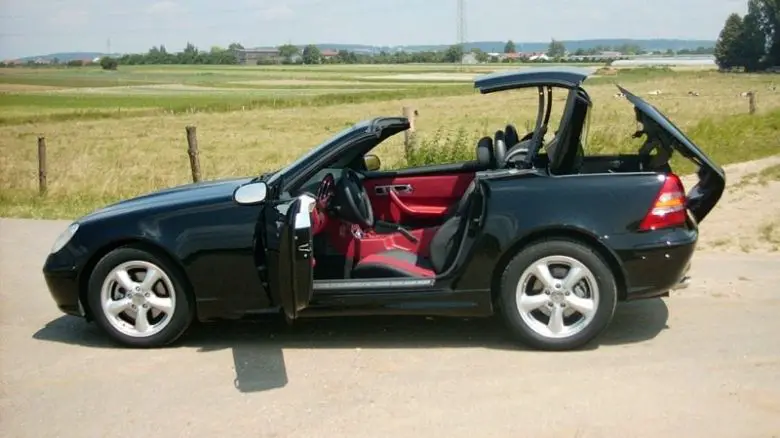 Along with other manufacturers, Mercedes had been taking note of the incredible success that Mazda had with their MX-5 (Miata), and aimed to provide something a little more refined for those who were looking for a fun sports car from an executive manufacturer.
It proved to be an extremely successful recipe, and Mercedes ended up selling well in excess of 300,000 R170 SLKs over its eight year production run, with many more sold of the following two generations.
Is the Mercedes SLK a girl's car?
Now these cars have matured, the majority of people have come to the same conclusion: the SLK offers a superb driving experience and there's no reason for it to be considered girl's car.
Many two-seater convertibles from this era, such as the Porsche Boxster and the BMW Z3, suffered the same stigma for many years, but we believe it's wholly unwarranted.
Any car that can offer an uncompromised and authentic experience behind the wheel is worth considering it you're in the market for a fun modern classic, and the SLK is no different, regardless of any labels that have previously been attached.
There's no reason a man shouldn't drive an SLK based on this stereotype.
Is the Mercedes SLK R170 reliable?
Overall the SLK R170 is a reliable car, but as with any car of this age, there are certain problematic areas to look out for. Rust and faulty roof mechanisms are the biggest killers of the R170.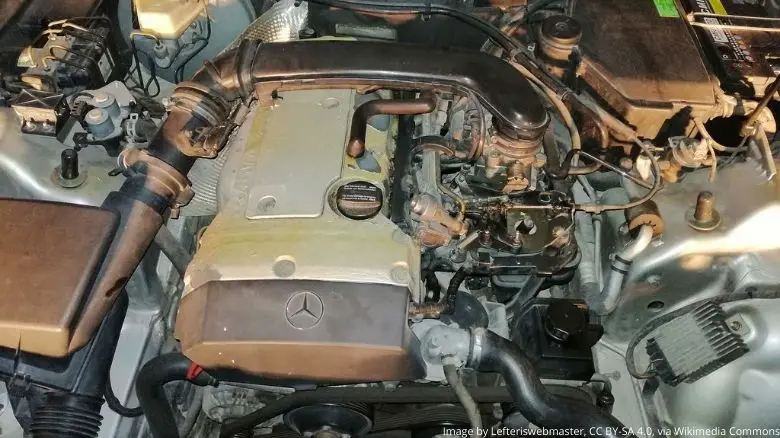 Mechanically the SLK is reasonably sound but as always, evidence of good service history is essential. Things can start getting expensive if they do go wrong whilst the car is under your ownership.
The main problems to look out for in an R170 SLK are:
Severe rust
Electrical faults with the folding roof mechanism
Head gasket failure at high mileage
Supercharger failure at high mileage
Oil can leak from the camshaft onto wiring harness, causing severe electrical faults
Many Mercedes-Benz cars from this era are now suffering extensive damage from corrosion, and unfortunately the SLK is one of the ones with a poor reputation.
For those living in countries that experience wet and cold winters, this needs to be your number one check when buying.
Picking up a severely rust-damaged car could set you back more than the car's worth in getting it repaired. Rust is the number one killer of R170 SLKs, and plenty have been deemed unsafe for the roads as a result.
It's a similar story with the folding roof mechanism. Although the design was ingenious back in the 1990s, it's now over 20 years old on most SLKs. Things are bound to go wrong sooner or later, and the cost of fixing the roof can become uneconomical.
But we don't want this to be a horror story, because the SLK is far from that. The vast majority of them are still good cars and well worth buying.
Every car has its faults, but on the whole the SLK can boast great reliability.
Why is the Mercedes SLK so cheap?
There are several reasons that the Mercedes SLK is such a cheap car to buy, including:
There were a large number produced, and plenty remain on the roads today
Mercedes parts and labor can be expensive
Lots of SLKs are suffering from extensive corrosion damage
Base model SLKs are slow and simply not as desirable as certain competitor cars
SLKs have been affordable for a long time, and many have been neglected by their owners or have suffered from corrosion damage due to poor maintenance.
When previously expensive cars become affordable, many of them fall into the hands of owners who are drawn in by the glamour of owning such a car, and underestimate the ongoing maintenance costs.
As a result, the maintenance is neglected and the car's condition deteriorates over time. Unfortunately in the used SLK market, this scenario is commonplace.
However, the number one factor that makes the SLK such a cheap buy is that supply has outstripped demand for a long time, thanks to the huge numbers of cars that were originally produced.
If you're looking to buy an SLK in top condition, you can expect to pay at least double what you would for one in reasonable condition for its age.
But buying at the bottom of the market presents an excellent opportunity to own a piece of Mercedes history for a very affordable price.
Is the Mercedes SLK a future classic?
The Mercedes SLK meets many of our criteria to become a future classic, but it may not be as desirable as similar cars from the same era that are already considered 'iconic' by many. For example, the Mazda MX-5 (Miata), the Audi TT, and the BMW Z3.
It was produced for over 20 years with some major updates along the way to keep up with trends in the marketplace. This means there is a huge choice when it comes to buying an SLK, but good examples of the original R170 are already dwindling.
On the plus side, its boxy, retro looks are easy to fall in love with at first glance and this alone makes it an enticing car for many enthusiasts. There are also a good range of engines available, and it's a fun little car to take out at the weekend.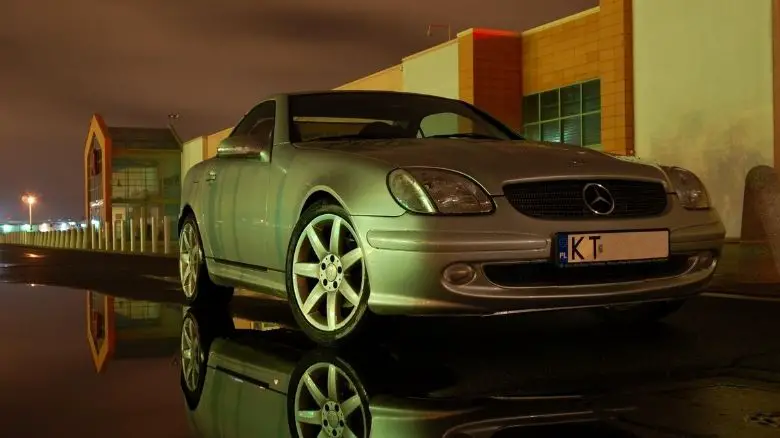 Maintenance costs are reasonable unless one of the 'big ticket' items goes wrong, such as the folding roof, and the cars are relatively easy to work on.
The used market can be a bit of a minefield due to the aforementioned corrosion issues, so be sure to carry out a full inspection of the car you're looking at. It may be worth your time and money to get a professional opinion if you're concerned.
We do believe this car has lasting appeal and current prices make it an absolute bargain. Prices were static for a long time but we're likely to see a gradual upward trend as more and more SLKs drop out of the market. Although it's unlikely to make you a quick buck if you're simply buying as an investment.
Certain models, such as the R170 SLK 32 AMG and the R171 SLK 55 AMG will always command a premium and will see proportionally larger value increases over time.
Similarly, pristine conditions of the more common SLKs will also become extremely desirable over time, simply down to their eventual rarity.
If you can afford the time and expense of keeping one of these up to scratch over the course of many years, it's likely to pay off for you in the long-run.
Whether you've always loved the SLK or have only recently become a fan, our advice would be to buy one for the joy of driving it and view any future value increase simply as a bonus.