Table of Contents
Aston Martin's V8 Vantage and V12 Vantage of the 2005-2017 era are two of the most desirable Aston Martins of all time.
But will they be future classics or just a footnote in Aston Martin history? Only time will tell, but there are some clues that may help predict their fate.
Affectionately known as the 'Baby Aston' when it was launched in 2005, the second generation Aston Martin Vantage was a genuinely exciting sports car that was made affordable to more petrol-heads than ever before.
So, given what we know, will the Aston Martin Vantage be a classic?
The Aston Martin Vantage will be a classic thanks to its impressive performance and handling, and the rewarding bark of its naturally aspirated engine. It's a car that can run rings around other sports cars from the same era, and is strikingly beautiful to look at.
The car is known for its style, power, and luxury, but will it stand the test of time? This article takes a closer look at the potential for the Aston Martin Vantage to be appreciated as a classic in the future.
The Aston Martin Vantage: A brief history
The 'Vantage' name has been used on a number of Astons throughout the British automotive company's history, but the Aston Martin Vantage that many people will remember from recent history first appeared in 2005.
The V8 Vantage was the first Aston offered at a price that made it an attractive prospect to the Aston Martin enthusiast on more of a budget.
The platform was named the 'VH2' Vantage, and the car was smaller and lighter than its big brother, the DB9, but still offered a luxurious experience paired with Aston's legendary performance.
The 2005 Vantage was powered by a 4.3 Aston Martin V8 with 380bhp, which would later be replaced by a 4.7 litre with 420bhp in 2008.
It was respectfully referred to as the 'Baby Aston' thanks to its size and price, but don't let that distract from its rip-roaring performance and burly aesthetics.
If 420bhp and a monstrous V8 wasn't enough for you, in 2009 Aston Martin fitted their Vantage with an even more potent 5.9l V12 engine, which upped the power to staggering 510bhp.
Production continued until 2017, at which point an all-new Vantage was announced ready for release the following year.
Is the Aston Martin Vantage fast?
The Aston Martin V8 Vantage will complete a 0-60mph run in 4.8 seconds, and the V12 Vantage will complete it in under 4 seconds, so Aston wasn't playing around when it came to the performance of its Vantage models.
And it wasn't just a straight-line performer either. To say the Baby Aston was suitably balanced on the country roads would be an understatement.
It was known for its tight handling and nimble performance, making it a good choice for those looking to enjoy their classic Aston Martin through the twisty and technically challenging roads.
Aston Martin has had a knack for producing popular, beautiful cars throughout its history, but its vehicles are also famed for being raucous and powerful thanks to the British car manufacturer's signature naturally aspirated engines.
The V8 and V12 Vantages are no exception to this rule.
Luxurious and Sporty: The V12 upgrade
In 2009 Aston Martin released a V12 version of the Aston Martin Vantage, which is widely regarded as one of the best Aston Martins ever created.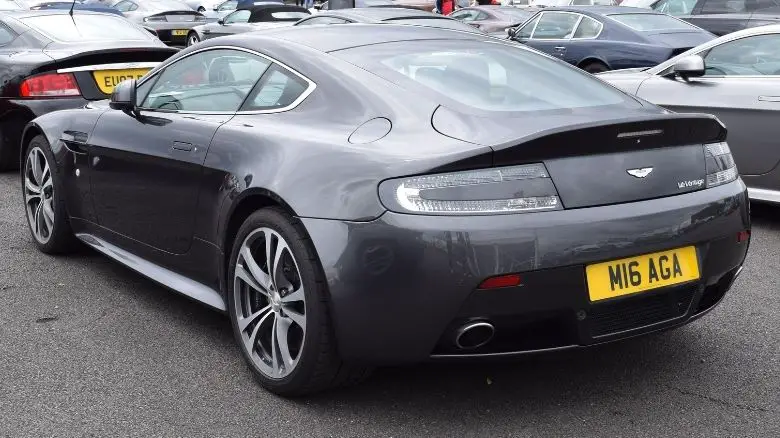 The V8 Vantage is a great car, but the V12 Vantage is in a league of its own. The 510bhp engine provides blistering performance, and it hits all the right notes when it comes to being a true driver's car.
Thanks to its extra power, it was significantly more expensive than the V8 Vantage, but it quickly became the top choice for discerning Aston owners.
And it's not only the power that has kept prices of the V12 sky-high ever since; only 3052 V12 Vantages were ever made (including the Vantage S and ultra-rare Vantage AMR), making them extremely scarce and highly sought after.
The V12 was such as a great machine that it culminated in one of the most memorable sequences from Top Gear during Clarkson and co's reign, shortly before we collectively and begrudingly entered the electric car era.
The Running Costs of a Vantage
One of the first things people look for when investing in a sports car is how much it's going to cost to run. If it's too much, any future gains will be quickly eroded away.
Aston Martins are typically expensive to run, and of course the Vantage is no different when compared to an everyday car.
However, when we looked into which Aston Martin is the most reliable, we were pleasantly surprised to find favorable owner reviews.
The general consensus is that if you look after your Vantage, the engine remains strong and durable.
You'll need to keep up the regular maintenance, of course, and as with any car it has its issues (including well-publicised transmission and electrical problems), but on the whole the Vantage is considered a reliable Aston Martin.
If you're willing to understand and take on the regular maintenance costs that any Aston Martin owner has to, it could proove to be a very rewarding and potentially profitable classic car in years to come.
Will the Aston Martin Vantage appreciate?
Aston Martin Vantages have already begun appreciating in value, but they still offer a very affordable way to get into Aston Martin ownership.
Throughout the 2010s, second-hand V8 Vantages could be picked up for as little as $35,000 / £25,000, but these days, the only 'cheap' examples are those with excessive mileage and a patchy service history.
With most modern performance cars resigned to utilizing turbocharged engines thanks to increasingly stringent emissions requirements, the V8 and V12 Vantages' naturally aspirated engines are proving to be a popular choice for purists.
While some people view the current crop of turbocharged engines as an advancement in performance motoring, others simply want their vehicle to remain pure and free of forced induction.
And soon enough, the only way to do that will be by getting behind the wheel of something a little older. That can only be good news for Vantage owners.
For many reasons, the V8 Vantage gives enthusiasts a decision to make. Do you pick up a newer performance sedan that has the potential to depreciate rapidly, or do you invest in an older exotic that may increase in value?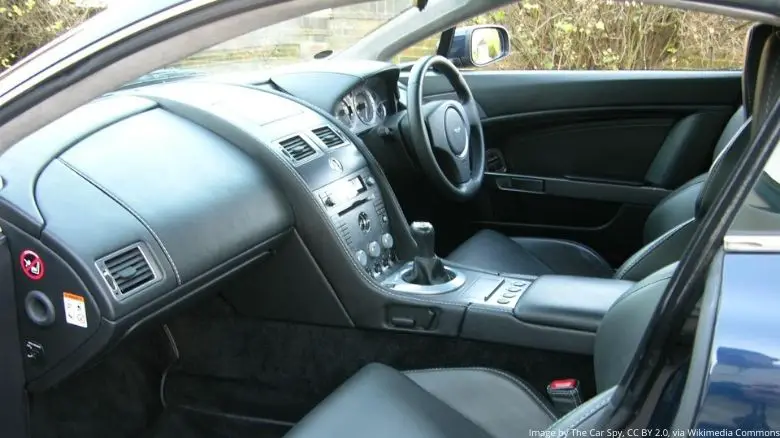 Despite the Aston Martin's running costs, many would consider the V8 Vantage to be the sensible choice thanks to the appreciation its expected to see over the next decade or so.
The post-2008 models are considered to be the most desirable of the V8 Vantage fleet, and you can expect these models to be worth more than pre-2008 models in the future.
The price of a V12 Vantage can be more than double that of its V8 counterpart thanks to its scarcity, so if you have deep enough pockets it's definitely worth trying both models to see which you prefer.
How can I retain the value of my Aston Martin Vantage?
If you're considering buying a Vantage and would like to retain its value, be sure to invest in a quality example.
Keep the mileage as low as is reasonably possible while still enjoying it, and always use a qualified Aston Martin specialist, or a main dealership, to handle maintenance and servicing.
The Future Classic potential of the Aston Martin Vantage
The V8 and V12 Vantage definitely have the potential to be future classics. They come from a time when raw power, beauty, and exclusivity were at the forefront of every sports car manufacturers agenda.
Using our 'What makes a future classic' checklist, we can assess the Aston's future classic credentials:
Rarity
Rarity is the number one factor when it comes to deciding how sought-after a car may become.
As with any Aston Martin, the Vantage has always been a rare sight on the roads. There were over 21,000 examples produced over the course of its 11 year production run, built by hand at the company's facility in Warwickshire, UK.
So it's not the rarest of Astons, but is still scarce enough to turn heads and attract admiring glances from those who see it on the roads.
Aston Martin Vantage production numbers:
| | | |
| --- | --- | --- |
| Car | Coupe | Roadster |
| V8 4.3 | 8,154 | 3,020 |
| V8 4.7 | 5,215 | 2,323 |
| V8 S | 1,911 | 825 |
| V8 AMR | 137 | 63 |
| V12 | 1,199 | 109 |
| V12 S | 1,277 | 363 |
| V12 AMR | 75 | 29 |
| Total | 17,968 | 6,732 |
Unique traits
Car investors usually look out for any interesting or unique traits in the cars they buy. The more special a car is, the more it's likely to rise in value.
We wouldn't go as far as to call it a supercar, but the Vantage is certainly a very capable sports car, worthy of carrying the Aston Martin badge.
The Vantage's performance and handling lends itself perfectly to the sports car enthusiast, and the car has been praised by many independent motoring journalists over the years.
The Vantage's nimbleness through the bends and perfect exhaust note are well known and definitely worth experiencing.
The design is strikingly beautiful, and it looks even better in person than it does in pictures. It's curvaceous, sleek, and menacing all at once. It oozes automotive sex appeal.
It truly is classic Aston Martin; it's one of the most recognizable and desirable cars to have been produced by the British company over the course of its history.
Is it still fashionable?
How 'cool' a car is has a huge impact on future resale values.
Even since being replaced by the equally stunning third-gen Vantage in 2018, it would be hard not to argue that the second-gen Vantage is one of the most aesthetically pleasing sports cars to have been on the market in recent times.
It still looks like a modern sports car even by today's standards, and Vantages continue to draw the crowds at all the major car shows and events.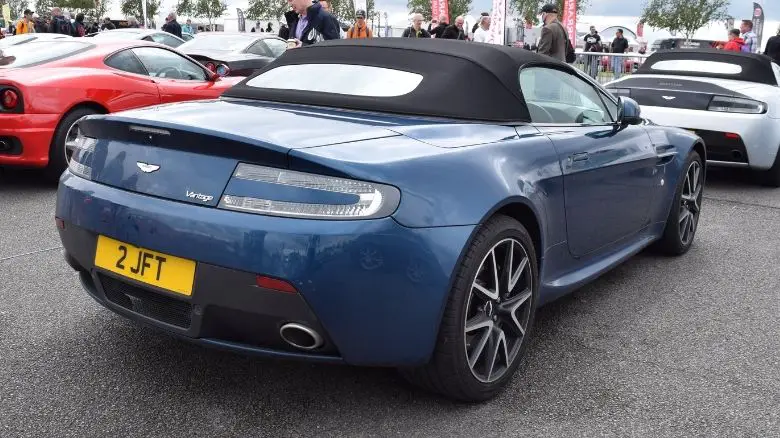 Over the next 10 years we'll see if its looks age as quickly as some of its rivals, but when you take into consideration how good other older Astons look, we highly doubt it.
A true timeless classic? Perhaps.
Is it expensive to run?
This is one of the most important factors, as large bills can put people off and reduce the demand for a particular car.
As we've established, it can be costly to run an Aston. But thankfully this pocket rocket can be considered to have reasonable maintenance costs given the type of vehicle that it is.
It certainly shouldn't cost you any more to run than any other Aston Martin, and should be on par with some of its other European rivals when it comes to servicing and maintenance.
How many are left?
With the second generation Vantage only going out of production in 2017, the majority of cars produced are still around today.
It will be a long time before they become exceedingly rare, but that does mean that there are always plenty of decent examples for sale on the second-hand market.
Final thoughts
The Vantage has always been a head-turner, from its mid-2000s design right through to the last models that rolled off the production line and made way for the next generation.
The pedigree is there with the Vantage, and with classic car prices on the rise, it makes sense to invest in something that is both usable everyday and has the potential to increase in value in the long-run.
If we were buying, we'd choose a post-2008 4.7l V8 Vantage with low mileage and an excellent service record, but the pre-2008 model is a worthy classic in its own right too.
A good looking car with great performance always helps in the future classic stakes, and it's probable that both the V8 and V12 Vantage will continue to appreciate over the next decade or so.