It's the dilemma that car enthusiasts on a budget, and young drivers looking for their first sporty car often face; "which performance car should I go for?".
Some used sports cars and hot hatchbacks appear to be bargains, but often people buy without considering the ongoing maintenance and insurance costs.
Some used sports cars can seem cheap, but without doing proper research first, it's really hard to tell if it will be money well-spent. You'd be surprised how fast things can add up.
To help you out in your search, we've put together a list of the best sports cars for under £5k in the UK.
Audi TT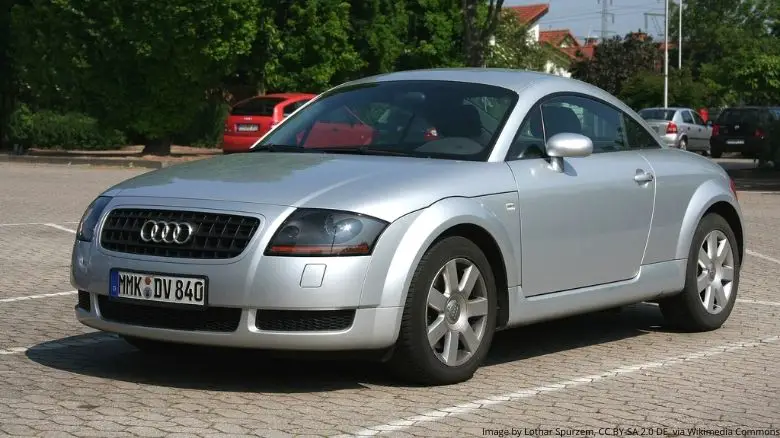 The first generation Audi TT was a revolution in the sports car world. Its bulbous looks weren't for everyone at the time, but it's aged very well and these days it's becoming very sought-after.
Despite this, it's still an absolute bargain and prices start at around £1500. There are a choice of engines, and if you up your budget slightly you can pick one up with the desirable 1.8T 225 BAM engine.
The engines are known to be extremely reliable when looked after correctly. These cars just keep going and going.
They're also easily modified with decent performance improvements possible, so keep an eye out for any previous owners' upgrades if you're in the market for one. Be aware though, that these modifications may increase insurance premiums, particularly if you're a young driver.
Brilliant fun to drive, looks great, and to top it off, prices of the best examples will appreciate over the coming years.
Renault Clio Sport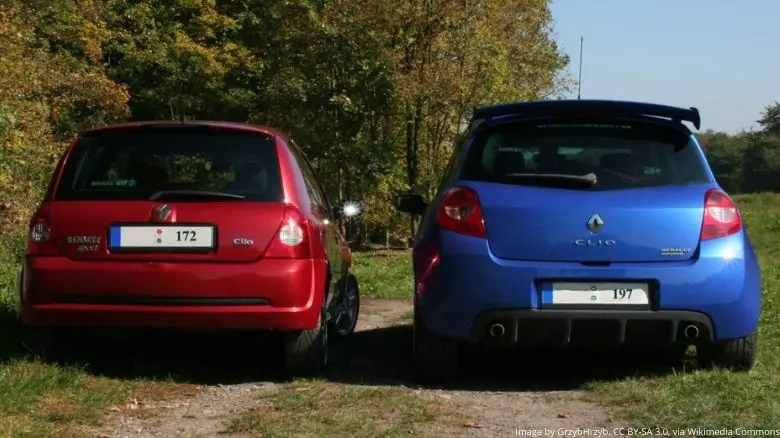 One of the most famous hot hatchbacks from the last three decades is the Renault Sport Clio. Even in the sub-£5k bracket there are options to choose from in terms of which model to go for.
And yes, we're counting hot hatches as sports cars in this list!
The 172 and 182 Clio Cup models from the early 2000s are a great choice if you're looking for something lightweight and nimble, but there's also the later 197 Cup which was introduced to the market in 2006.
Although larger and heavier, the 197 is still a fantastic sports car to own and low-mileage examples can be picked up for a great price.
These cars have been affordable for some time and some may have fallen into the wrong hands as a result, so make sure the one you're looking to buy has been well-cared for.
The holy grail of the 182 models was the Trophy. Just 500 were produced, and over the years many motoring journalists have admired how perfectly refined it is, with some commenting that it's possibly the best hot-hatch ever produced.
If you can still find a Trophy for under £5k our advice would be to bite the seller's hand off, because prices have been on the rise for some time now.
But even if you can't quite stretch to a Trophy, the rest of the range still makes for a brilliant driving experience.
Renault parts and labour are relatively affordable, so buying one makes perfect sense for somebody who's looking for an inexpensive way of owning a fantastic hot-hatch.
Mazda MX-5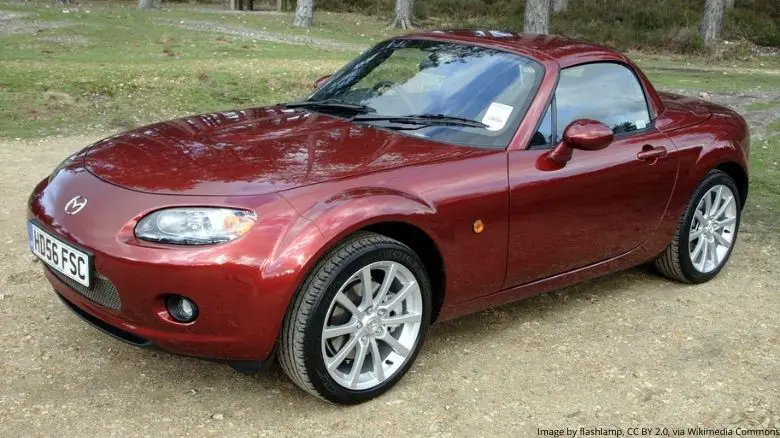 It was the car that took the roadster market by storm back in the late 80s and throughout the 90s. The Mk1 MX-5 (NA) was lightweight, entertaining, and extremely reliable. The Japanese worked their magic, and it took the European market by storm.
It's the most successful roadster the world has ever seen, which means you'll see loads out there on the road. Great news for us; the supply is plentiful, so prices have come down to very affordable levels.
Mk1 and Mk2 MX-5s are still an option (although the former is gaining value quickly), but our choice for an everyday usable MX-5 for under £5k would be the Mk3 (NC) which was launched in 2005.
There's an abundance of choice on the used car market, many with well under 70,000 miles on the clock.
The 2 litre option produces a tasty 158bhp, and with the low-driving position, wind in your hair, and rear wheel drive, it feels like a lot more than that.
Mazdas are always dependable, and the MX-5 is no different. You can expect great reliability and very reasonable servicing and maintenance costs.
We love the MX-5 so much here at The Car Investor that we bought one ourselves (albeit a Mk1), and can personally attest to how much fun you'll have behind the wheel. 
It's a fantastic little car, and one that will always put a smile on your face.
Honda Civic Type R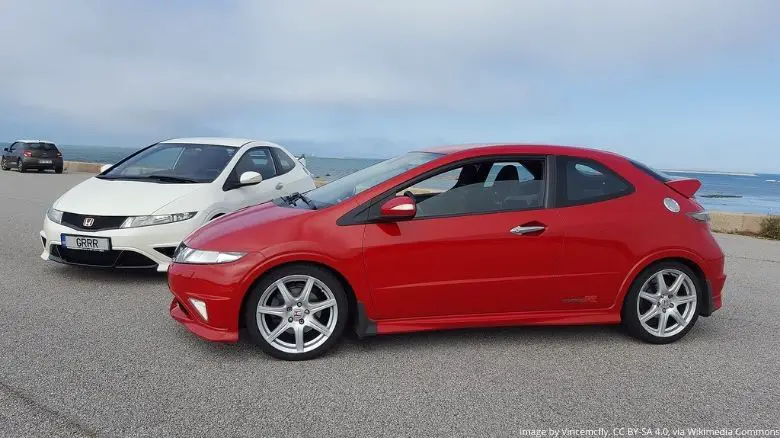 Ever since the days of the NSX-R in the early 90s, the Honda Type R badge has held significant prestige when it comes to Japanese performance cars.
The early 2000s was a great time for hot-hatches in Europe, and when the EP3 Civic Type R was launched in 2001 it proved to be one of Honda's most successful performance cars to date.
What was once a boring family car had been transformed into a rigid, lightweight, and lively hot-hatchback. Its 2 litre VTEC engine produced close to 200bhp, and sales took off in the UK.
These days the EP3 is lauded by the motoring press as one of the most entertaining Japanese sports cars ever produced, and despite prices rising, they can still be picked up for under £5k.
But in recent times its successor, the FN2, has also come down in price enough to be affordable on a £5k budget.
The FN2 was heavier than the EP3 but produced roughly the same power, so purists will always choose the earlier EP3. But don't let that put you off, because it's still an absolute hoot to drive.
As it's newer it also comes with more tech which is handy if you're going to be using it as your everyday driver.
Its unique styling, racing seats, colour-coded interior, and futuristic dashboard all add-up to make the FN2 a great choice. And of course, it's a Honda, so you shouldn't need to worry too much about the maintenance costs if you pick one up that's been looked after.
Ford Fiesta ST
It was the hot-hatch that was purpose-built for teenagers and those in their early 20s, along with those who had recently passed their test. Ford Fiestas had always been a popular choice with new drivers, and now there was a new high-performance model that was within reach.
The original Fiesta ST joined the hot-hatch revolution in the mid-2000s and was sporting a punchy 2 litre engine that produced around 150bhp. Slightly less than some of the cars on this list, but that didn't make it any less fun.
Owning a Fast Ford is a way of life for many, and the Fiesta ST is the most affordable way to do just that.
Prices have been below £5k for some time which makes it a great choice for those on a budget, and it retains all the practicality that the standard Fiesta has.
Maintenance costs shouldn't be too high, and there will always be an abundance of parts available.
If you're looking for a way into the Fast Ford market, this might be the one for you.
BMW Z4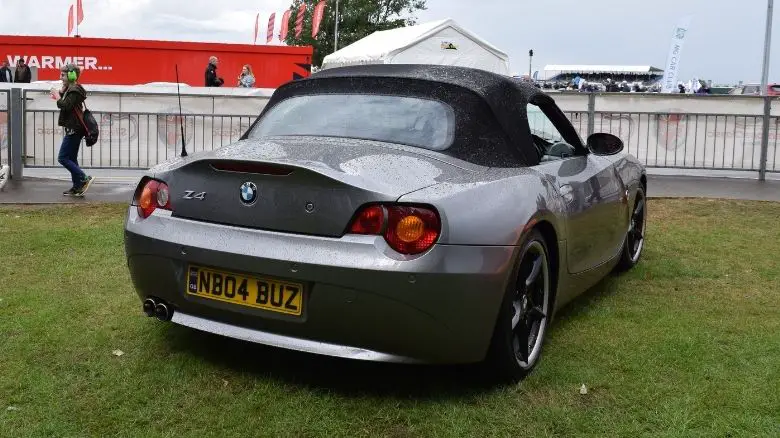 When compiling this list we were shocked to see how affordable Z4s have become. It's amazing to think that such an exclusive roadster that once commanded a significant premium can now be yours for well under £5k.
The Z4 was BMW's entry into the roadster market in the early 2000s, taking the mantle from its ever-successful Z3 model of the 90s. And it was a hit; people loved the Z4 in all its guises.
It came with a choice of engines, from the 2 litre inline-four that produced around 145bhp all the way up to the top-of-the-range 3.2 litre Z4m which produced over 330bhp.
The latter may well be out of reach, but there are still a range of options that come in below the £5k mark. Our choice would be the 2.5 litre straight-six with an output of between 186bhp and 212bhp depending on the model year and variant you go for.
The downsides of buying a Z4 are likely to be the insurance costs and additional maintenance costs. BMW parts and labour are generally more expensive than most of the other cars we've listed here, so keep that in mind if you're looking to buy.
But there's no denying that you're getting a lot of car for your money with this one, so if you're happy to pay a little extra in the long-run, then be sure to check out what's up for sale in the used Z4 market.
Mini Cooper S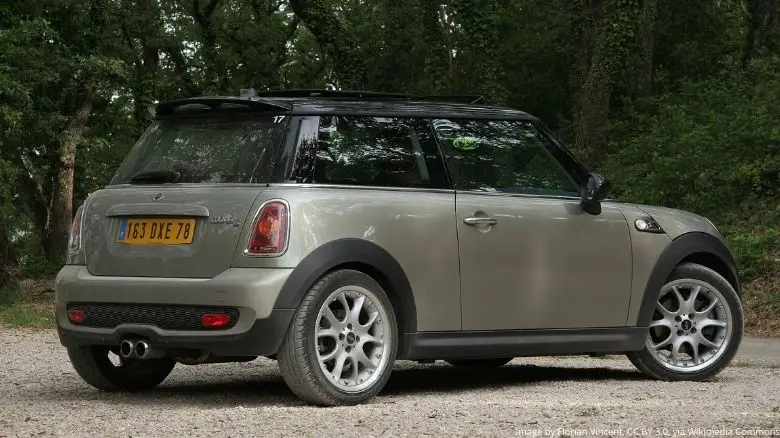 When BMW relaunched the Mini Cooper in 2001 it was a roaring success. It was retro but modern at the same time, and despite some bemoaning its weight-gain, there's no doubt that BMW got their calculations right with this one.
And it wouldn't be long before the Cooper S would be taking the hot-hatch market by the scruff of its neck either. The earlier R53 Cooper S was fitted with a supercharger, and the model that followed, the R56, was turbocharged.
With its powerful engine, nostalgic interior, and rich history, the Cooper S was destined to become one of the all-time greats if its handling was to match its performance.
And match it did. The Cooper S was so much fun through the bends that many referred to it as a go-kart for the road. Even BMW themselves have been known to use this term in their marketing material.
These days both the R53 and R56 Cooper S models are selling for under £5k, although with 'future classic' whispers circulating, the best examples may not hang around at this price for too long.
Take a quick look online and you'll see that the R56 model has taken a battering over the years for its unreliability, which is unfortunate for such a great car. The older R53 model seems to have stood the test of time much better, however.
Either way, if you do go for the Mini there will be the unfortunate side-effect of BMW servicing and parts to contend with. Not the cheapest, as we've already established.
Toyota MR2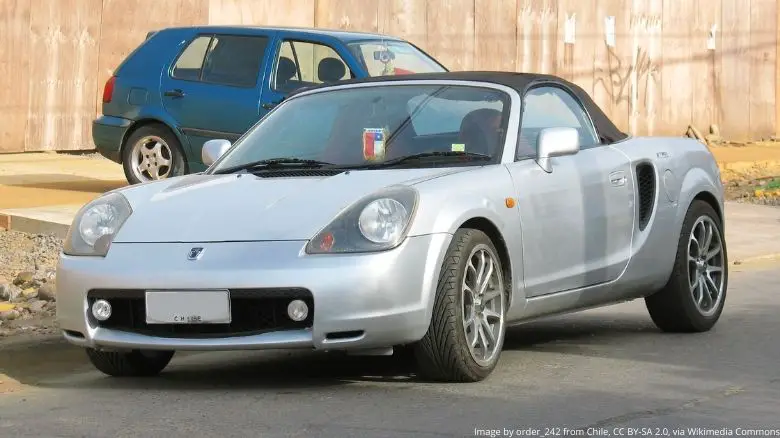 The MR2 has its roots in the 1980s, but in 1999 the remodeled Mk3 was launched. This time as a roadster that was significantly lighter than its predecessor with vastly improved handling.
It came with a 1.8 litre engine capable of producing 138bhp, and incredibly for a car of this value, it was mid-engined… like a supercar!
OK the performance is obviously nowhere near supercar levels, but it's nimbleness and perfect weight-distribution proved to be the perfect blend for tight and narrow UK roads. 
The Mk3 MR2 sold in its masses until it was discontinued in 2007, and today it's one of the cheapest sports cars out there.
Being a Japanese car, servicing and maintenance is extremely affordable, and having slightly less power than many of the cars on this list means that insurance should be somewhat more viable.
It has zero practicality thanks to the position of its engine, so definitely take that into consideration if you're looking for a sports car to use every day. But if that doesn't matter to you, the MR2 is absolutely worth looking at.
Volkswagen Golf GTI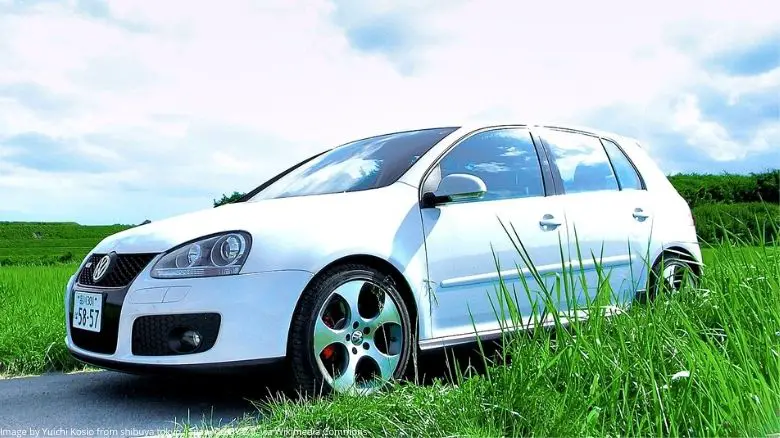 Some say the Golf GTI is the car that started the hot-hatch market back in the 1970s, and it's a car that's still in production today, albeit with a fair few changes along the way.
The Mk5 Golf GTI was launched in 2004 and came with a 2 litre turbocharged engine that produced 197bhp. It was an important time for VW, as they needed to take back a share of the market they had created.
As with most Golf GTIs that we've seen over the years, it was the perfect blend of power, practicality, and VW heritage, and it proved to be a significant success across the world.
These days good examples of the Mk5 GTI can be picked up for just under £5k, and at that price you're getting an awful lot of car for your money.
It's great for using everyday, and provides an excellent driving experience. Handling is sublime, and it also came with the option of a DSG gearbox for even sharper gear changes.
Maintenance costs aren't the cheapest on this list as it's another performance German model, but they're also not the worst. 
The key to reliability in this model is regular servicing and maintenance. If that's been taken care of over the years, you should be fine. If not, it's probably worth moving onto the next one as it can become costly.
Skoda Octavia vRS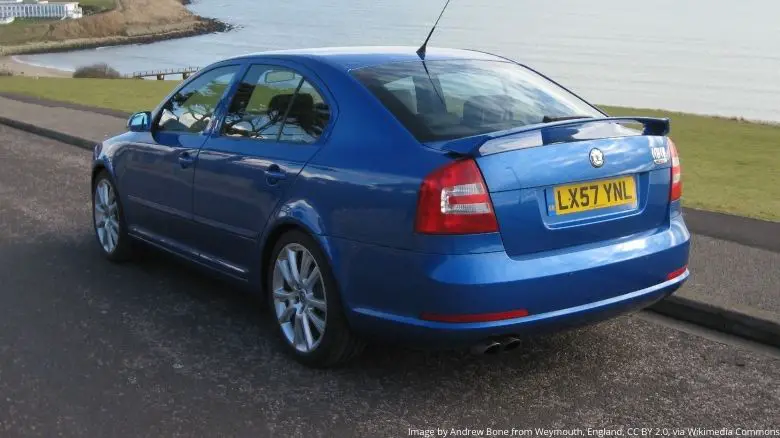 Want a car that's extremely practical, provides great performance, and doesn't cost the earth to buy and run? Look no further.
After enduring years of mockery for poor build quality, Skoda were back in the big time when they launched the Octavia in the mid 1990s. A reasonable family saloon that was a significant improvement on many of the cars that had come before it, but nothing special… until 2001.
This saw the launch of the vRS model, with a 1.8 turbocharged engine that produced 180bhp. A breath of fresh air in the Skoda lineup, and one with some fantastic performance credentials.
It had some subtle but needed refinements on the base model which meant that anyone who knew their cars, knew this one meant business.
Before long the vRS Octavia Estate was also launched, providing even more space in the back whilst retaining the vRS's performance and handling benefits.
The Mk2 Octavia vRS was launched in 2006, and it's this model that we'd recommend looking at today if you're after a performance saloon or estate car for under £5k. 
There are plenty available, and don't be put off by high mileage. If the one you're looking at has full service history and hasn't been abused then there's no reason why it won't keep going. 
Maintenance is affordable too, so overall it's a great package. Definitely one to consider if you're looking for a performance daily driver.
Ford Focus ST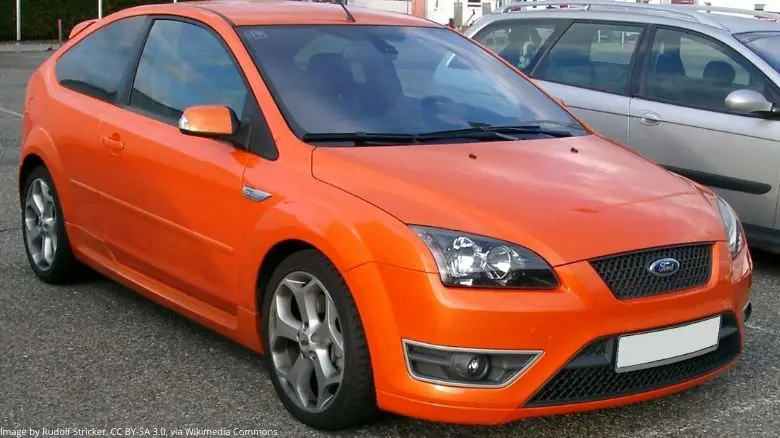 The first generation Focus tested the water with its ST170 model, but it wasn't until the Mk2 Focus was launched with the ST badge in the mid-2000s that things really started heating up.
It came with a fantastic 2.5 litre turbocharged engine that produced 225bhp, and it's 'in your face' styling and choice of vibrant colours proved to be a hit with Fast Ford fans everywhere.
It was perhaps the Electric Orange option that became the most famous, and most recognisable on the roads in Britain over the course of its five year production run and beyond.
Surely in part this was down to Jeremy Clarkson's animated review of it on Top Gear, in which he suggested it should be renamed the "ASBO" and shouted the name of England footballers out the window like a hooligan, whilst waving his fist in the air. Perfect.
But that aside, there's no denying the original Focus ST was a fantastic piece of kit. Performance was magnificent and handling was impressive, making it one of the most popular Fast Fords of recent times.
Today you can easily take one home for under £5k, just look out for signs of abuse in its former life. There are many that have been heavily modified which wouldn't be our choice, but may appeal to some.
Maintenance costs shouldn't be too bad, but insurance is the one to watch out for here, particularly if you're a young driver. Be sure to check the price of insurance before committing to buying the car.
Mercedes SLK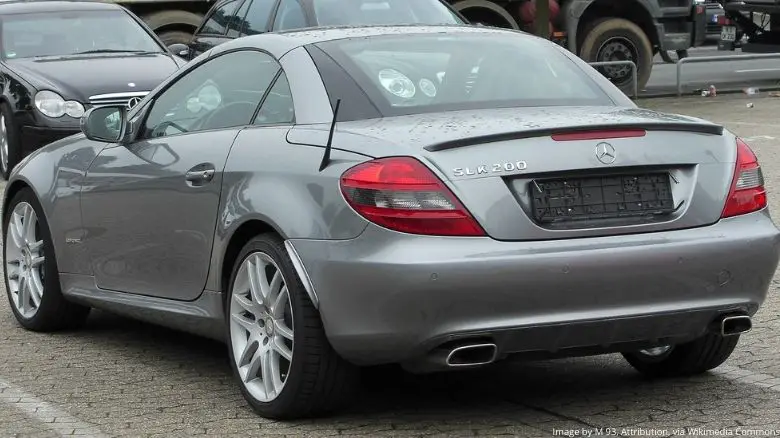 The original Mercedes SLK is the epitome of a boxy 90s sports car, and came with a range of engine options. The most basic is the SLK200 with a 2 litre inline-four, all the way up to the SLK 32 AMG with its 3.2 litre supercharged V6.
Whilst the SLK 32 is out of reach of our designated budget, you are still able to buy every other version of the Mk1 SLK for under £5k, including the desirable SLK 320. Our choice at this level, however, would be the SLK 230 with its 2.3 litre supercharged inline-four engine, which produces around 190bhp.
The original SLK was produced up until 2004 and provides great value for money in the used sports car market today, with good options available even at the £3k mark.
If you want something slightly newer, however, don't worry. Incredibly the Mk2 SLK (R171) is also available for under £5k. An absolute steal given the pedigree of this car, and one that will still turn a few heads in the street.
As you may have been expecting, however, the downside is that ongoing maintenance costs are likely to be higher as it's an executive German brand. 
Much like the BMW Z4 we mentioned earlier, parts and labour are likely to be far more expensive than the majority of cars on this list. But if that's a price you're willing to pay, go for it!
Chrysler Crossfire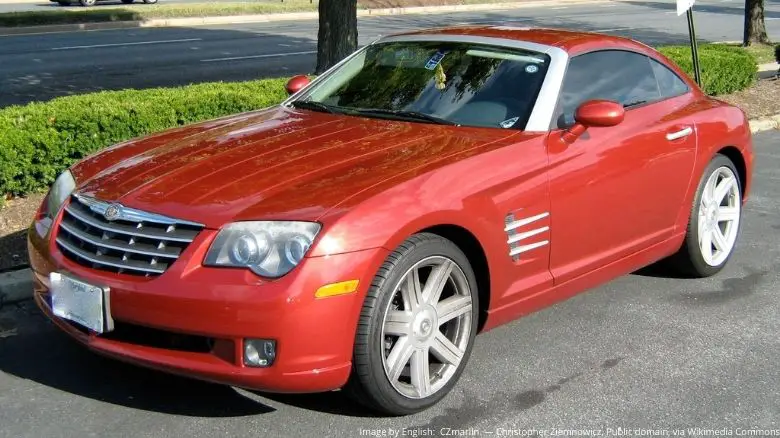 The Crossfire is one that's often forgotten about in the UK, but we thought we'd include it in this list for that very reason. The American coupe was a little different from your everyday sports car.
Produced between 2003 and 2007, it was based on the Mercedes SLK R170 platform thanks to Daimler and Chrysler's association at the time. Despite sharing many of its components, aesthetically the Crossfire was completely different.
The standard Crossfire produces 215 bhp from its 3.2l V6 engine, and the SRT6 model ups that to 330 bhp thanks to its supercharger. Whilst some consider the standard Crossfire to be lacking in the power department, the same can't be said for the SRT6.
In the UK in particular, Crossfires are extremely affordable these days. They're great value for money, and their rarity in this country suggests they should retain the value that they do have.
Seat Leon Cupra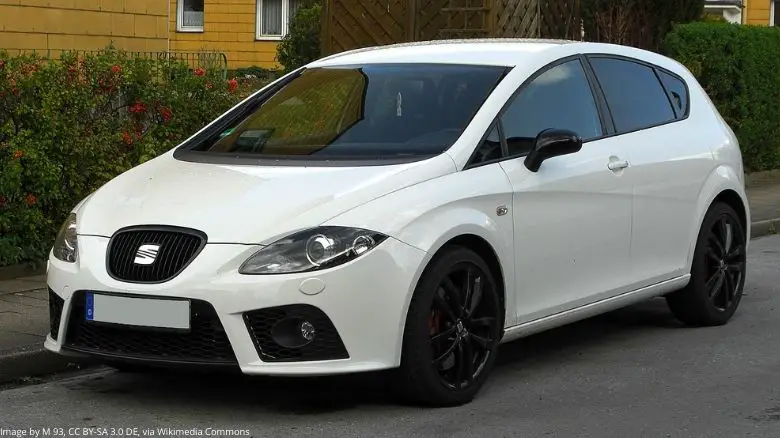 Whether it's the Mk1's boxy design of the late 90s / early 2000s, or the curvier Mk2 from the late 2000s, performance models from both of these eras are available for under £5k.
The Leon is another family hatchback that was turned into a sporty hot-hatch, this time by Spanish manufacturer Seat. The earlier Cupra produced a decent 178bhp from its 2 litre turbocharged engine, with the later model producing a whopping 237bhp.
If you're looking for a later model but can't quite stretch to the Cupra, there's also the FR model from the Mk2 range with around 200bhp. More than enough to have a bit of fun with!
It's a more unusual choice than some of the hot-hatches we've listed, but in our eyes that makes it all the more special. To really stand out, choose the vibrant yellow colour option. You'll never lose your car again.
Seat is owned by the Volkswagen Group, and you can expect similar servicing and maintenance costs as you would find from Volkswagen. Not the cheapest, but also not the most expensive. Somewhere in between.
If you fancy a car that stands out with Cupra's rally heritage, then the Leon is a great shout, and it's an absolute bargain.